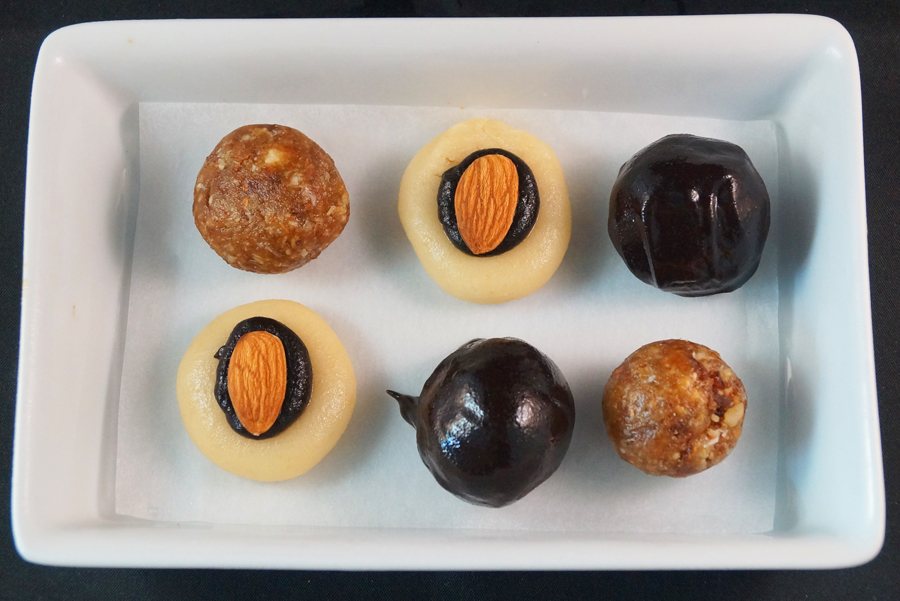 I didn't quite get around to my millionaire's shortbread today but I did create some pretty cute petit fours which took about 15 minutes to whip up and another 15 minutes for the chocolate to set. Martin bought me some marzipan for my birthday the other week and I wanted to make some sweets, so I took inspiration from the boxes of petit fours my nan used to get from Marks and Spencers and added some dark chocolate and a decorative little almond just to make them look pretty!
The truffles, I just fancied making! The mixture itself was sweet enough that I didn't even have to add any maple syrup, it's just all beautiful fruits and nuts dressed in a luxurious coat of dark chocolate. I also left some au natural as they are tasty without the chocolate too, but I was feeling decadent this afternoon, hence the sweetie fest.
The boys are just back from the beach, we're heading out to watch the football tonight, so they probably won't be able to sample the petit fours until tomorrow…. of course since I made them I had to check and double check and triple check that they tasted just right… I'm surprised there's any left to be honest. I LOVE marzipan!
Deliciously Moreish Home Made Petit Fours (Vegan & Gluten Free)
MyInspiration Feel The Difference Range
Makes 12 petit fours (6 truffles and 3 marzipan sweets) – Ready in under 30 minutes
For the truffles
15 dates (soaked in hot water for 5 minutes and drained)
1/4 cup raisins
2 tbsp shredded coconut
15 almonds
10 walnut halves
30g vegan dark chocolate (melted in a bain marie)
For the Marzipan Sweets
60g marzipan
Use some of the melted chocolate from above
3 Almonds to top sweets
Method
1. For the truffles, add all the ingredients (apart from chocolate) into a food processor (or use a stick blender), then take 1/2 tbsp of mixture and roll into 9 balls and place on a plate lined with parchment paper. Melt the chocolate in a bain marie and then roll 6 (or all 9 if you melt and extra 10g of chocolate) of the truffles into the chocolate and pop back on the parchment then pop all 9 in the freezer for 15 minutes to set.
2. For the marzipan sweets, split the block of marzipan into 3, then roll each square into a ball and flatten out slightly by pressing your palms gently together, using a little of the melted chocolate from above, drop a 1/2 tsp of chocolate into the centre of each of the marzipan rounds and neatly top with a whole almond. Place these in the freezer along with the truffles to set.
Enjoy at your leisure….