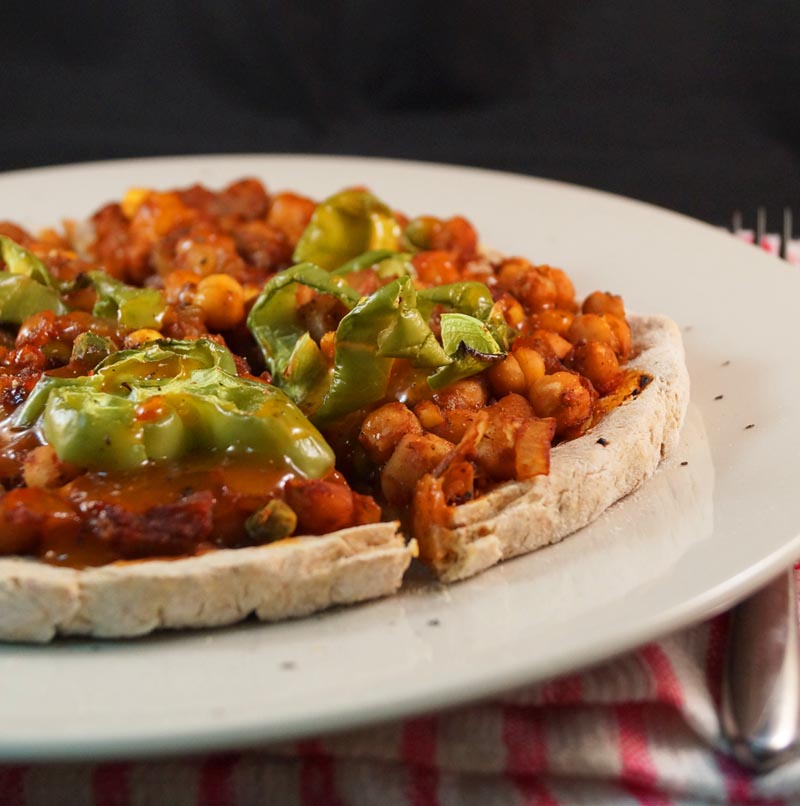 With the success of last week's pizza we decided to do it all over again but this time trying it as a curry pizza. This is the type of thing we would have ordered from a takeaway when we were younger and it would come with a mountain of topping, it was crazy.
But this is just the right size for an individual pizza and doesn't have the oil that I remember so well from the takeaway days, always so much oil! I mixed a little ground coriander through the pizza dough to add even more flavour (plus I couldn't get any fresh coriander to put through the curry itself, so this was the next best thing!), you could always add in some chili flakes too if you wanted.
And with the pizza came another movie night epic, we watched The Place Beyond The Pines, now I've seen some reviews which completely slate the film, but I really enjoyed it, Ryan Gosling and Bradley Cooper in the same film, yes please and thank you! Not forgetting of course the lovely Eva Mendes for the boys! I'm going to have to see if I can get the soundtrack as the closing credits song was just lovely, The Wolves (Act I and II), sang by Bon Ivor. Listening to it now on youtube, so beautiful.
Curry Chickpea Pizza topped with Roasted Green Peppers (vegan & gluten free option)
MyInspiration Feel The Difference Range
Makes 2 Individual Pizzas
For the pizza dough
2 cups wholewheat flour (for Gluten Free, use GF brand)
3/4 cup warm water
1 sachet of active yeast (about 2 tsp)
1 tbsp olive oil
2 tsp ground coriander
Pinch of black pepper
For the curry topping
1 can chickpeas drained and rinsed
1 onion finely chopped
2 cloves garlic finely chopped
1 hot green chili finely chopped
2 tsp Madras Curry Powder
1 tsp Garam Masala
2 tsp Mustard Seeds
1 cup Passatta (pureed tomatoes)
1/4 cup frozen peas
1/4 cup sweetcorn
1 large green pepper sliced
Method
Make the pizza dough: Add the active yeast to the 3/4 cup of warm water and stir to dissolve, leave it for 5 minutes, this will leave you with a beige mixture with a creamy foam on top which means it's activated and ready to use.
In a mixing bowl combine the wholewheat flour, ground coriander, add a pinch of black pepper, then make a well in the centre and pour in the yeast mixture and olive oil and using a wooden spoon mix this all together until it starts to bind, now get in there with your hands and start to knead it until it's one big ball.
Turn the dough out onto a floured surface and continue to knead for 5 minutes, then lightly oil your mixing bowl and pop the dough back in, turning it over to coat lightly in the oil, cover with a clean kitchen towel and leave in a nice warm place for 2 hours until it's risen, should almost double in size.
When you're ready to use the dough, give it a punch to knock the air out of it and split into 2 balls and roll out on a floured surface to about 1cm thickness. Pinch the sides all the way around to form your crust and it will act as a barrier to keep your topping from spilling out.
Now for the curry: Heat 2 tbsp water to a deep saucepan over a medium heat and add the onion, garlic and green chili and cook for 2 minutes before adding in the madras curry powder, mustard seeds and garam masala and stirring this all together.
Add the chickpeas, passatta, peas and sweetcorns, stir to combine, turn the heat down to low and cook for 10 minutes. (at this point you can mix through some fresh coriander if you have it).
Preheat your oven to 180 degrees celcius (356 degrees fahrenheit) leave your baking tray in the oven to heat. (Note: this oven temperature works for me, but some other pizza bakers have suggested a much hotter oven, so if you want to try it hotter then go for it, just keep an eye on your pizzas to make sure they don't burn.)
To assemble the pizza, pop the pizza dough bases on top of the preheated baking tray and then spoon on the curried chickpeas, top with your slices of green pepper (which will roast while cooking) and pop in the oven for 20 minutes, until your pizza crust is nice and firm. (I added a splash of Encona Indian Mango Sweet chili Sauce to the top of my cooked pizza before serving).