Oh it's good to be back. It seems like a decade ago that I last baked anything and I thought I would use some of the ingredients I had in my stock before I go do a "big shop" on Monday, so the coconut and vanilla cake was created from the pantry stash! I'm trying to move away from using oil in my cooking and the cake itself is pretty healthy,I just went a bit mad as it's the weekend and added the frosting – but you can do the cake without, maybe just add a little orange drizzle or a dollop of homemade vegan ice cream.
I've been out buying a few bits and bobs for the kitchen, some new dishes and serving plates, so feeling quite homely at the moment. I'm thinking about getting a few of our photos enlarged and put on canvas from our trip to York, it's a beautiful, beautiful place that's probably made it's way into my top 5 best locations EVER, and I think it would look great on the wall with a few different shots, perhaps the minster lit up by streetlamps at night, The Shambles and St Mary's Abbey, so a nice trio of pics that would look great in our sitting room walls.
So once I've done my big shop on Monday I shall be getting back into that kitchen and hopefully cooking up a vegan storm, I've got a lot of ideas from the UK that I'm dying to try out and share! P.S. Don't know if anyone's noticed, but this pic was taken with my new camera… I think it looks a lot sharper, hope you agree, just need to work on my "staging" so to speak, but I'm such an eager beaver to eat the thing that setting it all up is sometimes torture!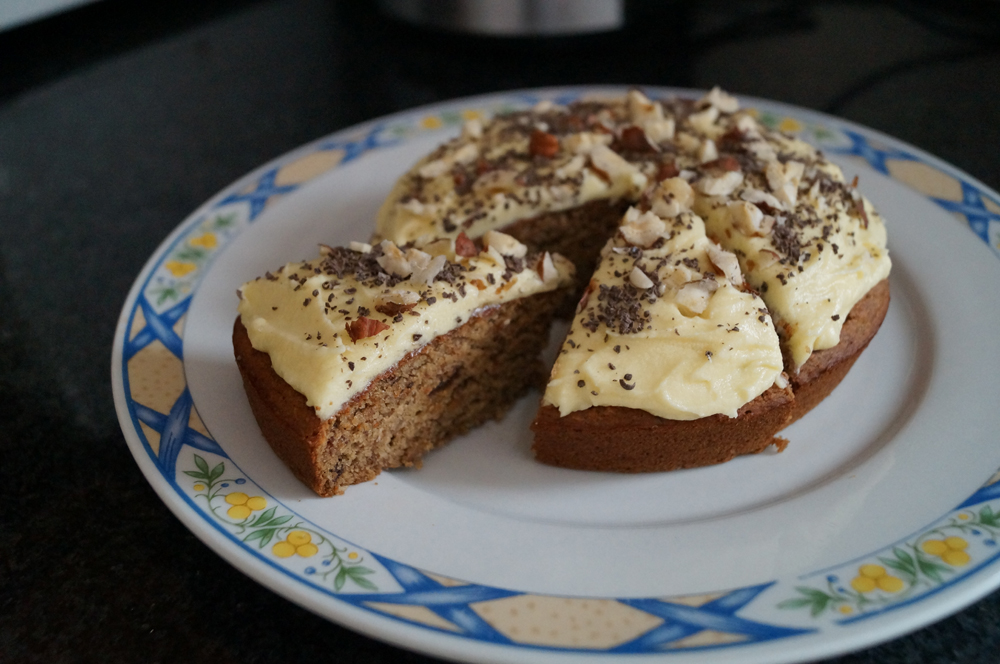 Coconut & Vanilla Cake with Hazelnut topped frosting (Vegan & Gluten Free)
MyInspiration Feel The Difference Range
Serves 8 ready in an hour
Ingredients
¾ cup buckwheat flour
1 tsp baking powder
½ tsp baking soda
2tbs flaxseed (mixed with 4 tbsp dairy free milk)
1/3 cup desiccated coconut
8 dates (cooked in microwave with 2 tbsp dairy free milk for 30 seconds)
½ cup canned light Coconut Milk
¾ tsp apple cider vinegar
¼ cup dairy free milk ( I used hazelnut)
2.5 tbsp Maple Syrup
1tsp vanilla
¼ tsp cinnamon
Method
1. Preheat oven to 180 degrees C and lightly grease a 9" round cake tin
2. Pop the dates in the microwave along with the 2 tbsp dairy free milk and heat for 30 seconds, be careful your milk doesn't boil over, place in your food processor for later (I put mine in a deep plastic container as I have a stick blender).
3. In a small pan toast your coconut until it brown slightly, you can smell when it's ready, as it seems to release a delicious fragrance when toasted. Add this to your dates in the food processor.
4. In a separate bowl combine your canned coconut milk with the apple cider vinegar and set aside and in a further bowl combine the flax seed with the 4 tbsp dairy free milk, leave for a few minutes.
5. In a large mixing bowl, sieve the flour, baking soda, baking powder and cinnamon.
6. Now you should have the dates & coconut in your food processor, now add to this the flax mixture, canned coconut milk mixture, maple syrup, ¼ cup of milk & vanilla and then blitz until it's almost smooth. As there's coconut in there it's still going to be a little grainy but that's ok.
7. Add the wet mixture to the dry and fold together, then transfer it into your cake tin and smooth out using a spatula.
8. Pop in the oven for 25 minutes (or until your knife comes out clean) then remove from heat and allow to cool completely before adding the frosting and topping.
Vegan Butter Frosting
1 ½ tbsp vegan margarine
1 cup icing sugar (I used tate & lyle)
¼ tsp vanilla extract
Method
In a bowl, combine the above ingredients and mix thoroughly, then using a spatula smear it over the top of your cake, work from the middle outwards, just smoothing it out.
To top off my cake, I roughly chopped 6 whole hazelnuts and grated 1 small square of my favourite dark chocolate (about 1cm square) and mixed this together and just sprinkled it over the frosting.