I have to say that I think this is my first time trying pecans. I don't recall ever having them before, but they taste scrummy. I mentioned in my last post that Martin returned home with a big bag of pecans straight from the tree of our friend's garden, which prompted the instruction for Pecan Pie, so yesterday before going to watch the mighty Toon take on Norwich (Football for the uninitiated and it was a draw 0 – 0) I locked myself in the kitchen, popped on my favourite playlist and set to work.
First word to describe the task – "OUCH" – de-shelling those beggars knacks! I've got 3 puncture marks on my thumb from trying to prise those shells off and then sometimes there wouldn't be anything inside! Ideally if you can delegate de-shelling pecans, DO. Took me about 20 minutes to get a cup and half worth, but maybe I've just got rotten technique. Of course nibbling on some while you're doing it won't help at all….
But finally once I had my pecans prepared and got to work, it was plain sailing from there. I loved the end result, however if you like "super sweet" pie, then you might want to add in some more maple syrup, it's up to you. This worked perfectly for our palate as we don't go for overly sweet desserts anymore.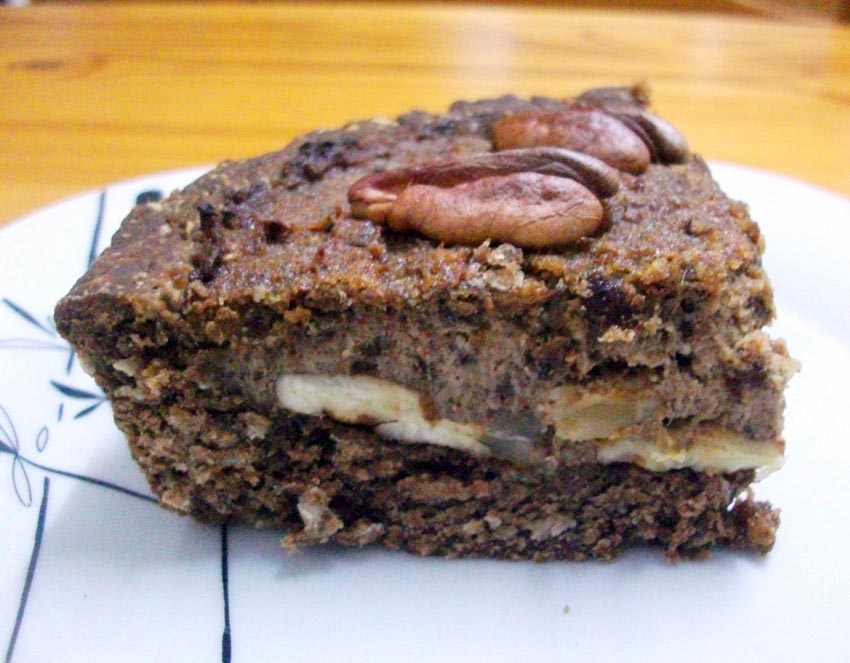 Cinnamon Spiced Pecan Pie (vegan & gluten free option)
MyInspiration Feel The Difference Range
Serves 8
Base:
½ cup Oats

1 cup wholewheat flour (for Gluten free , use your GF brand flour)

3 tablespoons Cocoa Powder

2 tablespoons Olive or Coconut Oil

3 tbs water

2 tablespoons Maple Syrup

1 tbsp coconut milk
Method
Preheat oven to 180 degrees and lightly oil a 9" round cake tin.

Combine the flour, cocoa powder and oats, add the oil and water and mix together then add the milk & maple syrup and bring together to form a dough.

Press into the cake tin, making sure it's compacted down.

Using a fork, poke the base all over then pop in your ½ of your pecans into the base and pop in the oven to blind bake for 12 minutes then set aside to cool
Pecan Filling
1 cups dates

2 tbsp maple syrup

1 cup pecans + 8 pecans for presentation

3 tbs ground flax seed (Linseed)

1 tsp vanilla

2 tsp cinnamon

1 tsp ginger

1/3 cup coconut milk
Method
I only had dried dates, so I popped them in a microwave proof dish along with a tablespoon of coconut milk and microwaved for 30 seconds to soften them) Using a food processor or stick blender, blitz the dates, remaining pecans,  maple syrup and vanilla until you have a puree mixture, then add in the coconut milk, flax and the spices and pulse for a minute.

Spoon the mixture into your pie crust over the pecans, then arrange your separate pecans around the outer edge of your pie and bake in the oven for approx 15 – 20 minutes.