This was our first ever Vegan Christmas and it was wonderful, truly wonderful. The sun was shining, the kir royale was chilling in the fridge and we had our festive sound track on in the back ground, 'twas perfect.
Now we had spent a lot of time debating on what would be our centre piece for Christmas Dinner and we decided up a delicious stuffed Roulade from mouthwateringvegan, it sounded fabulously tasty and would see us right through until boxing day left overs.
We spoke with our families, skyped and wished everyone Merry Christmas, then I took myself to the kitchen for 5 minutes and prepared the vanilla ice cream that was to accompany our Christmas Pudding (recipe for ice cream to follow). We watched a movie in the late morning, then took our books and a glass of fizz out the the patio to get some much needed sunshine and Christmas relaxation.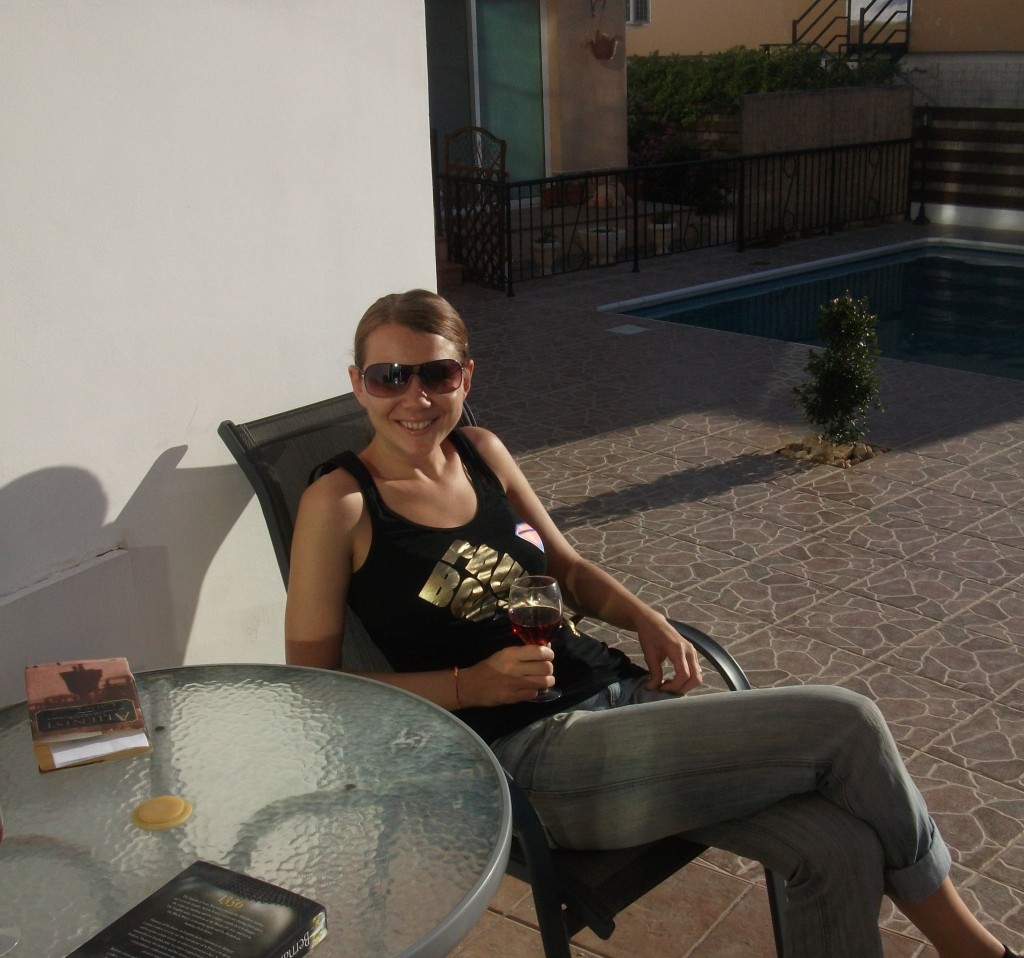 It took me about an hour and a half in total to make our Christmas Feast and it was excellent, everything turned out just how I had hoped, I did cheat a little with the ready made pastry, but it seemed like the right thing to do to ensure that everything went well on Christmas Day, didn't want a pastry disaster on my hands… small price to pay!
I think I'll be making this again soon, as it's so versatile, and the filling was yummy on it's own too… not that I was scoffing any while I was supposed to be layering it!
Interesting fact (well I thought it was interesting)  the word roulade originates from the French word "rouler" meaning "to roll",so there you go, a little culinary education.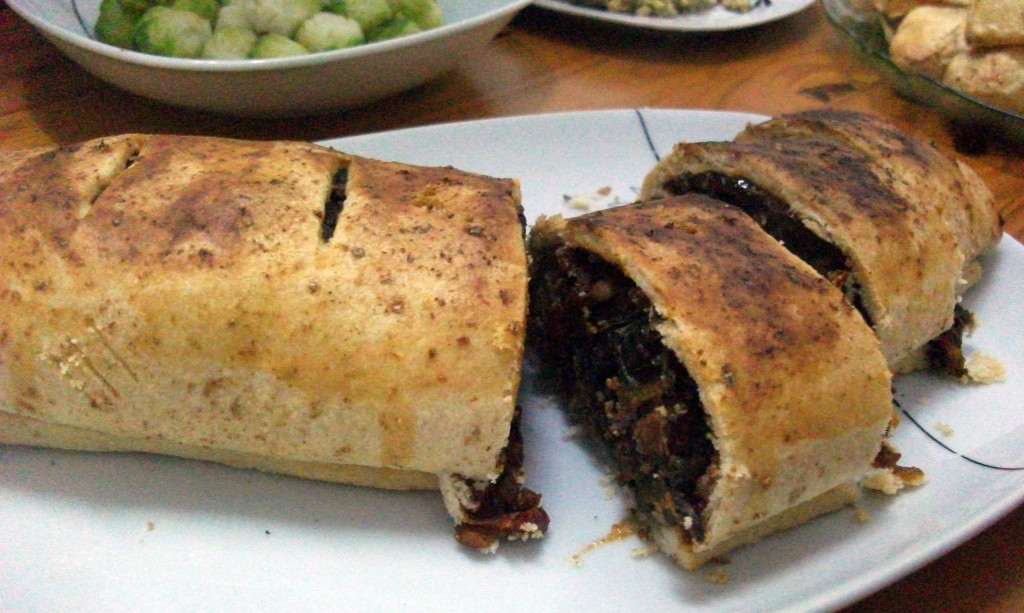 Christmas Roulade stuffed with mushrooms, lentils, sun-dried tomatoes, spinach and a nut crust layer all served with the usual festive trimmings.
(Makes 2 x 10" long roulades with 6 – 8 slices in each depending on your portion size)
2 Tbsp olive oil
10 large mushrooms, chopped into small pieces
1 can brown lentils, rinsed and drained
4 cloves garlic, finely chopped
2 bunches spinach roughly chopped (pour a kettle of hot water over the spinach to wilt)
8 sundried tomatoes chopped
2 tsps hot curry powder
2 tsps basil
Zest of a small lemon
3-4 Tbsp tomato paste
½ cup water
For the nut layer
¾ cup whole hazelnuts & 12 halved walnuts, pop in a food processor and blitz for 10 seconds.
Pastry
500g pack of vegan short crust pastry – I used 1 pack of Jus-Rol (defrosted)
Soy/oat/rice milk to brush pastry with
Method
1. Add the oil to a frying pan on a medium heat and cook the mushrooms and garlic for 5 minutes then add in the tomato paste, curry powder and basil and stir to combine then add in the lentils and mix together.
2. Next add the spinach and all the remaining ingredients, apart from the nuts and pastry, then cook this for mixture for 15 minutes until it becomes nice and thick, remove from heat and allow to cool for 10 – 15 minutes.
3. Preheat the oven to 180 degrees.
4. Line a baking tray (one that's big enough to accommodate a 10" long roulade), take your pastry and roll it out on a floured surface until it's about 5mm thick (I then cut it in half so I could do 2 roulades) both were approx 10" x 7".
5. Carefully spoon the mushroom and lentil mixture onto the pastry (the pastry should be positioned so that the longest end is closest to you and parallel to your body) I started the mixture at the edge closest to me and I left a 2 inch space at the opposite end of the pastry to allow me roll effectively.
6. Sprinkle on your nut mixture to cover the mushroom layer and then slowly start to roll the pastry (away from you) until your reach the end, transfer to the baking tray and then using a sharp knife, score the top into sections (I made 4 scores which gave me 6 sections), then brush the pastry with the milk and pop in the oven for 20 minutes until the pastry turns a lovely golden colour.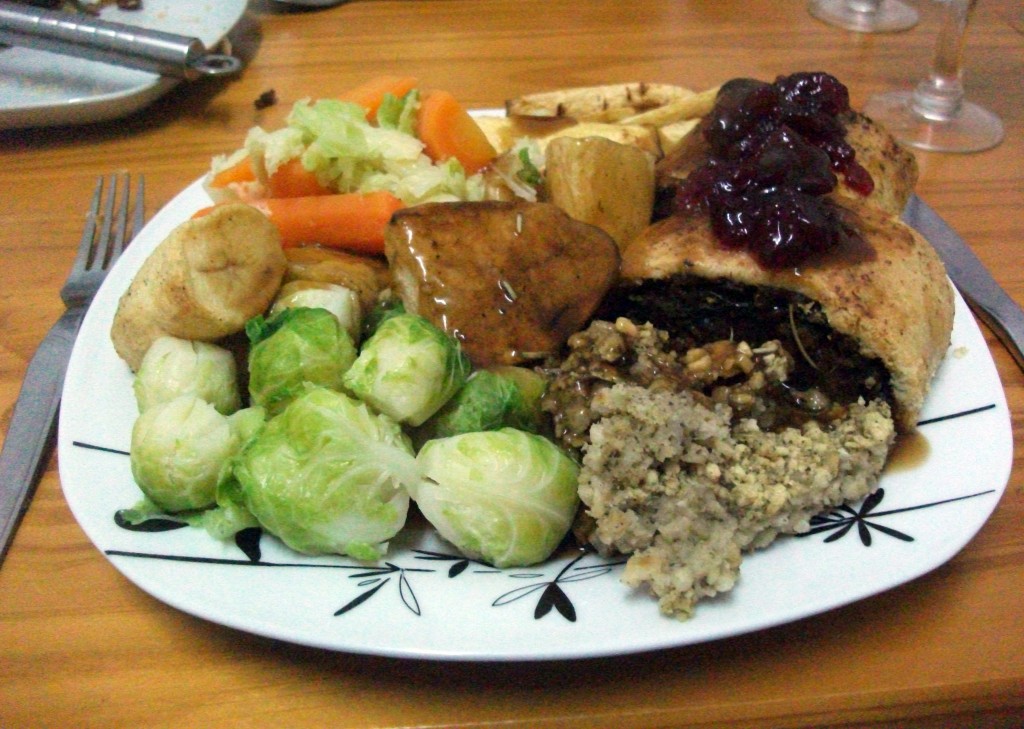 Serve with:
Super Roast Potatoes
8 potatoes peeled and halved
Black pepper to season
1 tbsp olive oil
2 teaspoons dried rosemary
Method
1. Pop the potato halves in a pan and cover with hot water, then turn the heat up to medium and cook the potatoes for about 10 minutes until they start to soften.
2. Drain the potatoes then heat the oil in a frying pan and pop the potatoes halves in, sprinkle with the black pepper and rosemary and allow to turn golden, giving them a stir to make sure they don't burn.
3. Transfer to a baking tray and pop in the oven (I did this 10 minutes before I put my roulade in to cook, so they were in the oven for 30 minutes.) Give them a shake every 10 minutes so they cook evenly.
Caramelised Parsnips
Peel and quarter the parsnips and soak in water for half an hour, then transfer to a baking tray, drizzle over 1 tbsp golden syrup, a sprinkle of black pepper and roast in the oven along with the potatoes for half an hour.
Extras
Serve along with your favourite vegetable, we had carrots, cabbage and those nasty little sprouts, gravy, cranberry sauce and stuffing (ensure all are vegan!)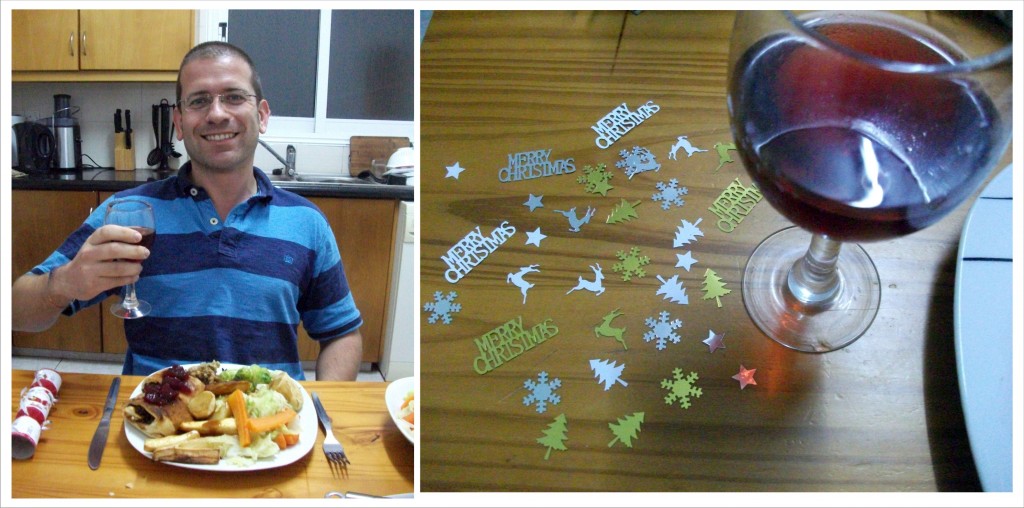 Here's Martin enjoying his mammoth Christmas plate, we still had loads left over which did us well for Boxing Day!
I hope you all had a wonderful Christmas and have a fantastic New Year!
Original recipe for Roulade here