It would seem that the shops are gearing up for the Christmas season, there's santas and snow men novelties in every corner here!
The other day the lady at the bank was telling me she'd already ordered her Christmas tree and was getting excited about decorating it… well after that, I just felt the need to make something Christmassy and there's nothing better than a warm mince pie and a cup of tea to get me in a festive mood (albeit it a little earlier than usual!)
I looked into making my own mincemeat, but due to the limitations of my local shop had to make do (on this occasion) with a jar of mincemeat (check labels first though to make sure it's suitable for vegans) to my absolute horror I had no idea that mincemeat was made with suet… eugh!!! I mean, really, how many of us know that suet is (as wiki describes it):
Suet /ˈsʲuːɨt/ is raw beef or mutton fat, especially the hard fat found around the loins and kidneys.
Yes people, this is what is in many pastry products…again… eugh!
So remember to check your labels!
Back to the mincepies, I whipped up a quick batch and they passed the husband taste test, the pastry was just right and the size of the pie is ideal for after dinner!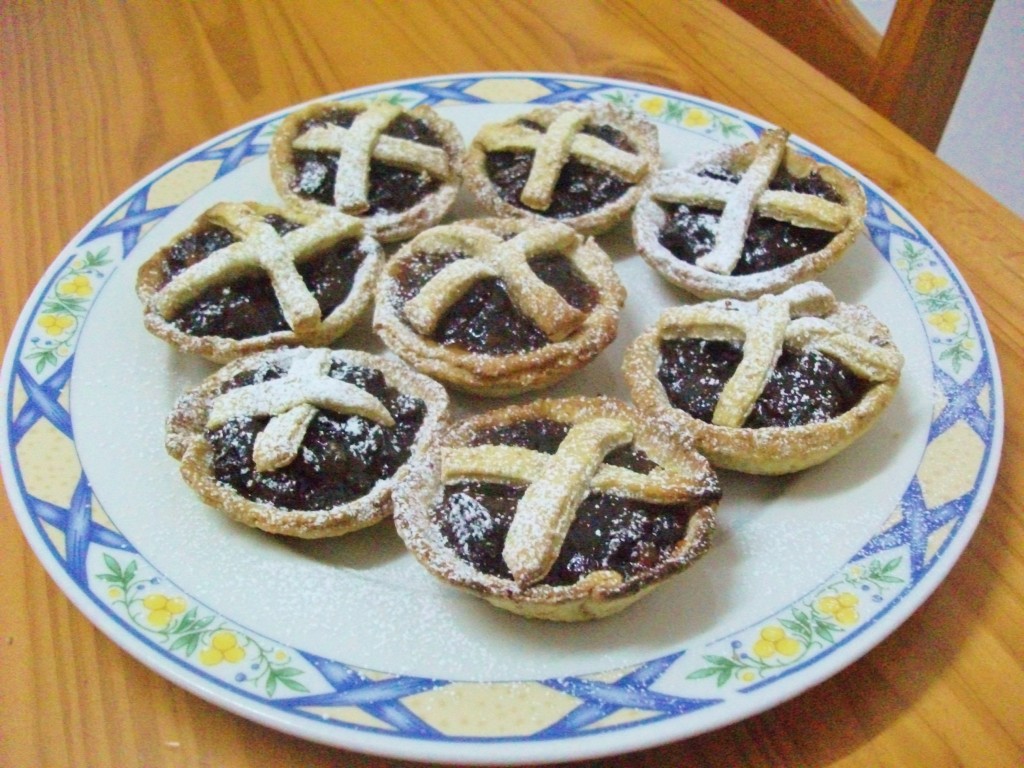 Christmas Mince Pies
Makes 10 pies
For the pastry
1 cup whole wheat flour
¾ teaspoon baking powder
1 ½ tablespoon olive oil
2 tablespoons water
1 tablespoon almond milk
1 teaspoon vanilla powder (or ½ teaspoon vanilla extract)
1 teaspoon icing sugar to dust
For the filling
I have to be honest, I didn't make my own, I bought a jar of Vegan friendly mincemeat as it would cost me a fortune to make the mincemeat myself and this was just a practice run before the festive season started.  So if you're on a budget this year, I recommend just buying a jar of mincemeat to create your Christmas treats.
But if you do fancy making your own I found a great recipe here, so go for it!
Method
1. Preheat the oven to 200 degrees Celsius
2. In a large bowl combine the whole wheat flour, baking powder and vanilla powder, add the oil and using our hands rub the flour and oil together until you get a breadcrumb consistency.
3. Add the water an milk bit by bit and stir through until a stiff dough is created.
4. Turn out onto a floured surface and knead for a few minutes
5. Roll out the dough to about 3mm thick and using a circular cookie cutter about 6cm wide, cut out 10 circles of dough (there should be some dough left over to cut little strips to use as the crosses for the top of the pies)
6. I bought little foil mincepie cases and I took each circle of dough and rolled them a little thinner and placed in the foil cases, pressing the dough into the sides. Pop in the oven for 5 minutes to part bake.
7. Remove from oven and add a tablespoon of your mincemeat into the centre of your crusts, topping it off with the crosses you made from the left over dough and pop back in the oven for 10 minutes
8. Remove from the oven and allow to cool slightly, dust with a little icing sugar and serve.