ZUMBA! Yes, I have returned to Zumba classes at the gym, there is a new instructor who is very good and I'm definitely feeling energized after the class which is fabulous. I still look ridiculous when attempting some of the moves, but hey, I'm getting to that age where I just don't care anymore, I'm having fun! If you haven't tried Zumba, I highly recommend it, not only is it good exercise but it's great for uplifting your mood and making you smile and there's some fab music in there too, what's not to love!
Now, following on from the gym, I'm looking out for yoga pants. Some of the other ladies at the gym have these great dry-fit capri pants that have some super cool patterns on them, so I'm on the look out for a couple of pairs for yoga and pilate classes. I've only seen a few different patterns, I wonder if it's a fashion faux pas to turn up with the same capri's as someone else, hmmm, would it be like turning up to a party with the same dress on? I may have to ponder on this before I buy any!
So, who's hungry? This is a super tasty dish packed with delicious, healthy, filling ingredients, matched with the cheeky Cumin spiced Tahini sauce, it's a real medley of flavours that work perfectly together. It's quick to prepare (even quicker if you have the microwave in a bag rice!). I love the variety of colours I had on my plate and it's one of the dishes that makes you feel like you've eaten well and hearty! So grab a fork and dig in!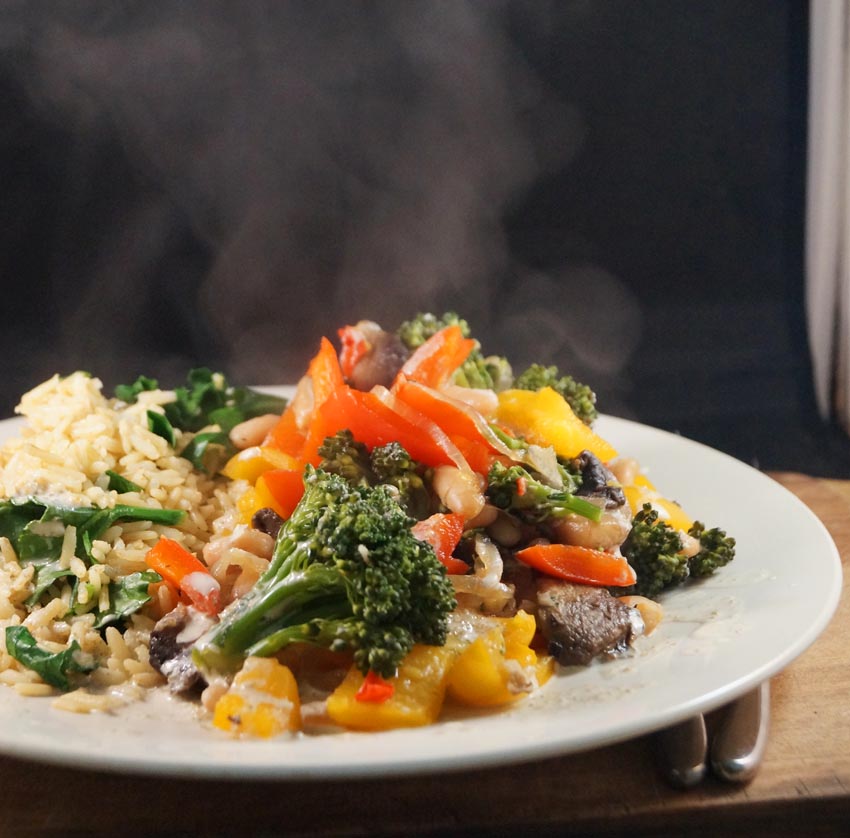 Chilli and Garlic Sauteed Veggies with Spinach Basmati Rice topped with Cumin spiced Tahini Sauce (Vegan & Gluten Free)
MyInspiration Feel The Difference Range
Serves 2 – Ready in under 45 minutes
For the veggies
3 cloves garlic finely chopped

½ white onion finely chopped

2 hot red chillis finely chopped

½ tbsp soy sauce (I use the light soy sauce – not as salty tasting)

¾ cup vegan stock

4 large button mushrooms sliced

2 cups of broccoli florets

1 can white beans (approx 2 cups worth) drained and rinsed

1 large red pepper (capsicum) chopped

1 large yellow pepper (capsicum) chopped

Black pepper to season
For the rice
1 cup wholegrain rice

2 ¼ cups of vegan stock

2 packed cups of fresh chopped spinach
For the tahini sauce
2 tbsp tahini

1 ½ tsp cumin

3 tbsp water
Method
First sort out the rice – Add 2 ¼ cups of stock to 1 cup of whole grain basmati rice, cover and cook on a low heat for 30 – 35 minutes (maybe slightly longer, check consistency before you drain,) drain, stir through the chopped spinach (it will wilt while stirring) and set aside.

For the sauté veggies – Add 2 tbsp water to a large saute pan or wok over a medium heat and add the garlic, chilli and onion and cook for 2 minutes before adding in the chopped mushrooms, broccoli florets, red and yellow peppers, mix this all together and add in the soy sauce and stock, finally mix through the beans, add a little black pepper and let this all cook for 8 – 10 minutes.

While this is cooking mix up your tahini sauce by whisking all the ingredients together in a bowl.

Serve the rice and veggies on a nice big plate and drizzle over the tahini sauce and a sprinkling of fresh ground black pepper.