Anyone spot a chili theme this week, I got a big bag of fresh chilies that are just superb and such a vibrant red colour too, so I just had to pack them into my latest dishes. I haven't done a polenta dish in a while, so thought I'd tart it up a bit with some chilies and also some chopped pumpkin seeds. You could actually have the polenta as a snack itself or keep the leftovers to use with a salad the next day (which is what we're doing).  I really should use it more in dishes as it's one of the easiest things to make and once you add all your own flavours it's fantastic. I might do a curry based polenta next time…. ooooh yummy!
I made it to bootcamp this morning with no problems, didn't need the extra yoga class (had the extra hour of sleep instead!) so quite pleased that I'm not all seized up from yesterday's class. Sh'Bam and Body Pump tomorrow morning, still working on my biceps that just don't want to lift anything heavier than 3.75 kilos each side, need to keep at it though, practice makes perfect and all that! On a positive not too, I think my balance is getting much better after starting the Body Balance classes, feel a lot more stable in some of the poses that used to have me wobbling all over the place.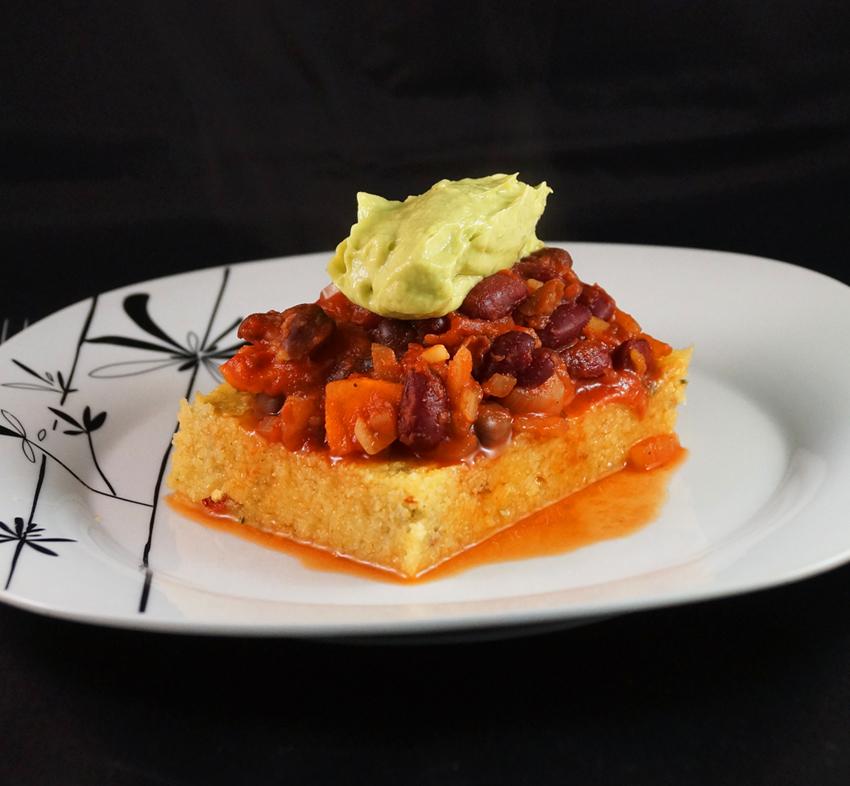 Chili Spiced Polenta with Fava & Kidney Bean Goulash and an Avocado Cream (Vegan & Gluten Free)
MyInspiration Feel The Difference Range
Serves 2 – ready in under and hour (You'll have a little Polenta left over, but keep it for lunch the next day)
For the Polenta
200g Polenta
1 ltr Vegan Stock
2 tsps red chili flakes
1 tsp thyme
1.5 tbsp pumpkin seeds finely chopped
Pinch of black pepper
For the Goulash
1/2 onion finely chopped
2 garlic cloves finely chopped
1 can red kidney beans, drained and rinsed
1 can fava beans (broad beans) drained and rinsed
1 large carrot peeled and chopped
1 tbsp paprika
1/2 tsp black pepper
1 tsp thyme
1 can chopped tomatoes
1.5 tbsp tomato puree
2 bay leaves
For the Avocado Cream
1 large or 2 small avocados
1/2 tbsp lemon juice
1 clove garlic finely chopped
pinch of paprika
pinch of black pepper
Method
1. Prepare the polenta, add the stock to a medium sauce pan and bring to the boil, add the polenta, spices and pumpkin seeds and stir, it gets thick pretty quickly, so really beat it to make sure it's well mixed through, cook like this for 3 – 4 minutes then pour into a line square baking tray, mine is 8″ square, smooth it out so it's even and just leave to set, about 20 – 25 minutes.
2. Now make the goulash – in a medium sauce pan over a medium heat, add 2 tbsp water, add the onion, garlic, paprika and thyme and cook for 3 minutes before adding in the remaining ingredients, add 1/2 cup of water and stir everything together, cover and cook on a low heat for 15 – 20 minutes, stirring occasionally. (remember to remove the bay leaves before serving)
3. Lastly, make the avocado cream – cut the avocado in half, remove the stone and scoop out the avocado meat, add this to a food processor (or use a hand blender) add the lemon juice, garlic and paprika and pulse until smooth, taste it and then add black pepper as needed.
4. T o serve, slice the polenta and top with the goulash and then a nice big dollop of avocado cream and east right away!