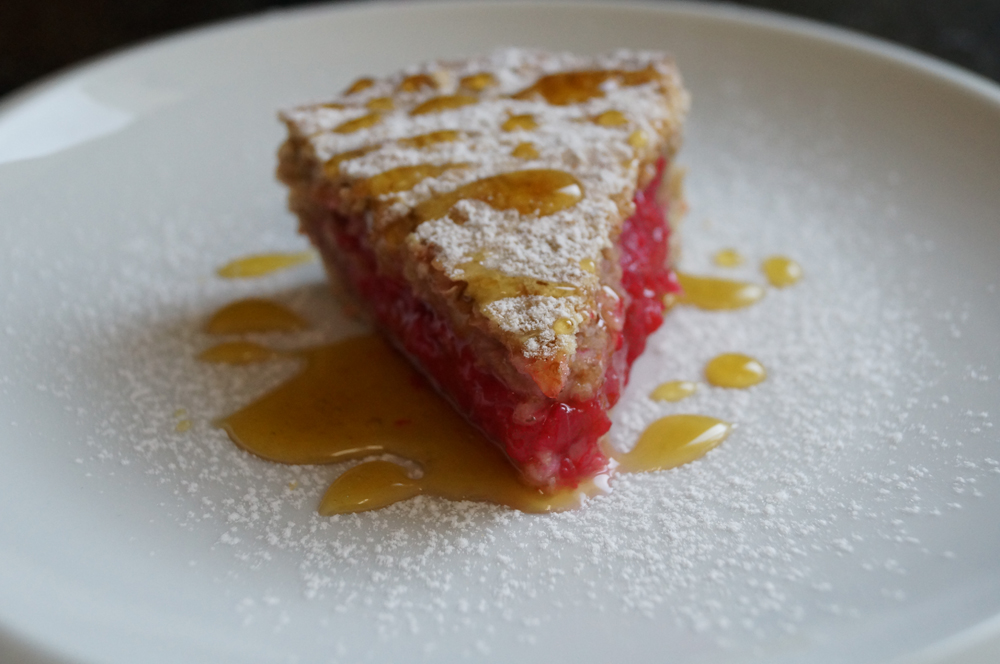 I did say I was going to make a cherry pie today and a cherry pie I did make! Inspired by our visit to Henderson's I wanted to make my own version of the cherry pie and try to keep it pretty healthy, I think I did a good job, I'll work on it a bit to get that oil down if not removed completely, but for my initial attempt I just went for it to see what happened.
The local fruit market didn't have any cherries, come to think of it I haven't seen any here for a while, so I had to make do with a can of cherries, but I am so pleased with the results I know that getting some fresh cherries will lift this to a whole new level, so I'm excited about that and will be keeping my eyes open when shopping next.
On an unrelated note, I knack! Having not properly worked out for a month has meant that after yesterdays classes I ache. I can barely extend my arms after the shadow boxing of Fight Do and my back has a glorious ache that means it knows it's been worked out! I also need to work on my posture as I could not for the life of me perfect one of the moves in Body Balance, I was rocking about all over the place whilst the others just lay there as easy as pie, all serene like, with their backs perfectly straight on the mat, it was ridiculous… too much time spent on the computer hunched over, so must make an effort to sit up nice and straight and keep those shoulders back!
Cheeky Cherry Pie
MyInspiration Feel The Difference Range
8 servings and ready in under an hour
For the crust
¾ cup oats (blitzed quickly in a food processor)
1 ½ cups wholewheat flour
2 tbsp oil (coconut or olive oil, whichever you prefer)
5 tbsp water
2 tbsp non dairy milk
1 ½ tbsp maple syrup
For the filling
1 can cherries (Fruit market were out of cherries) if using fresh I'd say about 20 – 25 cherries washed and de-stoned
¼ tsp almond essence
Method.
1. Preheat oven to 180 degrees celcius and lightly grease a 9" round cake tin.
2. In a small bowl combine oil, water, milk and maple syrup
3. In a mixing bowl combine the flour & oats then add the wet ingredients to the dry and stir until a thick dough forms, split the dough into two balls, roughly 70% in one 30% in the other.
4. Take the large ball and pop in the middle of the cake tin and using your fingers spread evenly across the tin and up the sides, prick with a fork all over and place in the oven for 5 minutes then remove from heat.
5. In the meanwhile, de-stone the cherries and using a stick blender quickly blitz half of them to break them down a little then mix back with the other half, add the almond essence and stir through.
6. Pour the cherry mixture into the pie crust and then take the smaller ball of dough and again using your fingers make the dough into a circle, I did this on my chopping board not actually on top of the cherry mix!! Then take the circle of dough and pop it on top of the cherry mix and press into the corners of the bottom crust until it's closed, then using a sharp knife, cut a whole in the centre of the lid, brush with non dairy milk and pop in the oven for 20 – 25 minutes or until top is golden (not burnt!)
7. Remove from heat, allow to cool then dust with some icing sugar (optional) and serve with a drizzle of maple syrup!
** Would love to use fresh cherries as this would give a lovelier deeper red colour, but needs must, hence the pinky colour I ended up with.
Each slice is approx. 165 calories – had I used fresh cherries it would be 150 calories per slice, not bad for a sweet treat.