It's amazing the flavour you can get from one little banana, but that's all that was in this cake and it is yummy. I was worried when I saw that I only had one banana in the fridge and thought it might not be enough for the cake I had in mind, but if anything more might have been overkill, so I'm pleased that it turned out so well.
I went with the canned coconut milk again, I can't get over how fabulous it is in baking and teamed with the banana it just makes this cake so very moreish. You could easily enjoy a slice of this cake by itself, ideal with a nice cup of coffee or you could make up a vegan custard and make it into a fully blown dessert. Keep it in an airtight container in the fridge and it will last a couple of days.
The temperature here has dropped about 5 degrees celcius and it's fantastic, we've been able to get out walking again and it's not like a sauna in the kitchen, which is a huge relief, I'll need to start thinking about more 'warming" dishes, maybe even some soups…. I bet the temperature jumps back up in a week!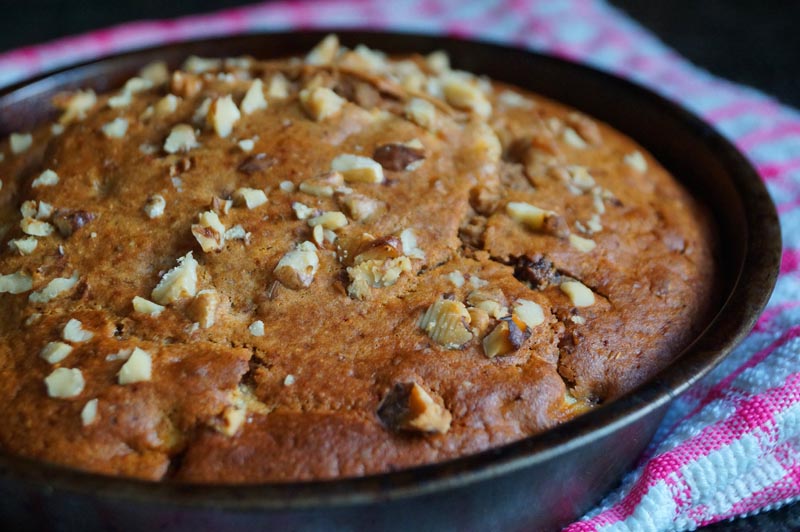 Beautifully Moist Banana, Walnut & Raisin Cake (vegan & gluten free)
MyInspiration Feel The Difference Range
Yields 8 slices – Ready in 35 minutes
1 cup & 2 tbsps buckwheat flour

¾ tsp baking powder

¼ tsp baking soda

Pinch of Allspice

1 tsp cinnamon

1 cup canned coconut milk

3 tbsp maple syrup

1 Banana, chopped

2 tbsp raisins

8 walnut halves roughly chopped
Method
Preheat oven to 180 degrees celcius (356 degrees fahrenheit) and lightly oil a 9″ round cake tin.

In a mixing bowl, combine the flour, baking powder, baking soda, cinnamon & allspice. In a separate bowl, combine the coconut milk and maple syrup and then add this to the dry ingredients, throw in the banana, raisins and the chopped walnuts (keep some chopped walnut in reserve to scatter over the top) and fold the mixture together until it's full combined, the pour in to the baking tray and sprinkle over some more chopped walnut.

Pop in the oven for 25 – 30 minutes, until a skewer comes out clean and it's firm the the touch. Cool and serve.