I had half the polenta left that I made for the garlic mushroom dish I prepared on Wednesday night (see here for recipe and polenta preperation) so I wanted to use up the 4 wedges I had left whilst making the most of my cupboard staples, ie tinned tomatoes and a variety of beans.
So I decided to make a kind of bean stew (can't think of a posh word to make it sound as tasty as it was!). The polenta kept very well wrapped in tin foil and sat in the fridge, so definitely going to make polenta this way again as it's a great thing to have ready to pop in a pan and serve with a mea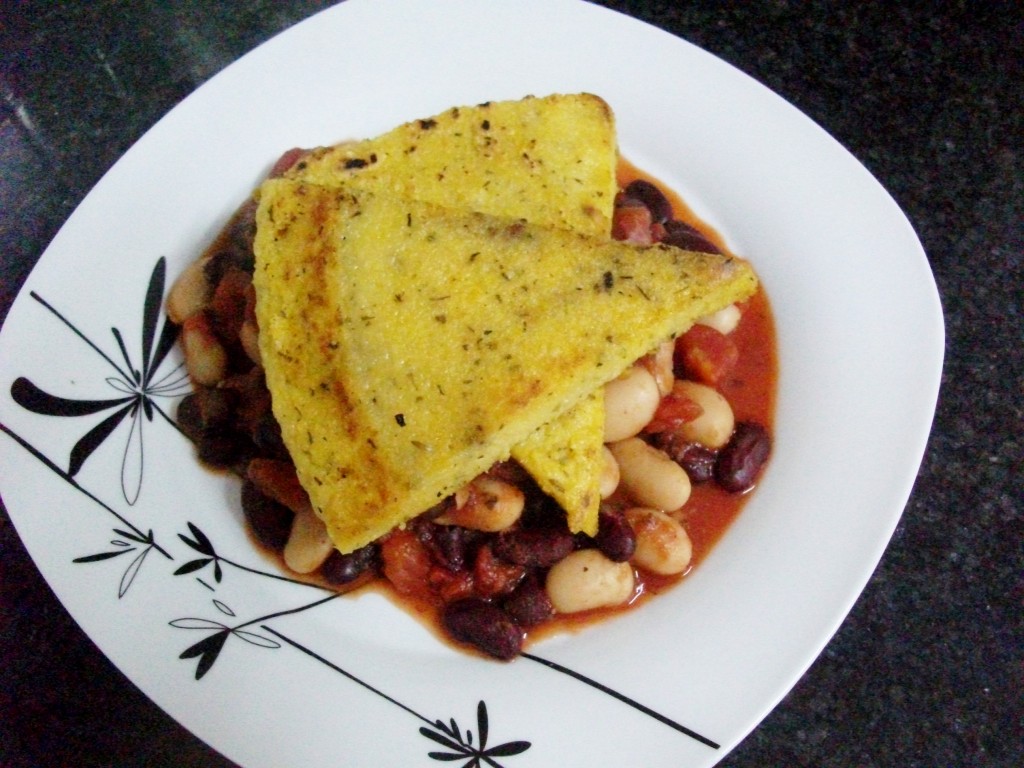 Basil & Thyme Polenta served with a Kidney and White Bean Stew (vegan & gluten free)
MyInspiration Feel The Difference Range
Serves 2
For the Polenta
250g polenta

1 litre vegetable stock

2 teaspoons dry basil

2 teaspoons dry thyme
For the Stew
1 can chopped tomatoes

1 can kidney beans (drained and rinsed)

1 can white beans (drained and rinsed)

2 teaspoons dry basil

1/2 tablespoon lemon juice

Black pepper to season
Method
Preheat oven to 200 degrees Celsius

Prepare the polenta – pour your polenta into a saucepan of boiling vegan stock, add the dry basil and thyme and stir constantly over a medium heat. Cook the polenta for about 4 minutes then pour it into an 11" round tin (lightly oiled) and using your fingers, press evenly into the dish then leave to set for half an hour. Then slice into 8 wedges.

For the Stew –  In a deep sauce pan mix the 2 cans of beans and tin tomatoes together

add in the basil, black pepper and lemon juice

 and cook over a medium heat for 15 minutes.

To finish off the polenta, remove 4 of the wedges from the baking tin (I had half the polenta left over to use for another dish or for lunch the next day, just wrap it in clingfilm and pop in the fridge) lightly coat one side of each wedge with a tiny dash of olive oil, heat a non stick pan and add the wedges oil side down and cook for 4-5 minutes each side until lovely and golden.

To serve, place a generous helping of bean stew on a plate and top with 2 wedges of polenta.