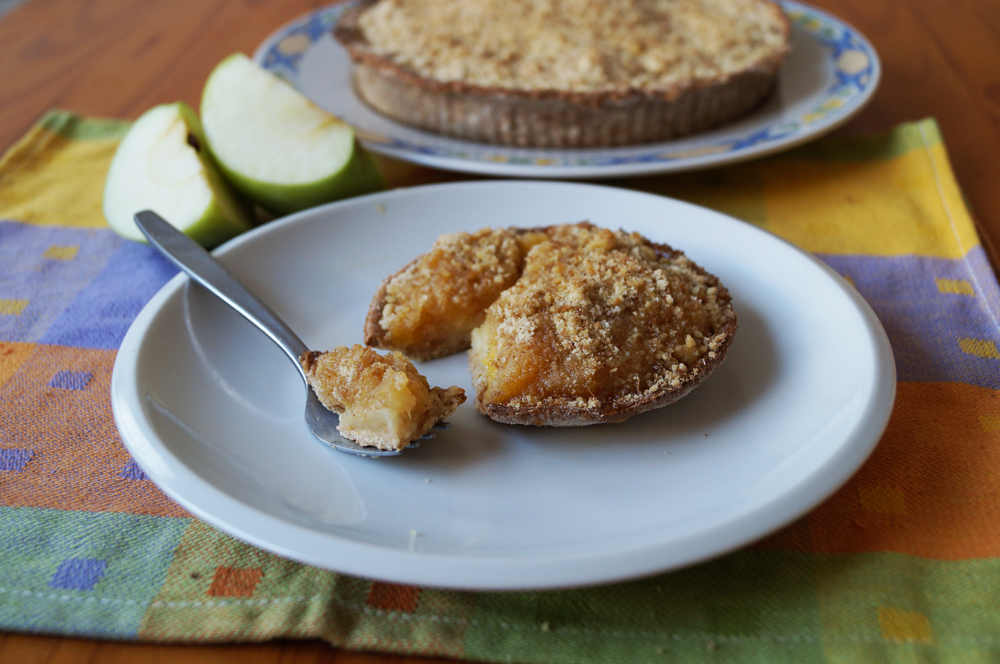 I had in my head that I was going to make some kind of fruit pie this weekend and then Martin piped up asking for an apple pie, so I thought I'd jazz it up a bit with some other fruit. So this weekend was all about the fruit pie. We went to the fruit market to pick up some supplies and there were delicious ripe mangoes just sitting in the front entrance, well, we had to get one and I just had to put it in my pie.
I didn't want a closed pastry pie, I wanted something a little lighter so I opted for the streusel topping instead, which reminded me of my favourite caramel apple granny cake I used to get at home (less the caramel). The recipe will make 1 x 8″ round pie, plus 2 x 3″ pies that I did in my little individual pie tin (Or you could just make one single 10″ round cake), it's just I had extra left over and didn't want it to go to waste… which it didn't!!
And of course on a completely unrelated note, this weekend has been AMAZING, not only did our team Newcastle United win last night, but my in-laws have booked to come over for a visit in April and we also have a couple of friends coming over in May, so really looking forward to that and getting ready to cook some great vegan treats for them!
Apple & Mango Streusel Pie
MyInspiration Feel The Difference Range
8″ Pie will yield 8 good sized slices
For the Pastry Base
3/4 cup of rolled oats (blitzed quickly with a food processor to break it down)
1 1/2 cups wholewheat flour
1 tbsp oil (coconut oil or olive oil)
5 tbsp water
2 tbsp non dairy milk (I used hazelnut)
1 1/2 tbsp maple syrup
Method
1. Preheat oven to 180 degrees celcius and lightly grease your cake tin (I used am 8″ round reusable aluminium cake tin so it didn't need oiling)
2. In a small bowl combine the oil, water, milk and maple syrup
3. In a mixing bowl, combine the flour and oats and then add the wet ingredients to the dry and fold together until it starts to bind and you can use your hands to press it into a dough, turn out on to a floured surface and roll out into a large circle, then drape it over your cake tin and press it into the sides, trimming any excess from the top. Prick the pastry with a fork all over and pop in the oven for 5 minutes then remove from the oven and set aside (I had excess pastry so made 2 additional circles and popped them in my small 3″ pie trays and followed all the same steps as the large pie)
For the Filling
3 green apples (I used granny Smith's) peeled and thinly sliced
1 Mango peeled and thinly sliced
1/2 tsp cinnamon
Method
1. Heat a pan over a medium heat, add 1 tbsp water, then to the pan, add half of the apple and mango slices, cover with a lid and allow to cook for 5 minutes until the fruit starts to soften, remove from heat, add the cinnamon and stir through. Take a hand blender and pulse the mixture until it starts to bread down, but don't puree it, you want some lumps of fruit in there too.
For the Streusel topping
1 cup wholewheat flour
2 tbsp vegan margarine
1 tbsp natural brown sugar
Method
1. In a mixing bowl add the margarine to the flour and using your fingers, rub the mixture together until it resembles bread crumbs, stir through the sugar and it's ready.
To assemble the pie
Take the part baked crust and start by layering the raw slices of apple and mango on the bottom, then on top of this add the cooked apple and mango, spreading it out evenly over the pie, then top this off by sprinkling over the streusel, making sure the top is covered, then pop back in the oven for 20 minutes (check after 15 minutes to make sure the topping isn't burning!) Serve immediately with a drizzle of maple syrup over the top or allow to cool completely before covering and keeping in the fridge for later.
As you can see from the pic, this is one of the smaller pies I did, but you can see the large pie in the background too.