Oooooh bananas!  Since realising that I can now eat them, life has been transformed! I've had banana cakes, I've made ice creams that are tremendously tasty, although I have in fact stopped short of actually just eating a plain banana, I'll need to give it a go and see how I get on.
For those who haven't seen my earlier banana related posts, I have previously never been able to eat a banana without a horrible reaction, chest pains, nausea, migraine, not very pleasant, and it's only recently with some research that I've come across others who do not get the same reaction when the banana is cooked, hence my tentative trial with the banana brownies. All went well, so I moved onto ice cream, could be something to with freezing it or it could be the small amount of heat generated from the food processor, but again, I'm absolutely fine.
So in appreciation for my new found love of banana and my eternal passion for amaretto, I put together this heavenly dessert that just melts in the mouth and is gawjuss!! There is of course an option if you want to keep it family friendly by subbing the amaretto for some almond extract.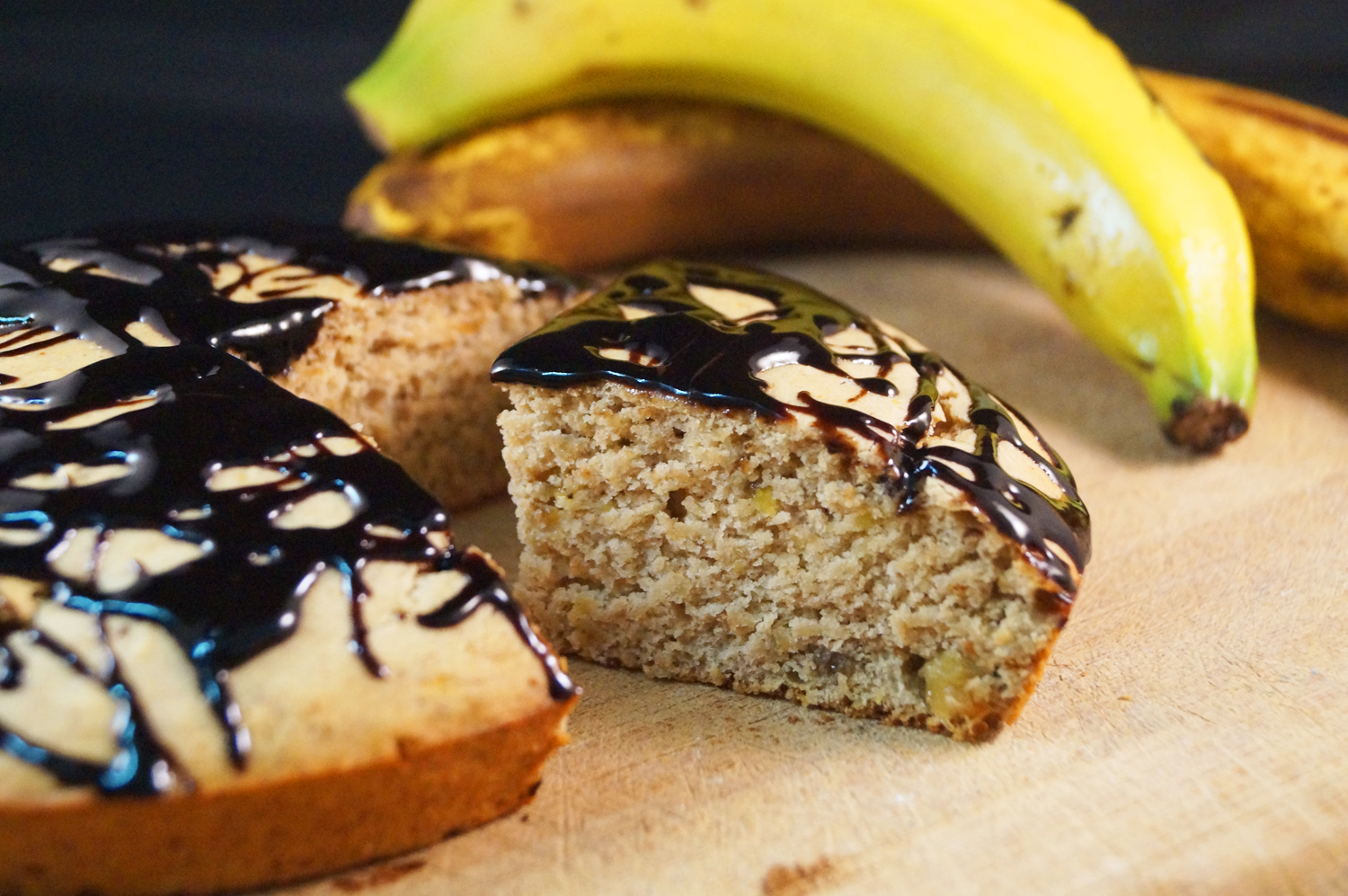 Amaretto Caramelised Banana Cake with Almond Chocolate Drizzle (Vegan & Gluten Free)
MyInspiration Feel The Difference Range
Serves 4 – ready in 45 minutes
For the Caramelised Banana
1 large banana sliced
1 tbsp maple syrup
1/2 tbsp almond milk (or any other non dairy milk)
Pinch cinnamon
1 tbsp amaretto (or 1 tsp almond extract)
For the main cake
1 cup buckwheat flour
1/2 tsp baking powder
1/4 tsp baking soda
1/2 cup non dairy milk (I used almond) mixed with 1/4 tsp apple cider vinegar
3 tbsp amaretto (or for kid friendly/alcohol free, just use 3 tsp almond extract)
3 tbsp maple syrup
Pinch cinnamon
2 tbsp raisins or sultanas
1/2 tbsp sesame seeds
For the drizzle
25g vegan dark chocolate
1/2 tbsp almond milk (or any other non dairy milk)
1/2 tsp almond extract
Method
1. Preheat oven to 180 degrees celcius (356 degrees Fahrenheit) and prepare a non stick 9″ round cake tin.
2. Start off with the caramelised banana by heating the 1/2 tbsp almond milk in a saute pan over a medium heat, add the banana, maple syrup, cinnamon and amaretto and turn the heat up to high and keep stirring the mixture until the banana start to get nice a mushy. Turn off the heat and set aside.
3. In a large mixing bowl combine the flour, baking soda, baking powder and cinnamon then add in the almond milk, maple syrup, amaretto (or almond extract) and mix together before adding in the caramelised banana, raisins and sesame seeds and folding through. I would taste the batter at this point to make sure that it is sweet enough for your own preference, it's at this point you could stir through a little more maple syrup and or amaretto or almond extract. Pour into your cake tin and bake for 20 – 25 minutes then cool.
4. While you are waiting on the cake to cool slightly, make the drizzle by melting the chocolate in a bain marie (I use a bowl sat over a small pan of boiling water), once the chocolate has melted add 1/2 tbsp almond milk and the almond extract and stir until smooth, remove from heat and using a teaspoon, load it with chocolate and flick it over your cake in whatever pattern you like best, I just went for swirly movements, just make sure there's a nice drizzle on each slice of the cake!