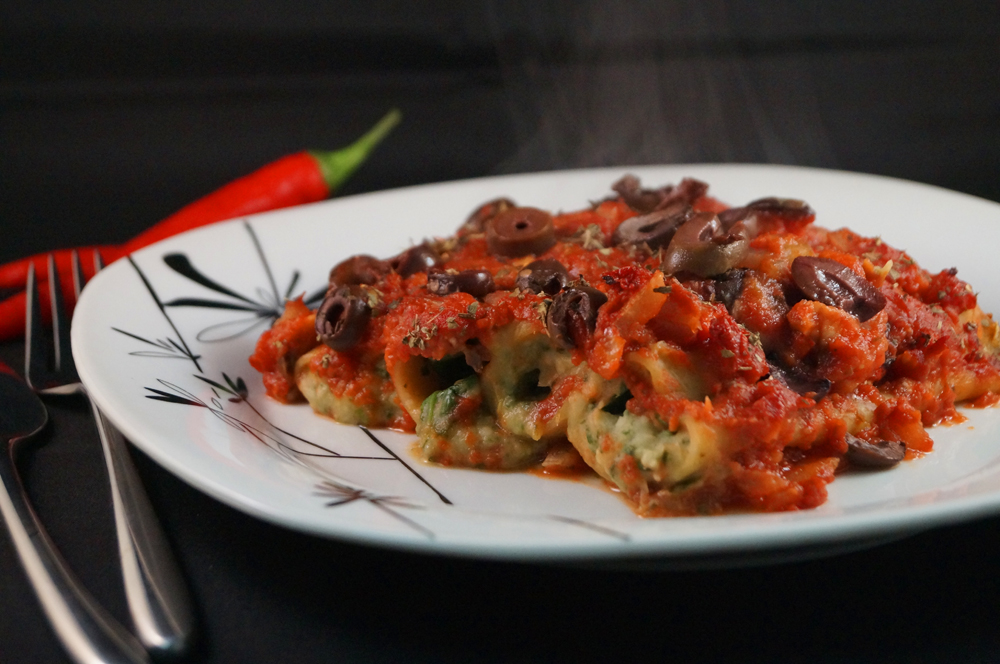 I had a thought about making cannelloni and realised it's been well over a year since I made it last, I think I felt a little stumped as to what to fill it with, but now… well now we have a delicious white bean and spinach filling that is just divine and along with the picante sauce it's just a great pasta dish that everyone will love, vegan or not. I'm going to keep the filling as a possible pie filling with a nice gravy, I think it'll be quite versatile and be usable in a variety of dishes.
I managed to pick up my car this morning without any problems, so I was pleased I didn't need to leg it up the hill again if it wasn't ready, I had everything crossed! I've also been out and shopped for tonight's dinner and right at the last minute I picked up some asparagus, never cooked the stuff, so this'll be a first, if you don't see it in tomorrow's recipe, you'll know something went a bit wrong, but I shall remain confident and just see how I get on!
White Bean & Spinach Cannelloni with a Picante Mushroom Sauce (Vegan & Gluten Free)
MyInspiration Feel The Difference Range
Serves 2 – ready in under an hour
For the cannelloni Filling
2 cans of white beans drained and rinsed (about 5 cups worth)
3 cups fresh spinach (rinsed and then pour 1ltr of boiling water over it to wilt it)
2 cloves garlic finely sliced
The juice of half a lemon
10 cannelloni pasta rolls (make sure gluten free)
For the Picante Mushroom Sauce
1 onion, finely chopped
1 clove garlic finely chopped
6 button mushrooms finely chopped
2 hot red chillies, finely chopped
3 cups passata
1/2 tsp black pepper
1 tbsp dried basil
Top with sliced black olives or a sprinkling of nutritional yeast (or both)
Method
Preheat oven to 180 degrees celcius (356 degrees fahrenheit)
In a food processor pulse the white beans, half the wilted spinach, garlic and lemon juice until it's combined, then stir in the remaining spinach and using your fingers, stuff the mixture into the cannelloni tubes and set aside.
To make the picante sauce, heat 2 tbsp water in a large sauce pan over a medium heat and add the onion, garlic and chili and cook for 3 minutes before adding in all the remaining ingredients (apart from olives) and add quarter cup of hot water and stir to combine, allow this mixture to cook for 10 minutes then get a hand blender or transfer to food processor and give it a couple of short bursts, you don't want to puree the mixture, just make it a little less bulky.
Take a quarter of the sauce and pop it into a shallow baking dish, mine was 12″ x 8″, then arrange your stuffed cannelloni tubes on top of this mixture, you should fit 10 no problem (8 in a row and 2 down the sides) then pour over the remaining sauce mix and sprinkle over the sliced black olives and pop in the oven for 20 – 25 minutes, test the pasta by piercing with a sharp knife to see if it's soft and cooked through. Serve immediately.