I'm making great use of all my new cupboard staples that I bought on Monday and for last night's dinner I opted to use the chia seeds and quinoa and had my first attempt at making a Tabbouleh. I think I first had Tabbouleh at a fashion show dinner party this summer, although I think that was made with bulgur, which I probably would have used prior to getting my hands on a big bag of quinoa, and I loved the taste of it, such a fresh and zesty flavour to it. Just the smells coming from the bowl when I made it with the fresh mint and parsley, then the lemon juice, yummy!
The burgers were just heavenly, the addition of the wasabi paste gave them a delicious unique flavour, not too hot either I might add. I substituted my usual ground flax seed for the chia seeds to bind my burgers together and they worked a treat. On the topic of chia seeds, I really want to try out a chia pudding but worried that hubby won't like the consistency as it looks similar to rice pudding which he hates. I might make some just for me to test it out and see how it goes, it just looks lovely so have to try it.
I was raving about Tabbouleh this morning at the gym, some of the ladies there had tried quinoa before but found it tasteless and there I am gushing about adding it into a Tabbouleh. I want to have a go at using quinoa in my baking, perhaps some muffins to begin with. Oh yes, that sounds nice, I've got some beautiful juicy looking raisins I want to use and that sounds ideal!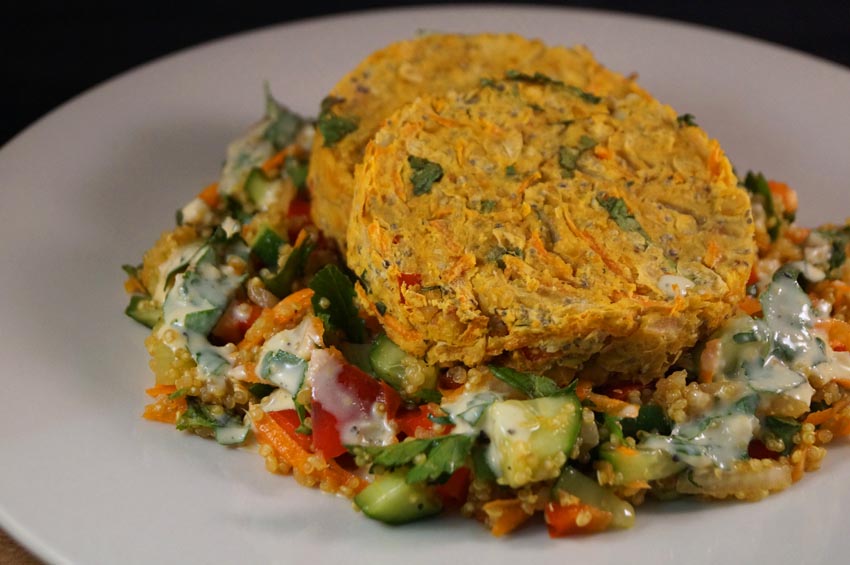 Wasabi Chickpea & Chia Veggie Burgers with Quinoa Tabbouleh and a Lemon & Coriander Hummus Dip (vegan & gluten free)
MyInspiration Feel The Difference Range
Makes 6 burgers (serves 2) – Ready in 40 minutes
Burger
½ onion finely chopped

1 clove garlic finely chopped

½ tbsp wasabi paste

1 can chickpeas (approx 1 ¾ cups) drained and rinsed

1 medium carrot grated

½ tsp cumin

1 red pepper (capsicum) finely chopped

2 tps chia (mixed with 3 tbsp warm water)
Tabbouleh
1/2 cup quinoa

1 cup of vegan stock (cook for 15 minutes)
½ onion finely chopped

1 clove garlic finely chopped

¼ cup chopped red pepper (capsicum) very finely diced

¼ cup grated carrot

1 cucumber, very finely diced

1 tsp paprika

Pinch of Cumin

Handful of fresh parsley very finely chopped

Small handful of fresh mint very finely chopped

1 tbsp fresh lemon juice
Dip
2 tbsp Hummus

1 tbsp lemon juice

Small handful of fresh coriander

Black pepper
Method
Preheat oven to 180 degrees celcius (356 degrees Fahrenheit) and prepare a large baking tray (either line with parchment or use a non stick cookie tray)

Make the burgers: In a small cup mix together the chia seeds and warm water and set aside. Now, add 2 tbsp water to a deep sauce pan over a medium heat and add the onion, garlic and wasabi paste and cook for 2 minutes before adding the chickpeas and cumin, stir and cook for 5 minutes and remove from heat. Mash the chickpeas until they are all broken down then mix through the red pepper, carrot and chia mix and stir this together (if your mixture is too dry, ie just breaks apart, add a few tbsp of water to moisten). I used a presentation ring to shape my burgers, I just spooned in the mixture and pressed it down to compact the pattie, pop in the oven for 20 – 25 minutes. (No need to turn them over)

Make the Tabbouleh: Bring 1 cup of vegan stock to the boil and add ½ cup quinoa, turn heat to medium and cook for 15 – 20 minutes, stirring occasionally until the liquid has been absorbed. While this is cooking, add all the other tabbouleh ingredients into a mixing bowl, toss together and when the quinoa is ready, stir this through the veggies.

For the dip: Whisk together the 3 ingredients and you're done.
These burgers go well just with the tabbouleh and dip, but we also added a seeded burger bun to ours and a little splash of Encona sweet mango chilli sauce to finish off (scrumptious).