I know, another wordy one, but I like flinging in super descriptive titles in an attempt to lure you all in for a looksie. As we're going to be travelling again soon, I'm using up all my cupboard stock and I had a 3/4 full bag of Arborio rice that need using up, and I do love a good risotto, it's just getting a few bits and bobs from the fruit market to really fill it out and make it super tasty.
You might ask why I added in the pea puree and red onions, and I would tell you my answer is two fold, first they both add (what I think is) a nice colour contrast to the dish and secondly, they taste fab and go really well with the cherry tomatoes and slight kick of the chopped chili.
But if you fancy your dish nice and simple, then just make the risotto on it's own, it's yummy scrummy and filling too, maybe team it with a little side salad.
Was showing off some of my Italy photos to a lovely friend of mine, trying to tempt her into booking a break away there as I know she would LOVE it, especially Bologna, feels like an age ago we were there and it was only last week… actually this time last week we were getting back from our day trip to Venice!  Ahh Italia!!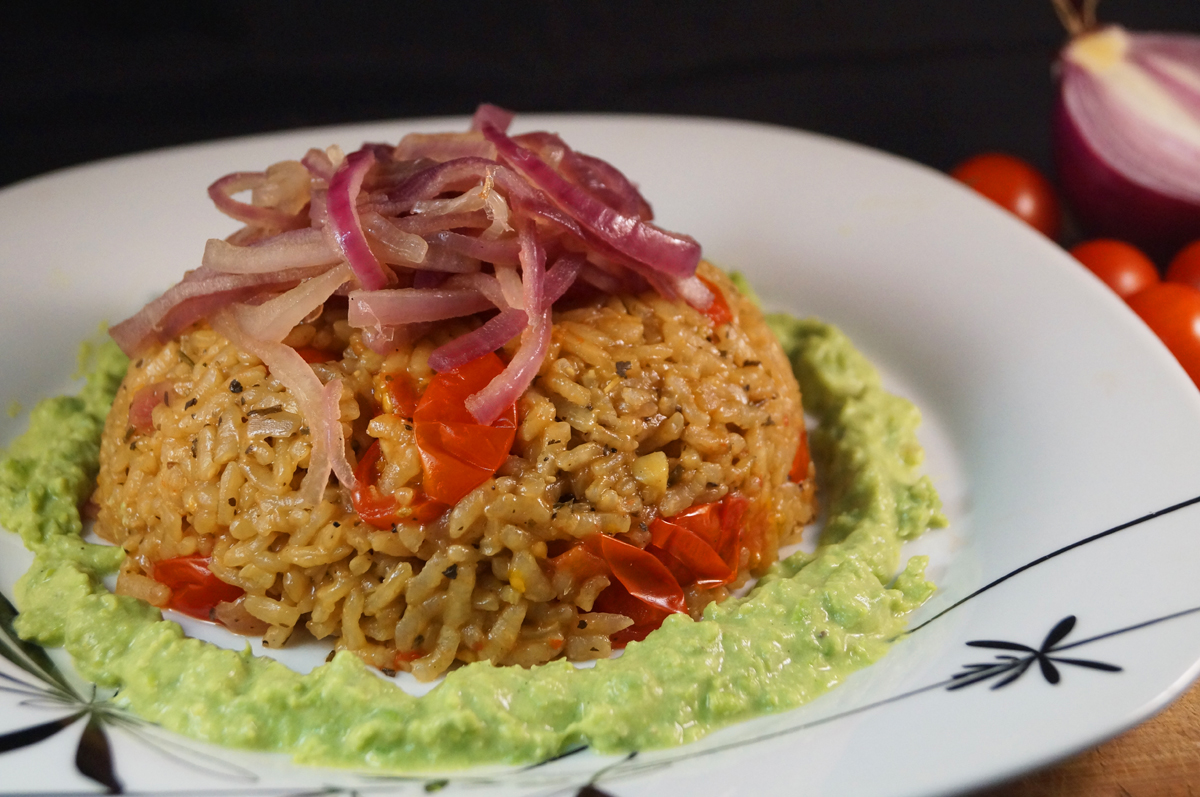 Vine Tomato, Chili & Herb Risotto served with a creamy pea puree topped with caramelized red onions (vegan & gluten free)
MyInspiration Feel The Difference Range
Serves 2 – ready in approx 40 minutes
For the risotto
1 red onion finely chopped
3 cloves garlic finely chopped
2 hot red chillis finely chopped
Zest of 1 lemon
Juice of half a lemon
1.5 tbsp dried basil
1 tsp dried rosemary
12 large cherry tomatoes halved
1.5 cups arborio rice
3 cups vegan stock
3 tbsp balsamic vinegar
Pinch black pepper
For the Pea Puree
1 cup frozen garden peas (take out the freezer before you start risotto to let them thaw slightly)
1.5 tbsp tahini
2 tbsp warm water
Pinch black pepper
For the Caramelized onion
2 red onions halved then cut into half moons
1 tbsp maple syrup
Method
1. Preheat oven to 180 degrees celcius (356 degrees Fahrenheit) and put your cherry tomatoes into a baking tray with 1 tbsp of water, sprinkle over some black pepper and place in the oven to roast for 25 minutes.
2. Make the risotto – Heat 2 tbsp water in a medium sized sauce pan and saute the red onion, garlic and chili for 4 minutes then add the basil, rosemary, lemon zest, lemon juice and arborio rice and give it a good stir to get all the rice coated. Now add the balsamic vinegar and cook for 1 minute before adding in the veg stock and black pepper, stir everything together and bring to the boil, then turn off the heat, cover the sauce pan and transfer to the oven to cook for 25 minutes stirring every 7 or 8 minutes. Remove from the oven and stir through the roasted cherry tomatoes from step 1.
15 minutes before your risotto finishes cooking, you should start to make the caramelized onion and pea puree.
3. For the Pea puree – Add the cup of frozen peas to a small saucepan of boiling water and cook for 5 minutes, drain and using a stick blender pulse until smooth then stir through the tahini, black pepper and warm water (the water is just to thin the puree out, you don't have to add this if you don't want to).
4. For the caramelized red onions, add 1 tbsp water to a saute pan add the onions and drizzle over the maple syrup and cook for 8 minutes until they are lovely and sticky then spoon some risotto onto your plate, pile the caramelized red onion on top and drizzle the puree around your dish for an arty flourish!
I hope you enjoy this as much as we did!