I'm trying to catch up with the recipes I've done in the last week and somehow forgot all about the leftover veggieball bolognese that I made, so thought I better get it on quick smart before I completely forget about it and send it to the archives never to be seen again! I used the left over mexican veggie burgers I made last week, but you can use whatever veggie burgers you can get your hands on, alternatively, if you've no burgers then I say just buy some big portobello mushrooms, slice them up nice and chunky and add them to the pasta, easy peasy.
The avocado toasts were lovely and went perfectly with the spiciness of the mexican burgers and picante sauce and I thought they gave the dish a beautiful lift of colour too, so smiles all round. No avocado, no problem, you could go for a simple garlic bread or you could add lashings of hummus to your toast instead, I tend to use whatever I have in at the time and when you have a ripe avocado in the house, you USE that ripe avocado tout suite, no questions asked.
I didn't actually do anything Halloweeny yesterday, I had grand plans of making some Crime Scene Cinnamon Men, with strawberry blood and goo etc, but time got away from me and I didn't get a chance to go buy the gingerbread man cookie cutters, but I might actually try and make some cinnamon bread men (not gingerbread, as Martin doesn't like ginger so we're opting for cinnamon). No matter, had a nice slice of apple pie with the scary film instead.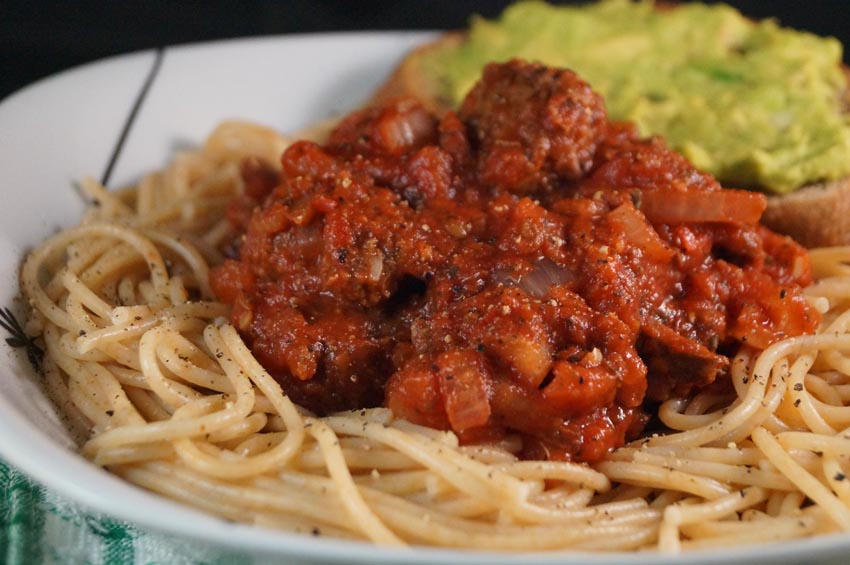 Veggieball Spaghetti Bolognese served with Avocado Toast (vegan with gluten free option)
MyInspiration Feel The Difference Range
Serves 2 – Ready in 30 minutes (if you're using leftover burgers)
½ large onion finely chopped

1 large clove garlic finely chopped

½ tbsp dried basil

½ tbsp dried oregano

½ tbsp dried chili flakes

2 ½ cups passatta

2 tbsp tomato paste

Juice of ½ lime

3 Mexican Veggie Burgers (

see recipe here

) chopped into bite size chunks

Black pepper to season
160g spaghetti (I used wholewheat spaghetti – for GF use your favourite pasta)
For the toasts
2 slices of bread

1 small avocado

1 garlic clove finely chopped

Squeeze of lime juice
Method
Prepare the pasta by adding the spaghetti to a pan of boiling water, turn heat to medium and cook for 12 – 15 minutes, drain and set aside.

For the sauce, add 1 tbsp water to a sauce pan over a medium heat and add the onion, garlic, basil, oregano and chili flakes, stir together and cook for 2 minutes before adding in the tomato paste, passatta, lime juice and some black pepper to season, then add in your chopped veggie burgers, stir together and cook for 10 minutes. Lastly, throw in the spaghetti and toss together and cook for another 2 – 3 minutes until the pasta is piping hot.

For the toasts, just mash together the avocado, garlic and lime juice in a bowl, toast one side of the bread under the grill turn it over, spread over the avocado paste and pop back under the grill for a minute and it's done.