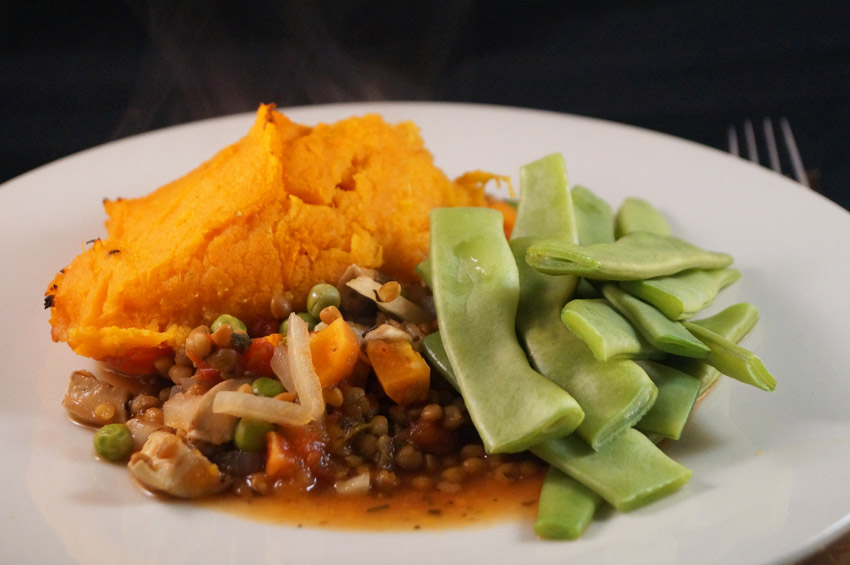 Woo hoo I am back in the kitchen after a LONG break away, well it feels like forever to me and it's nice to get back into cooking good old hearty meals. Don't get me wrong, I cooked a bit while we were on holiday but it's not quite the same as you don't have a cupboard full of herbs and spices or 4 different types of flour to choose from so you kind of keep it nice and simple. So when in Italy we ate a lot of pasta, but hey, I love pasta so it worked for me.
It's a little dark and damp here just now so I was in the mood for some old fashioned comfort food  and I whipped up this super easy veggie Shepherd's pie, I opted for a sweet potato mash to top it and so glad I did, it was lovely, especially with the little bite of mustard to perk it right up. I went a bit crazy and made a Chocolate Fruit Cake for dessert (recipe coming soon). I got these big juicey sultanas and cranberry mix that I just couldn't resist flinging into a cake and it was just gorgeous.
So if you want to have something quick, cheap and easy to make, then you can't go far wrong with a Shepherd's pie, I said this serves 2 but really they were massive platefuls (I piled another heaped ladle full on after I took the photo!!) so you could easily feed 4 if you served it with a load of veg and maybe a slice of garlic bread on the side. Now. I'm going to pilfer a corner of that cake!!
Veggie Shepherd's Pie served with Sugar Snap Peas (vegan & gluten free)
MyInspiration Feel The Difference Range
Serves 2 – ready in 45 minutes
2 cans lentils
1 onion finely chopped
2 cloves garlic finely chopped
1 tbsp dried basil
1 tsp rosemary
2 carrots peeled and diced
1 cup frozen peas
3 large button mushrooms chopped
1 can chopped tomatoes
1 tbsp balsamic vinegar
3 medium sweet potatoes (peeled, chopped and boiled for 12 – 15 minutes then mashed with 1 tsp wholegrain or English mustard and a pinch of black pepper)
Method
Preheat oven to 180 degrees celcius (356 degrees Fahrenheit) and prepare a casserole dish.
Add the sweet potatoes to a pan of boiling water and cook for 10 – 12 minutes until tender, drain and mash with the mustard and black pepper.
While the potatoes are cooking make the filling. Heat 2 tbsp water in a large deep sauté pan over a medium heat and add the garlic, onion, basil and rosemary, cook for 3 minutes before adding in the chopped mushrooms and lentils and stir to combine everything together. Now add in the chopped tomatoes, balsamic vinegar, peas, carrots and a dash of black pepper to season, mix this all together and cook for 10 minutes.
Pour the lentil mixture into your casserole dish and top with the mashed potatoes and pop in the oven for 30 minutes.
Serve with a side of veggies, we went for sugar snap peas, but you could go for some broccoli or whatever you have in the kitchen.