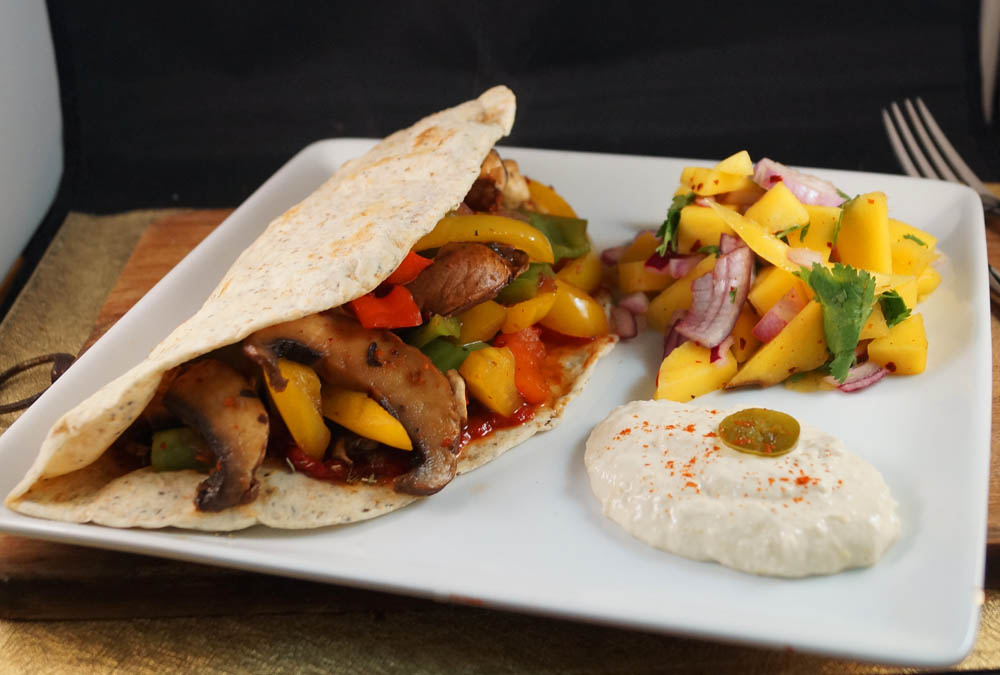 Oh my goodness, I think I have hit upon my all time favourite flatbread recipe!! I'd seen a post the other day on theveglife where they added chia seeds to their dough and I thought that sounded pretty tasty so I gave it a go. It's divine, just delicious really and the flat breads are perfect for these quesadillas. I also made another batch last night, added some chilli flakes to the dough as well and served it with a lentil dahl, yummy!
This takes no time at all either, it's just getting everything prepared that takes longer, but the cooking process is done and dusted in about 15 minutes! I served mine with hummus but you can have some refried beans, some guacamole, plain old tomato salsa, just add all your favourite ingredients. If you have some vegan cheese, throw some of that on top of the filling before you fold it, oh the extras are endless really!
I've decided that I will take on my back garden this weekend, it looks like a jungle out there and I've got it in my head now that I want to clear it up. I am 99% certain that there is a bike tangled up in the tendrils of next doors bougainvillea and we have a BBQ that we haven't used in 3 years so I'm going to get out there and clear the lot and see where that gets me. Start with a nice fresh space, just hope it doesn't rain on Sunday!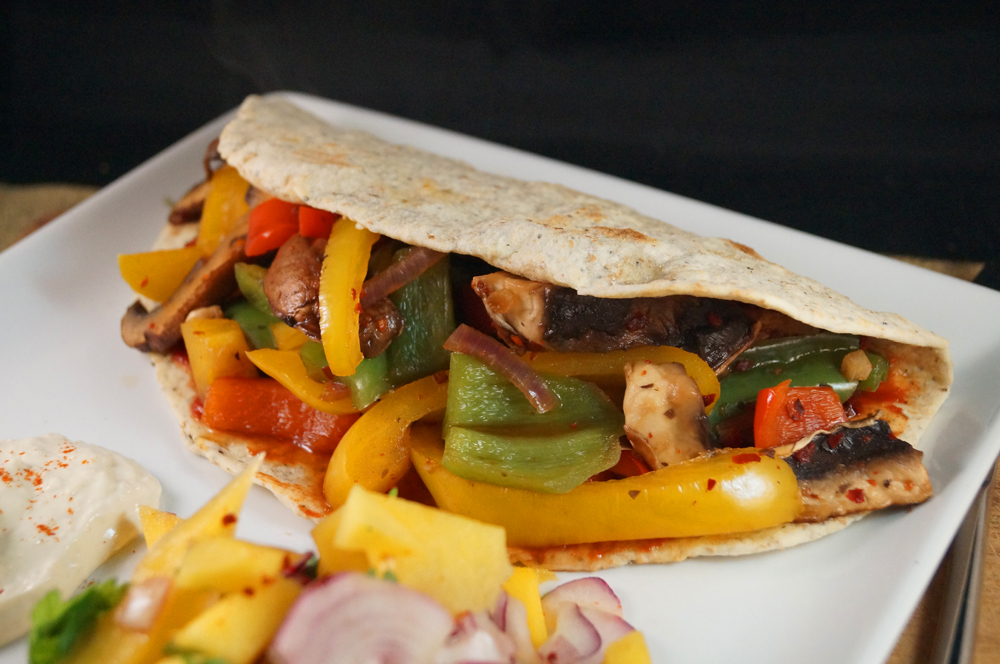 Veggie Quesadilla with Mango Salsa and Hummus (Vegan with Gluten Free Option)
MyInspiration Feel The Difference Range
Serves 2 – Ready in 40 minutes
For the filling
½ red onion finely chopped
2 cloves garlic finely chopped
1 red pepper (capsicum) diced
1 green pepper (capsicum) diced
1 yellow pepper (capriscum) diced
4 portobello mushrooms, destemmed, gills scraped and chopped
1 tbsp chili flakes
¼ cup water
Jalapeno peppers chopped
Flatbreads
1 cup wholewheat flour (for gluten free use your favourite GF flour)
¼ tsp baking powder
1 tbsp chia seeds
Large pinch of Black pepper
1/3 cup warm water
1 tbsp margarine melted
Salsa
1 mango chopped
Handful of fresh Coriander, chopped
½ tbsp red Chili flakes
Juice of ½ a Lime
½ red onion finely chopped
Garnish
2 tbsp hummus with a sprinkling of chilli powder
Jalapeno peppers
1 tbsp tomato paste with a pinch of thyme
Method
Prepare your flat bread dough – Combine the flour, baking powder, chia seeds and black pepper in a large mixing bowl then add in the melted margarine and warm water and mix well together until a nice dough forms. Turn out onto a floured surface and knead the dough for a few minutes. Pop back in the mixing bowl and set aside for later.
Make the Mango Salsa – combine all the ingredients together in a bowl, give it a good stir to mix everything well together. Set aside for later.
For the filling – Add 2 tbsp water to a large sauté pan over a medium heat then add in the chilli flakes and red onion and cook for 2 minutes before throwing in the remaining ingredients and cooking for 8 minutes until the mushrooms start to shrink down. Turn the heat to its lowest setting and leave to keep warm.
Take a separate sauté pan over a medium/high heat, let the pan get hot, separate your flat bread dough into 2 balls and on a floured surface roll each one out into thin rounds, pop on the sauté pan for about 1 minute each side, they should start to brown a little.
To assemble, lay out your flat bread, spread over a little of the tomato paste and thyme, spoon on a generous serving of the filling, add in the jalapenos, fold the bread over and serve with the mango salsa and some hummus or guacamole if you have any ripe avocados!