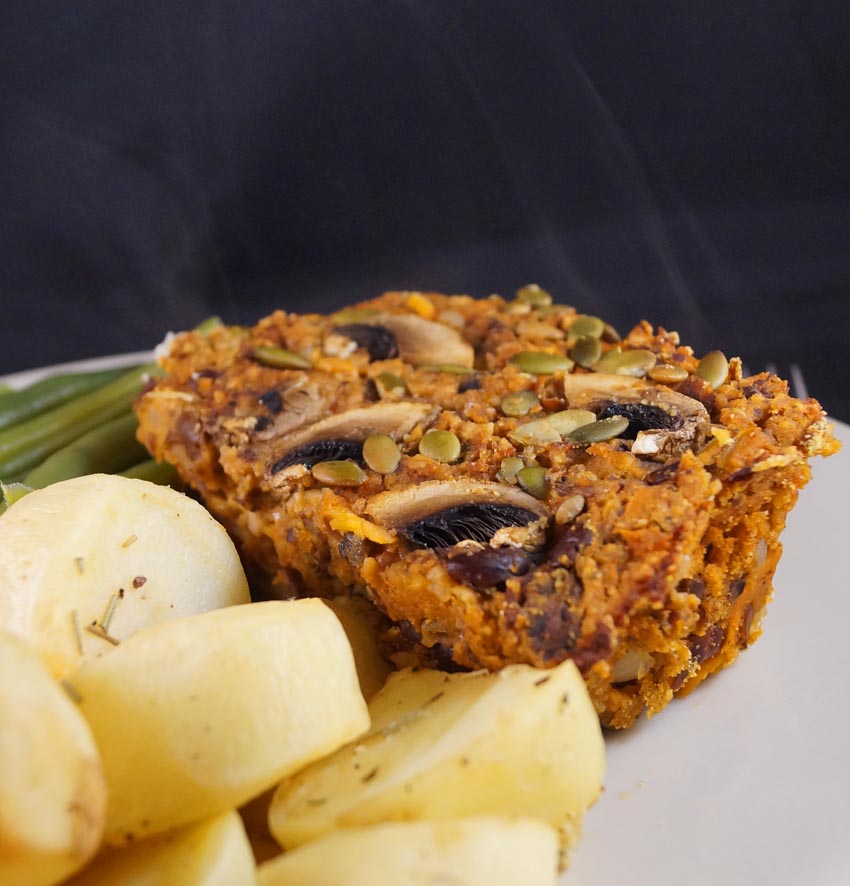 I've been experimenting these past few weeks with Sunday dinners, they can be great for family get togethers if you happen to have invited non vegan guests over or even if you just fancy cooking something special for yourself, any leftovers can go in the fridge for bonus Monday meals.
I keep thinking of what to make that would be a centre piece for the meal, as people tend to expect the veggies to be WITH something, so with this recipe I've gone for a nut roast and next time will be Pie as I've got a lot of puff pastry in the freezer that I really should try and use up.
You can serve this with roast potatoes and a variety of veggies that are in season, maybe some mint or cranberry sauce on the side as an added accompaniment. As it's so filling you can afford to go light on dessert, I just made a quick batch of chocolate banana icecream as I was fit to burst after dinner ** Recipe for icecream (serves 4) – 4 frozen bananas chopped, 2 tbsp maple syrup, 4 tbsp cocoa powder, 1 tsp vanilla extract, blitz all of this in a food processor and sprinkle over some dark choc chips to serve.
Veggie Nut Roast (vegan & gluten free)
MyInspiration Feel The Difference Range
Serves 4 – Ready in an hour
2 cans fava beans (approx 3 cups), drained and rinsed
1 ½ cups vegan stock
3 tbsp tomato puree
½ tbsp wholegrain mustard
1 onion chopped
3 cloves garlic finely chopped
4 button mushrooms finely sliced (reserve a few slices of mushroom to pop on the top of the loaf)
2 carrots peeled and grated
1 red pepper chopped
1 tbsp thyme
1 tsp sage
½ cup gram flour (chickpea flour)
1 cup cashews (blitzed in a food processor into crumbs)
½ cup fine breadcrumbs (make sure GF)
1 tbsp pumpkin seeds
Method
Preheat Oven to 180 degrees celcius (356 degrees Fahrenheit) and grab a large loaf tin, rub the inside with a little vegetable spread and sprinkle a ½ tbsp of polenta to coat the side. (the polenta is optional).
In a large sauté pan add 2 tbsp water over a medium heat, add the garlic and onion and cook for 2 minutes before adding in the tomato puree, mustard, sage and thyme and mixing this together, next add in the chopped mushrooms, red pepper, carrots, the stock and fava beans and let this all simmer together for 10 minutes, remove from heat.
Take a potato masher and mash this mixture down a little to break up the fava beans.
Now mix through the cashews, gram flour and breadcrumbs and spoon into your loaf tin, pressing it down to compact it in.
Top with a few slices of mushrooms, pressing them into the loaf and sprinkle over the pumpkin seeds, again pressing them down into the top of the loaf, pop in the oven to bake for 40 minutes, until form to the touch. Turn out onto a long plate and slice.
Serve with some roast potatoes, veggies and mint sauce, great for a Sunday dinner!