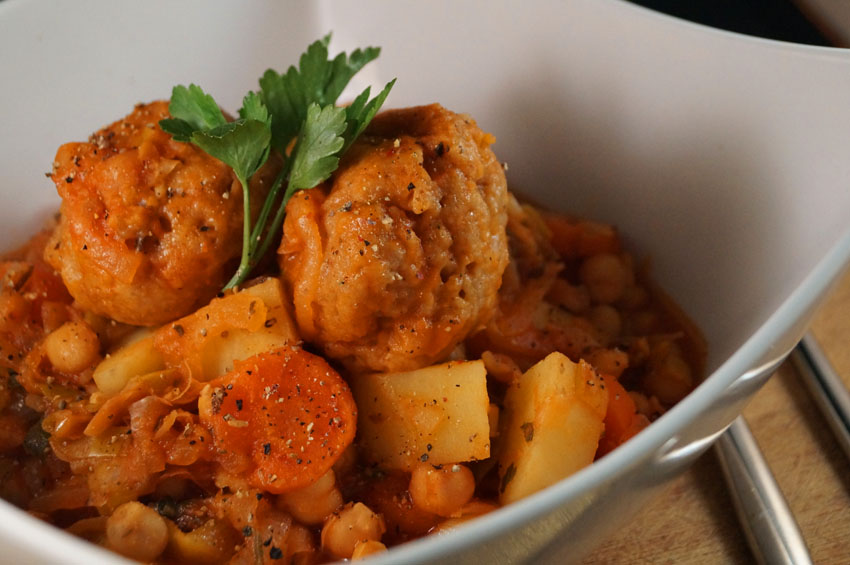 Right, I should probably start by saying that the last few recipes have been great big portions and are quite calorific, this is ONLY because we have increased our daily activity for our Legion Run training and we want to make sure that we are eating sufficient to cover our daily needs. So if you are active, work out a lot, have a strenuous job etc then you do (especially if you are plant based like us) need to make sure that you are eating plenty of good foods and keeping up your calorie intake.
If however, you are a little more laid back on the exercise side of things or are sitting down at a desk etc for the best part of the day, then just serve yourself what you want to eat and wrap up anything that's left for lunch the next again day. The most calorific ingredients I've been using has been the chickpeas and rice, so feel free to swap the rice for bulgur and when you see the chickpeas, stick with 1 1/2 cups of chickpeas instead of 3.
So, on to today's recipe, I wanted to try something for upcoming St Patrick's Day and thought a nice stew would fit the bill nicely, I found some nice ale to use (but feel free to swap the ale part for red wine, whatever you feel happiest with). This was a deliciously hearty dish and you can have with or without the dumplings. If you aren't having the dumplings try and find some nice soda bread to keep in with the St Patrick's Day theme!
Veggie Irish Stew and Dumplings (vegan & gluten free)
MyInspiration Feel The Difference Range
Serves 2 – Ready in 40 minutes
3 cloves garlic finely chopped
1 white onion finely chopped
3 tbsp tomato puree
2 medium carrots peeled and chopped
1 leek, chopped into small chunks
2 medium potatoes peeled and chopped into cubes
2 cans chickpeas (about 3 cups), drained and rinsed
1 ½ cups vegan stock
¾ cup of ale (make sure vegan, check here for vegan ales)
¾ cup passatta (pureed tomatoes)
1 tbsp thyme
2 bay leaves
Handful of fresh parsley chopped
For the dumplings
½ cup vegetable suet
1 cup wholewheat flour (for gf use gluten free brand of self raising)
½ tsp baking powder
¼ cup water
Method
In a deep sauce pot over a medium heat, add 2 tbsp of water, add the garlic, onion, tomato puree and thyme and cook for 2 minutes before adding in the chickpeas and stirring together. Now add in all the remaining ingredients and mix well, cover, reduce heat and leave to cook for 35 minutes.
For the dumplings, add all the ingredients into a mixing bowl and stir into a stiff dough, break into 4 balls and pop them on the top of your stew (the dumplings need 20 minutes to cook so add these on once your stew has been cooking for 15 minutes).
Serve in a nice big bowl with some cracked pepper on top.