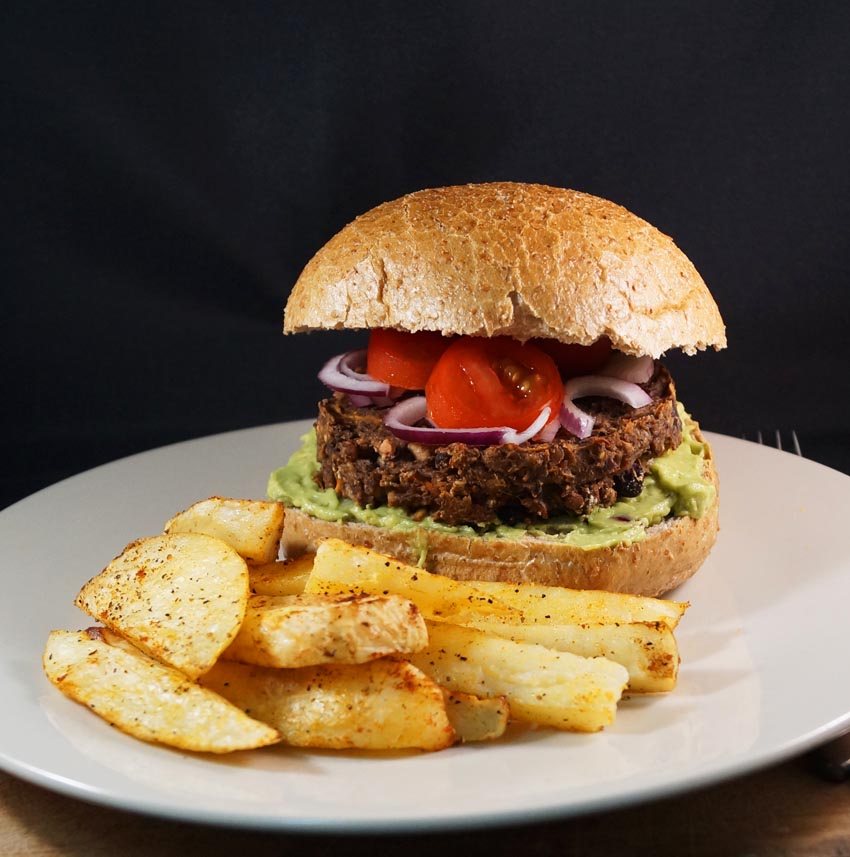 Success at last for my veggie haggis burgers, I managed to photograph them this time without them looking a little sorry for themselves! I think I got burger buns last time that were just way too big and my little guys were lost in the middle of it, but not this time, no siree, I got out the big cookie cutter this time to make monster burgers, so it's veggie haggis quarter pounders really!
Now go with me on the addition of guacamole, I too thought it was sacrilegious to veer away from traditional haggis, neeps and tatties, but the guacamole goes great with the spices that are in the burgers and don't be shy to throw in some tortilla crisps and a little salsa either if you don't want to make the potato wedges, it all works fabulously together. I've also been a little cheeky and kept 2 burgers to add to my pasta tonight, so we're having a veggie haggis ball arrabiata with some whole-wheat penne, plus some avocado toasts along side.
Just finished Dean Koontz 'Dark Rivers of the Heart', it was a good read, I like his style of books and now I'm moving back to Jo Nesbo and 'The Devil's Star' which should take me nicely to the time when my Paulo Coelho 'Like the Flowing River' arrives, which I am very much looking forward to! I did a massive book clear out the other day and took 3 full bags of books to the local charity chop, so now my book shelves are nice and tidy but in need of replenishing. I've got my eye on a couple of Scott Lynch books and also I need to catch up on my Game of Thrones books and perhaps I may read the Lord of the Rings books as I quite enjoyed The Hobbit.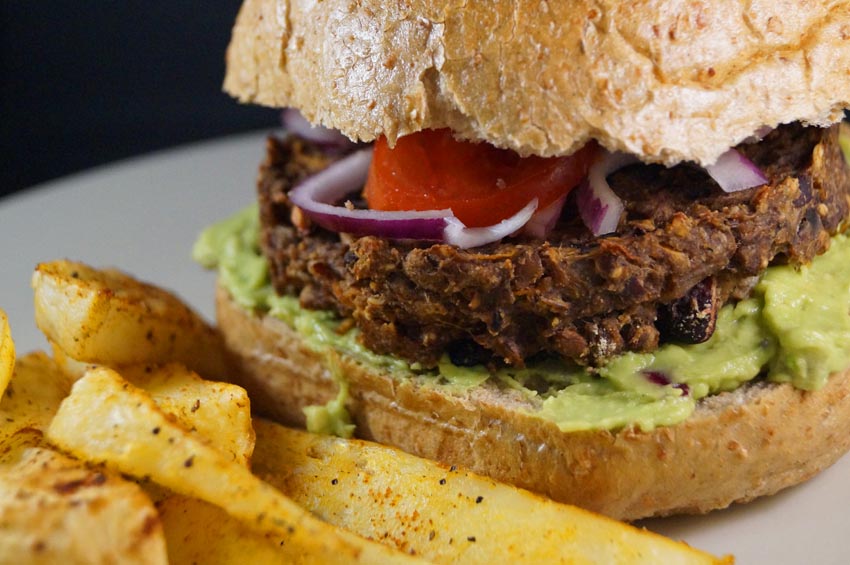 Veggie Haggis Burgers with Guacamole and Paprika Spiced Wedges (vegan & gluten free)
MyInspiration Feel The Difference Range
Makes 6 burgers
For the burgers
2 cups chopped button mushrooms
1 can brown lentils drained and rinsed, approx 1 ¾ cups (or dry lentils soaked for 3 hours then cooked)
1 can kidney beans, drained, rinsed and roughly chopped, approx 1 ¾ cups (or dry kidney beans soaked over-night then cooked)
½ cup of oats (toasted)
1 large carrot, grated
2 clove garlic, minced
1 white onion finely chopped
1 tbsp light soy sauce
1 heaped tsp of garam masala
1 ½ tsp black pepper
5 tbsp gram flour
For the wedges
2 large potatoes, peeled and chopped into wedges
2 tsp sweet paprika
1 tsp black pepper
2 tsp olive oil
For the guacamole
1 ripe avocado
½ red onion finely sliced
Squeeze of lime or lemon juice
1 clove garlic
Method
Preheat oven to 180 degrees celcius (356 degrees Fahrenheit) and prepare 2 baking trays.
Start with the potato wedges – Add the chopped potato to a pan of boiling water and cook for 5 minutes, drain and transfer to a baking tray, drizzle over the olive oil, paprika and black pepper, give the wedges a shake to coat completely and pop in the oven for 25 – 30 minutes until lovely and crisp, give them a shake every 10 minutes to avoid them sticking to the tray.
For the burgers – Heat 2 tbsp of water in a deep pan and then saute the onion, garlic and mushrooms for 3 minutes before sprinkling over the garam masala, white pepper and soy sauce, stirring to mix everything together.
Using a stick blender, quickly pulse the mixture until it starts to break down, don't turn it to mush, you just want to get rid of big chunks of mushrooms and onion.
Add the lentils, chopped kidney beans, oats and the carrot and cook for 5 minutes, stirring occasionally to avoid the haggis sticking. Finally mix through the gram flour, shape the mixture into 6 patties (I used a large cookie cutter and spooned the mixture inside, pressing it down to compact it, my burgers were approx 1.5cm high) pop in the oven to bake for 20 minutes. I didn't need to turn them over half way through so you can just leave them in the oven for the full 20 minutes.
For the guacamole – Add all the ingredients to a bowl and mash together until it's nice and smooth.
Serve in a toasted bun with the guacamole, some chopped red onion and cherry tomatoes, perhaps some jalapenos and serve with the wedges on the side.