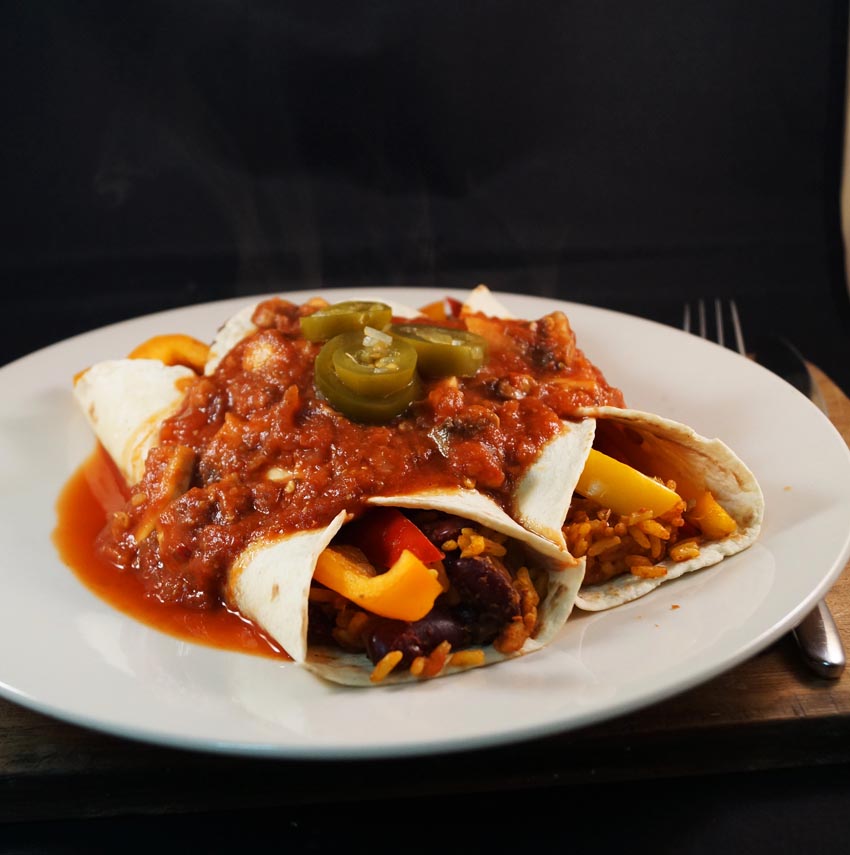 Keeping in with the theme of "comfort food" I think that I can easily pop this Enchiladas recipe in that category, it's a very hearty and filling dish and is packed full of the good stuff including kidney beans, mushrooms and mixed peppers, all great ingredients to keep us ticking over. I was going to make some guacamole to go with it but no avocados for me and in the end we didn't really need the extra side dish.
Something to keep in mind with the enchiladas is that you don't have to stick with the kidney beans, if you prefer you could use blackbeans, black eye peas, chickpeas etc use what you have in the cupboards and if you like you can add some spinach in there as well, brings a nice hit of colour to the dish.
I was very excited yesterday, I SAW A PUMPKIN, that's right, pumpkins are now in stock in my village and I am going to get me one of them tomorrow and will be cooking up a pumpkin storm! I'm talking pumpkin pie and perhaps a pumpkin curry too! Woo hoo, hope I actually like pumpkin. I've been spending quite a lot of time just perusing the photos on pinterest and facebook of all the recipes people have been making and I've just been waiting patiently, waiting on the elusive pumkin's arrival in our fruitmarket and that day is here!
Veggie Enchiladas filled with spicy kidney beans, mixed peppers and Mexican spiced rice, topped with spicy mushroom marinara sauce. (Vegan with Gluten Free Option)
MyInspiration Feel The Difference Range
Serves 2 – Ready in 40 minutes
Spicy Kidney Beans
2 cans kidney beans (about 3 ½ cups) drained and rinsed
½ onion finely chopped
1 clove garlic finely chopped
1 tsp sweet paprika
½ tsp chili powder
1 tsp Cajun spice (optional, if you can't get any just add ½ tsp cayenne & ½ tsp chili flakes)
1 tsp oregano
Spicy Marinara Sauce
½ onion finely chopped
1 clove garlic finely chopped
1 tsp cumin
½ tsp sweet paprika
1.2 tsp chili powder
2 cups passatta (puree tomatoes
4 large button mushrooms sliced
Black pepper to season
Mexican Rice
¾ cup long grain rice
1 ½ cups vegan stock
1 red pepper finely chopped
½ onion finely chopped
1 tbsp chopped jalapeno
2 cloves garlic finely chopped
Additions
1 red pepper sliced into strips
1 yellow pepper sliced into strips
1 orange pepper sliced into strips
4 tortilla wraps (for GF make sure you use Gluten Free Brand)
Method
Start with the rice: In a food processor or using a hand blend, pulse together the red pepper, onion, jalapeno and garlic until a smooth paste forms. Add 1 tbsp water to a sauce pan over a medium heat, add the paste and cook for a minute then add the rice and stir this all together before adding in the stock, stirring once more, cover, turn heat down to low and simmer for approx 20 -25 minutes until all the liquid has been absorbed, turn off the heat and leave to settle for a few minutes.
For the Spicy kidney beans: Add 3 tbsp water to a sauce pan over a medium heat and add the onion, garlic, paprika, chili, Cajun spice and oregano and cook for a few minutes before adding in the kidney beans, stir to coat the beans, then turn the heat down to low and cook for 15 minutes stirring occasionally, once the rice is cooked, mix this through the kidney bean mixture.
For the Mushroom Marinara: Add 2 tbsp water to a sauce pan over a medium heat and add the onion, garlic, cumin, sweet paprika and chili powder and cook for 2 minutes then mix through the chopped mushrooms, stirring to coat in the spices, then add in the passatta and a little black pepper and stir together, reduce heat to low and cook for 10 minutes then using a stick blender I pulsed the sauce a few times to break up the mushrooms and to thicken the sauce slightly.
To assemble: I popped each tortilla wrap onto a hot sauté pan for 10 seconds each side just to warm them up. Spoon the bean/rice mixture down the centre of each wrap, add some sliced peppers and perhaps a few cheeky jalapenos, fold the wraps to close them and then pour over some of the marinara sauce, a few more jalapenos and serve. (You can make up some guacamole and salsa if you want some accompaniments with the dish, but this is a hearty meal so we didn't bother.)