The countdown has well and truly begun, less than 6 days to go until Martin and I fling ourselves into the Legion Run! I've seen a few clips on facebook of the obstacles going up and it's getting exciting, scary, but exciting, I'm trying to study them to see what kind of tips I can pick up for technique, although I do think it's pretty much the case of flinging myself into it and hoping for the best!
I'm planning to make sure we fuel ourselves even better this week so that we're in tip top condition for next weekend, I've already got ideas in my head for some energy enhancing snacks to take on the day so we can take on this Legion run with gusto. Also need to buy a load of water to drink on the day as it's looking like it's going to be a hot day and we're in the 12.30 wave so the sun will be out in full force!
So I think that meals like this tagine will be perfect for this week, packed with great veggies and really filling. I made mine with cous cous, but for you gluten free peeps, you could just swap that for quinoa (a friend of mine mentioned yesterday that they use toasted buckwheat groats in the same way I use bulgur wheat, so hoping to try that out this week and it sounds lovely). The best thing about this dish, is if you make too much, just pop it in a tupperware and have it for munch at work/school next day, maybe mix a little hummus through it with a sprinkling of paprika on top, yummy!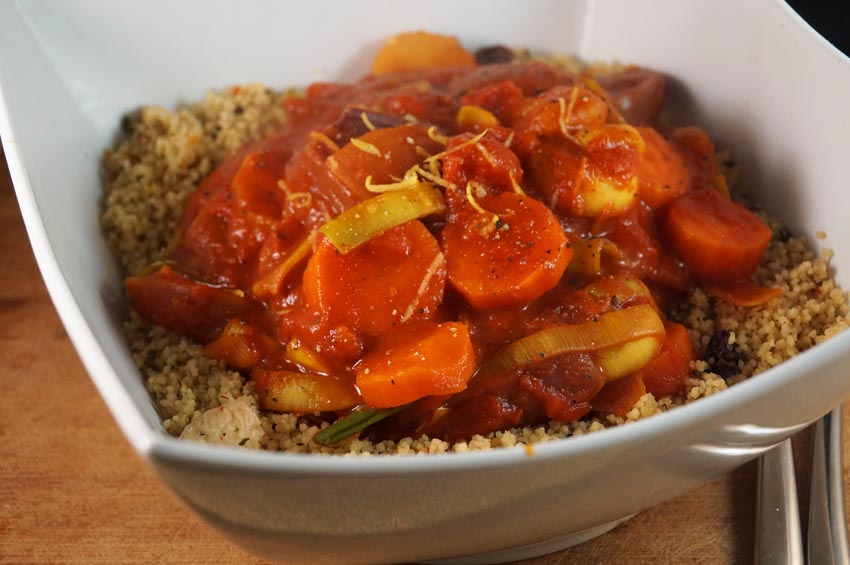 Veggie & Apricot Tagine with a Fruity Herb Cous Cous (vegan with gluten free option)
MyInspiration Feel The Difference Range
Serves 2 – Ready in 45 minutes
For the Tagine
2 cloves of garlic finely sliced

1 tsp Turmeric

½ tsp Cinnamon

1 tsp Paprika

3 small Red onions, peeled and quartered

2 tbsp Tomato paste

1 Leek, chopped

2 large Carrots, peeled and chopped

2 medium Parsnips, peeled and chopped

4 dried Apricots, chopped

1 can chopped tomatoes (approx 1 ½ cups)

1 cup passatta (pureed tomatoes)
For the Herb Cous Cous
1 cup cous cous (for gluten free use quinoa or other GF grain)

1 cup vegan Stock

Handful of mixed dried fruits, I had cranberry, sultanas and raisins

1 dried Fig finely chopped

½ tsp Saffron

1 tbsp dried Basil
Method
Add 2 tbsp water to a large sauce pan over a medium heat and add the garlic, red onions, tomato paste, turmeric, cinnamon and paprika and cook for 2 minutes before adding in all the remaining Tagine ingredients and giving this a good stir, cover, reduce heat to low and simmer for 30 minutes, stirring occasionally.

While this is cooking, make the cous cous. Add 1 cup of boiling stock into a sauce pan with 1 cup of cous cous, saffron and dried basil, stir this all together, cover and leave for 15 minutes, then fluff with a fork to separate the grains and stir through the mixed dried fruits before serving.