Thai food is one of my all time favourite cuisine, the fresh flavours and spices just set my tastebuds on fire and makes cooking an absolute delight. It's such a shame I didn't have the same appreciation of the food when I was actually holidaying with the girls in Thailand many years ago. We spent a lot of our time in an Irish Bar in Patong eating "English" food and dining at the "Chinese" restaurant that was in the hotel. Sacrilege!
I've already told Martin that we need to go to Thailand so that I can immerse myself in delicious food. The one food that I remember very fondly was the chilled pineapple sticks that a lady was selling on the beach at Kata Bay, there is absolutely nothing better when you are exhausted from body boarding, covered in sand and parched than an ice cold chunk of pineapple (Well that or a Mai Thai Cocktail!). Ah, fond memories!
This Thai Red Curry is definitely my best, I think it could be something to do with the addition of the Kaffir leaves and also I've been tinkering with my spice mix to get the best flavour. I was incredibly pleased with how this turned out, it was delicious (yes, I do say so myself).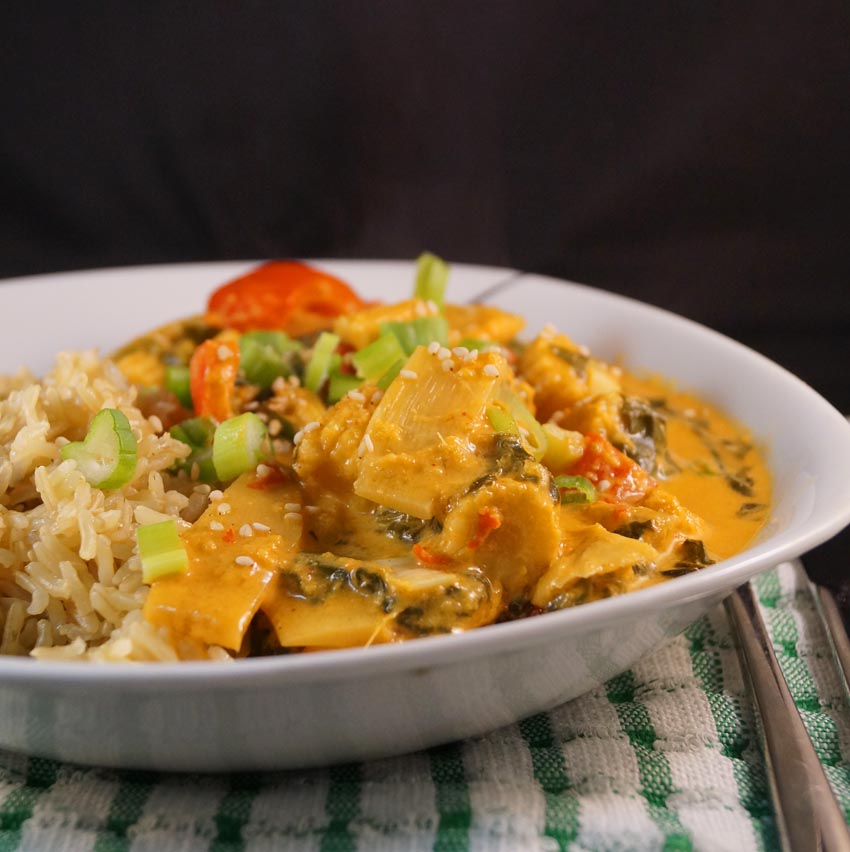 Vegetable Thai Red Spinach Curry with Basmati Rice (vegan & gluten free)
MyInspiration Feel The Difference Range
Serves 2 – Ready in under 40 minutes
2 packed cups of fresh spinach

½ cup Bamboo Shoots

1 large red pepper (capsicum) cut into chunks

8 Baby corns cut into chunks
1 cup wholegrain basmati rice

2 ½ cups vegan stock
For the Red Sauce:
1 Onion finely sliced

2 cloves garlic

1" cube Ginger finely chopped

2 red Chillis finely chopped

3 tbsp Tomato puree

2 cups canned Coconut milk 

2 Kaffir leaves

1 tbsp soy sauce

Juice of 1 Lime

½ tsp Chili powder

½ tsp Paprika

½ tsp ground Coriander

½ tsp Cumin
To garnish
Spring onions chopped (scallions)

Sesame Seeds
Method
You want to start with your rice. Add the cup of rice to a saucepan with the 2.5 cups vegan stock, bring to the boil then reduce heat and simmer for 25 minutes, stirring occasionally, drain and leave for a few minutes and fluff with a fork.

For the Curry – In a food processor (or using a stick blender like me) throw in the chopped onion, garlic, ginger, chilli and tomato paste and pulse until smooth, now stir in the chili powder, paprika, ground coriander and cumin.

Heat 2 tbsp water in a deep saucepan over a medium heat and add the paste from the food processor and cook for 2 minutes before adding in the coconut milk, soy sauce, lime juice and kaffir leaves and mixing this altogether.

Lastly add in your chopped baby corn, red peppers, bamboo shoots and spinach Iwhich will wilt through the sauce and stir to combine everything, turn heat down to low and cook for 15 minutes until piping hot. Serve alongside your basmati rice and sprinkle over some spring onion and sesame seeds.