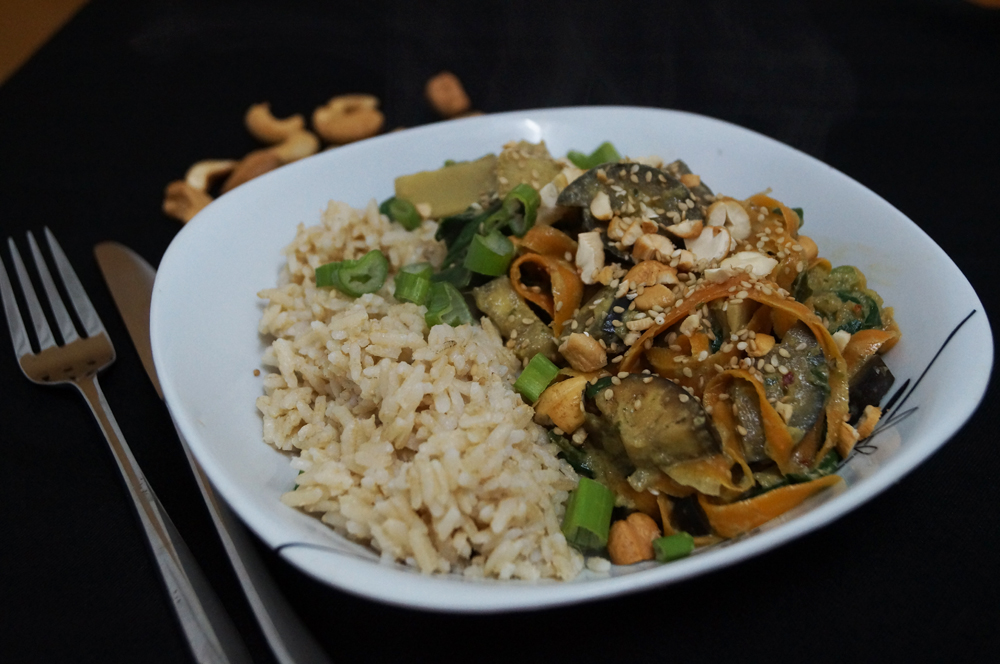 I had a real notion for some Thai food yesterday so went about making a green style curry, hot of course and packed to the brim with veggies! I actually wanted to find some black sesame seeds, but my little local supermarket is slightly limited, which is why I never have any lemongrass in my recipes, I'd love to, but I just can't get my hands on any. I should really find a stockist on line to get my sought after herbs and spices, I really want some tamarind too.
And joy of joys, my photo light box is here, so I've set it up in the kitchen and will be having a go with that hopefully later today or tomorrow, depending on when I can get baking. I've actually got a few recipes that have backed up as I had a bit of a splurge in the kitchen yesterday as Martin was out helping a friend move house, so I got busy, I had my Thai curry, I made some strawberry & banana Ice cream and some cookies, so I'll pop them on after this.
I was late for Body Balance this morning, totally got my times mixed up and thought it started at 9.15, but it was actually 9am so I got there about 5 minutes late, but fortunately for me the lovely instructor let me join the class and I had a great stretch out!
Vegetable Thai Curry topped with Crushed Cashews and Sesame Seeds (Vegan & Gluten Free)
MyInspiration Feel The Difference Range
Serves 2 – Ready in 30 minutes
2 Aubergine chopped into small cubes
2 carrots, peeled into long strips
2 cups packed spinach
1 cup of bamboo shoots
2 spring onions chopped
For the Curry sauce
3 green chilies chopped
1/2 onion finely chopped
2 garlic cloves
1 tbsp of chopped fresh ginger
1/2 cup fresh coriander
1 tsp cumin
1 tsp ground coriander
1/2 tbsp red chili flakes
1 tbsp soy sauce (check the bottle for GF)
1 can coconut milk
Garnish
1/4 cup cashew nuts finely chopped
2 tsp sesame seeds
Some chopped spring onion
Method
1. Prepare the sauce, in a food processor blitz together everything but the coconut milk, then heat a sauce pan over a medium heat, add the mixture and allow to cook for a minute or 2 to release the flavours before adding in the coconut milk, bring to the boil and reduce the heat to low and allow to simmer for 10 – 12 minutes.
2. Now prepare the vegetables, heat a wok/large saute pan over a medium/high heat, add 2 tbsp water and chuck in the aubergine and cook this for 4 minutes then add the remaining ingredients along with the curry sauce and let everything cook for 5- 7 minutes. Then serve with some rice or noodles, sprinkle over your chopped cashews (or you can use peanuts) sesame seeds and spring onions.