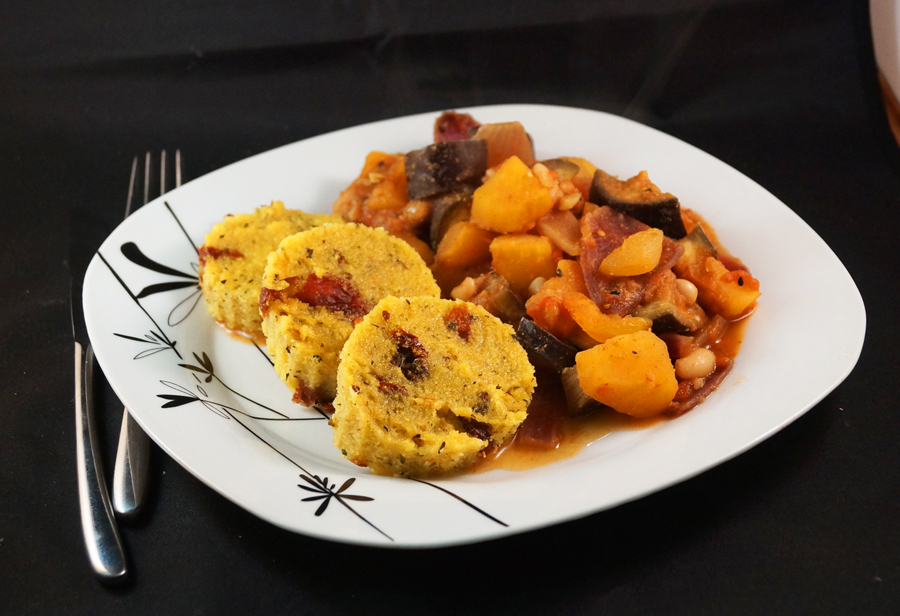 It's starting to get too warm to be cooking big dinners in the kitchen, but I didn't mind standing over the stove last night to make this dish. The polenta cakes alone are just divine, you could just eat these as a snack, have them for lunch with some salad or just use as an accompaniment to many of your dishes! You'll see what I mean when you make them and try them!!!
I've had to carefully plan my recipes as our friend who's staying with us isn't too keen on mushrooms, raw tomatoes or raisins and I use a LOT of mushrooms in general. I also forgot to buy the main thing I was going to put in my tagine… Chickpeas, but when in need, just use a can of white beans, does the job just as well! Typical isn't it, you come away from the store with stuff you didn't have on your list and forget to buy the first thing on it!
It's  a bank holiday here today, so again, another lazy, lazy day, might go and make yet another batch of Millionaires shortbread, I can't get anough of the stuff.
Vegetable Tagine with Sun-Dried Tomato & Basil Polenta Cakes (Vegan & Gluten Free)
MyInspiration Feel The Difference Range
Serves 3 – Ready in an hour
For the Tagine
2 Aubergines (egg plant) chopped
2 large red onion cut into wedges
2 cloves garlic finely chopped
1 large sweet potato peeled and chopped
1 can white beans drained and rinsed or if you prefer use chickpeas (garbanzo)
1 can chopped tomatoes
8 dried apricots chopped
1 cup vegan stock
1/2 tsp Saffron
4 tsp cumin
2 tsp black cumin seeds
1 tsp cinnamon
Black pepper to season
For the Polenta Cakes
200g Polenta
1 ltr vegan stock
8 sun dried tomatoes chopped
1 tbsp dried basil
Method
1. First off, make the Polenta by bringing the stock to a boil, then pour in the polenta give it a good stir and quickly fling in the sun dried tomatoes and the basil and keep stirring while it cooks for about 4 minutes, then transfer to a baking tray (about 6″ x 9″) and smooth out so it's nice and level and just leave it to set (about 20 – 25 minutes should do it) then take a circular cookie cutter and cut out the cakes.
2. To make the tagine, heat 2 tbsp water in a deep sauce pan and add in the chopped sweet potatoes and cook for 5 minutes before adding in the red onion, garlic and aubergine and stir to combine, next add in all the spices and give the mixture a good stir, add in the white beans, the chopped tomatoes and stock and mix thoroughly before reducing the heat, covering and let it cook for 25 – 30 minutes. % minutes before serving add in the chopped apricots.
3. To serve, plate 3 Poletna cakes in a row and then spoon the tagine next to it.