Now that I have perfected my shortbread recipe to how I like it, I'm going to start experimenting with fillings to see what weekend desserts I can come up with and this weekend I've started with the very basics… dark chocolate, I had a little left over from the Brandy Balls recipe, so thought I would use it up.
This turned out just lovely and I am so chuffed with the pastry as well, it would be perfect for other sweet pies and crusts, so it's a keeper!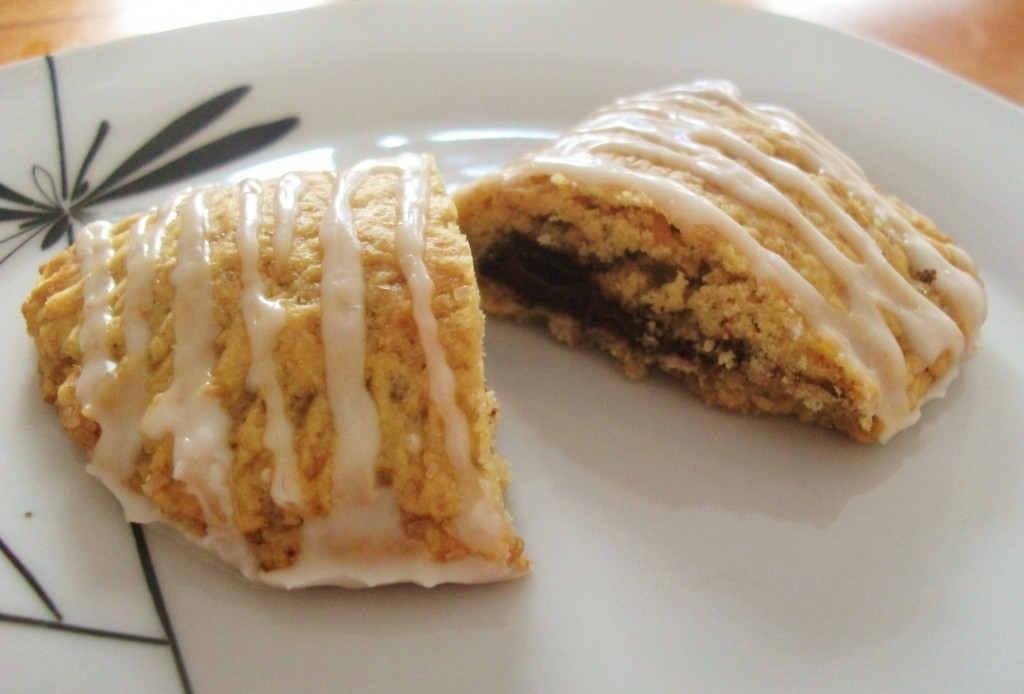 Shortcrust Chocolate Pasties
Makes 6 pasties
½ cup of vegan margarine
3 tbsp light brown sugar
1 cup whole wheat flour
½ teaspoon vanilla sugar (or ¼ teaspoon vanilla extract)
12 small squares of your favourite vegan chocolate
Icing drizzle
½ cup powdered sugar
1 tsp vanilla
1 tsp water
Method
1. Preheat oven to 200 degrees celcius
2. In a large bowl, mix together the margarine and sugar until combined, then add the flour and vanilla and mix together until a dough forms.
3. On a piece of baking parchment, roll out your dough to about 3mm thickness and using a bowl, or large cookie cutter approx. 4" wide, cut out 6 rounds of your dough, you may need to do this in stages, I got 4, then rerolled the remnants of dough and got another 2.
4. Place 2 squares of your dark chocolate just off centre in each round and fold the dough in half, pressing the corners down with a fork to close.
5. Bake in the oven for 10 – 15 minutes until the pastry is golden. Remove from the oven and allow to cool.
6. In a small bowl, combine the icing sugar, vanilla and water until you have a smooth white paste, and using a teaspoon drizzle the icing over each pastie.