MY INSPIRATION
VEGAN RECIPES
HEALTH & FITNESS
TRAVEL
FASHION
LIFESTYLE
SITE SEARCH
Custom Search
RECENT POSTS
ABOUT ME
Hello & Welcome! My name is Yvonne and my focus is on looking to live life to the absolute full, whilst maintaining a healthy and balanced lifestyle.

I'm are constantly on the look out for innovative or just plain old traditional ways to ensure that we keep bodies and minds in top condition for the, hopefully, long journey ahead.
BY YVONNE KERRIGAN > HOME > VEGAN RECIPES >
Sauteed Mushrooms & Kale with Herbed Cous Cous and an Avocado Tahini Dressing
Vegan, vegetarian, gluten free option, plant based, healthy eating, quick dinner, meatless Monday,
I mentioned a couple of days ago that it is way too hot to be cooking in the kitchen and that I needed to minimise my time over the stove and I have done just that. In fact I've managed to make 3 meals this week in under 30 minutes which I thought was good going! Quick, simple and healthy meals, can't say fairer than that!
Took ourselves out on Thursday night to watch the world cup at our local pub and the lovely chef there made me a vegan pizza, we've been going there for years and everytime we go we always get a veggie burger and a side of hummus, but I wanted to mix it up a bit and he was kind enough to put together the veggie pizza, minus the cheese but with a helping of black olives (I do love black olives!), I was absolutely stuffed after eating half of the small pizza, so might need to talk hubby into going half with me next time and maybe seek out some chilli sauce to drizzle on top, got to have my spice!
This week, I think I'll make similar recipes, quick and easy and we'll be visiting the big fruit market again on Monday so will get more kale, and corn on the cobs and really try and get some new creations going. Might try and have another attempt at getting Martin to like polenta, it's a struggle, it seems to be like marmite, you either love it or you hate it. I'm in the "love it" camp, I could eat polenta all day long... I now want polenta... I'm so suggestible!

MyInspiration Feel The Difference
Serves 2 – Ready in 30 minutes

1.5 cups cous cous (for gluten free use quinoa or kasha)
3 cups vegan stock
½ tbsp basil
1 tsp red chilli flakes
3 large button mushrooms finely sliced
3 packed cups of kale
3 tbsp balsamic vinegar
1 red pepper (capsicum) chopped
¼ cup sliced black olives
12 cherry tomatoes, halved
Black pepper to season

Avocado Tahini Dip Dressing

1 ½ tbsp tahini
1 avocado, mashed
Juice of ½ lime
Black pepper
Water (as much as you need, I used ¼ cup)

Method

1. First off prepare the cous cous by adding 1 cup of cous cous to 2 cups of hot vegan stick, add in the basil and red chilli flakes and stir this all together, cover the pot and leave to sit for 15 minutes before fluffing with a fork and then add in the black olives, cherry tomatoes and a dash of black pepper.

2. For the sautéed mushrooms – Add 2 tbsp of water to a large sauté pan over a medium heat, add in the sliced mushrooms and cook for a few minutes before adding in the balsamic vinegar, cook for another 5 minutes and then throw in the kale and red pepper. The kale will starts to wilt slightly in the hot pan, just add a little black pepper and toss this all together and remove from the heat.

3. For the dressing, add all the ingredients to a small pan and whisk together, adding in as much water as you like to get the right dressing consistency. I wanted mine quite thick but if you want a more fluid dressing add a little extra water until you are happy.

To serve, add a generous heap of the cous cous mixture onto your plate, spoon on the sautéed mushroom and kale and finish off with a good helping of the dressing.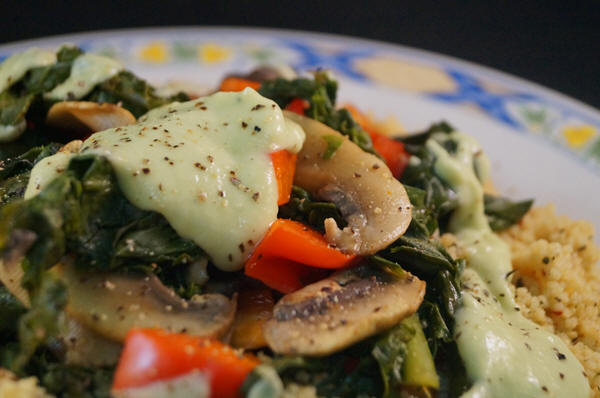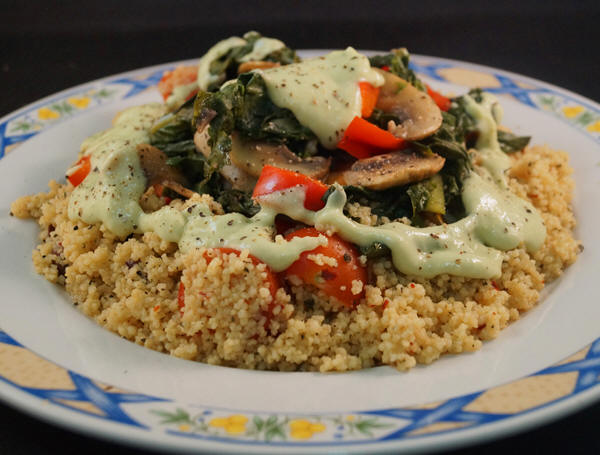 We're always keen to hear feedback on the recipes on the site, please add and comments or suggestions using the comments form below: