There are times when you're out on a food shop and you come across something that you want to eat right there and then, well this happened yesterday with the fresh mangoes we spotted in the local fruit market.  The smell of this mango was incredible and I couldn't wait to us it in our dinner that evening.
We went with the holycowvegan.net recipe (an absolute treasure trove of vegan recipes!) and although we tend not to cook the same dish more than once, this might be an exception, so quick and easy and just beautifully tasty!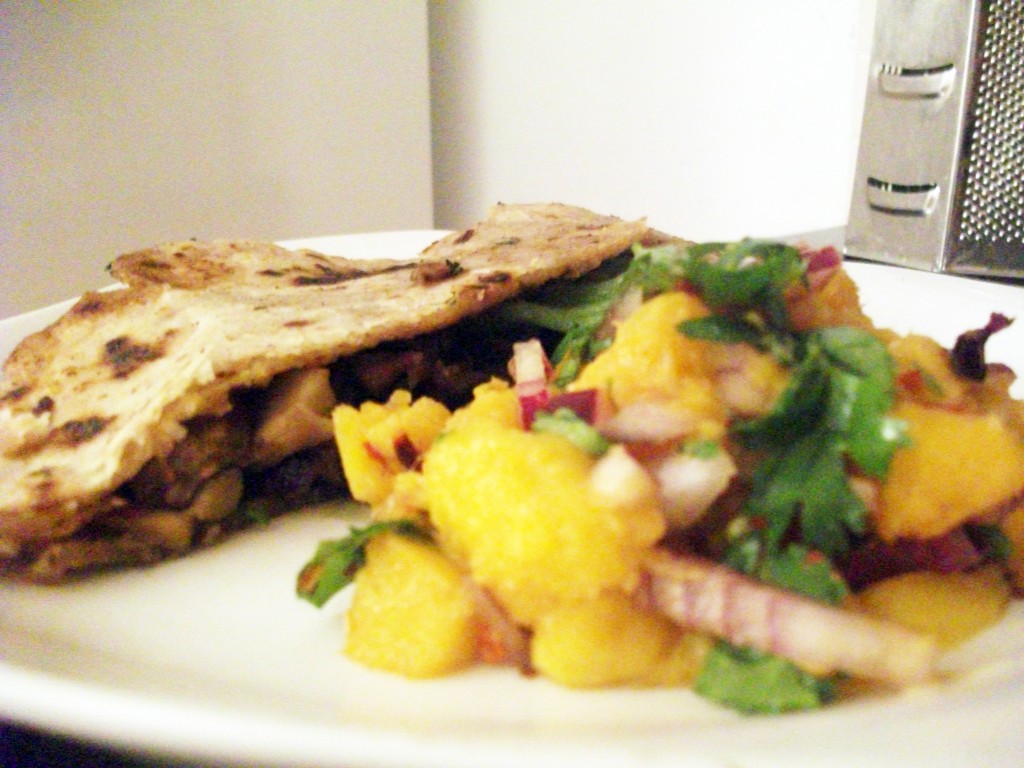 Mushroom and green pepper quesadillas with mango salsa (serves 2)
For the mushroom and green pepper filling:
1 cup sliced button mushrooms (use crimini for more flavor)
1 medium green pepper, thinly sliced
1/2 red onion, thinly sliced
3 cloves garlic, minced
1 jalapeno pepper or any other green chili, minced
1 tbsp canola oil or other vegetable oil
Pepper to taste
1/4 cup chopped coriander (cilantro) leaves
Method
Heat the oil in a frying pan.
Add the onions and stir. When they start to brown, add the garlic
Stir for a minute, then add the green peppers and mushrooms.
Saute until the vegetables are cooked. Add the pepper and salt to taste.
Turn off the heat and stir in the coriander. Reserve.
For the tortillas:
1 cup wholewheat flour
1/8 cup vegetable oil
1/3 cup warm water
Method
In a medium sized bowl add oil and warm water to the flour, stirring to combine. Dump dough onto a lightly floured surface, and knead for about 3 minutes, until dough is smooth. Divide dough into 2 equal pieces, rolling each piece into a ball. Allow to rest, covered with plastic wrap, for at least 30 minutes.
Once dough has rested, preheat frying pan over medium-high heat. Roll out each ball into a circle, about 6 inches in diameter. Cook one at a time for about 60 seconds, flipping half-way through, when it starts to puff and a few brown spots have appeared on the first side.
Mango Salsa
Ingredients:
1 ripe mango, flesh scooped out and cut into a small dice
1/4 red onion, finely diced
½ tbs of chilli flakes
A pinch of cayenne pepper (optional)
1 tsp lemon juice
2 tbsp chopped coriander leaves
Mix together all the ingredients in a bowl and keep in the fridge until serving.
To form the quesadillas
 Heat the frying pan and spread 1 tsp canola or other vegetable oil on it.
Now place one tortilla on the griddle, then spread out the mushroom-green-pepper filling on it.
When the underside is golden and crispy, flip the quesadilla carefully and cook until the other side is golden and crispy.
Remove to a plate and cut in half and serve with the mango salsa.
Original recipe here