Ok, hands up if you're still at the stage in your culinary learning that when you make something you're not quite sure about and it turns out fabulously well, you get an overwhelming sense of accomplishment and can't help but smile and shake your head in wonder at every mouthful you eat, thinking "I made that".
Well, that's how I felt on Thursday when I took to the kitchen to have a go at a pumpkin pie! We thought we'd adopt the American tradition of thanksgiving and had a bit of a feast and this pumpkin pie was a delight (great thing is, half of it is still in the fridge ready for tonight… not sure I can stop myself from sneaking a few bites out of it throughout the day though).
I've only ever had pumpkin as a side dish to a main meal, never in a sweet capacity and I was highly skeptical about whether or not I would like the taste, but my doubts were misplaced, this works, and it works well, especially with the spices and almond flavouring through it, the pie crust as well worked a treat and I'll be using it again for some other possible desserts.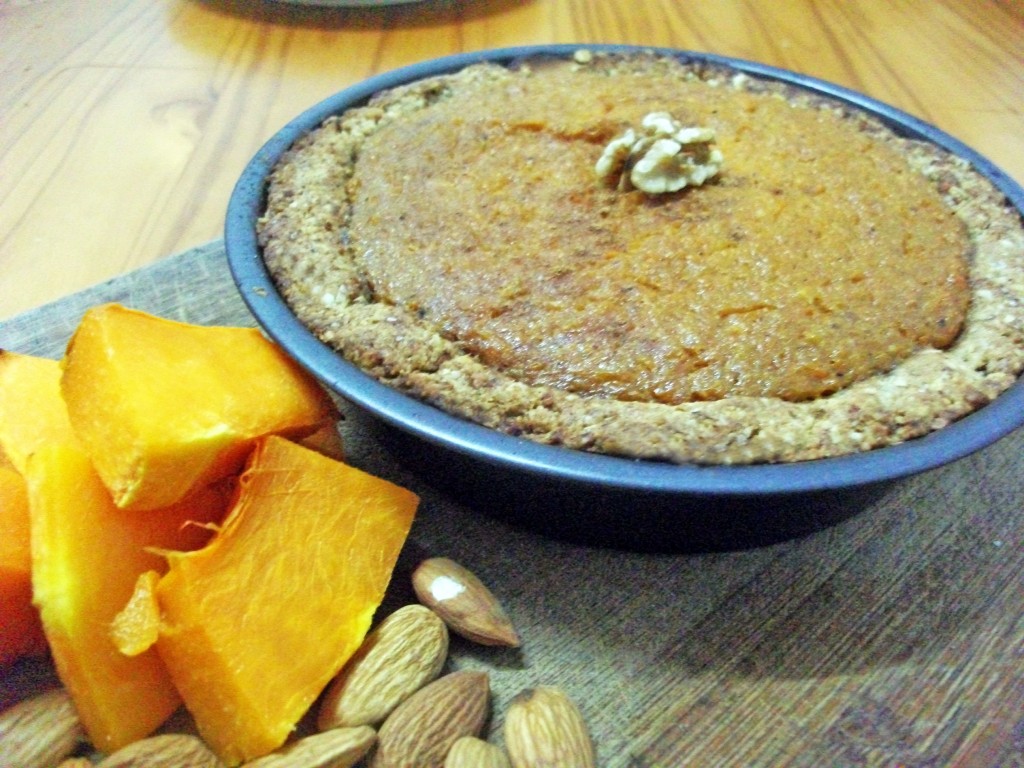 Vegan Pumpkin Pie
MyInspiration Feel The Difference Range
8 servings
Ingredients
For the Crust
½ cup almonds
½ cup walnuts
1 cup oats
½ cup buckwheat flour (or all purpose/whole wheat)
2 tablespoons olive oil
3 tablespoons almond/oat milk (any non dairy milk you prefer)
3 tablespoons natural brown sugar
1 teaspoon vanilla
1 teaspoon cinnamon
Method
1. Preheat the oven to 180 degrees
2. In a food blender blitz the almonds, walnuts & oats until a it resembles course flour, transfer to a large bowl and add the remaining ingredients and stir to combine. Should form a nice dough mixture, if too dry add a little more milk.
3. In an oiled pie dish, mine is 9", add the crust mixture and using your fingers, press it down tightly and make sure it comes up the side of the dish as well, make sure it's well compacted down,  Pop in the oven for 10 minutes. Then make the filling.
For the filling
2 cups of cooked pumpkin (pureed)
1 cup of oat milk
3 tablespoons corn flour
2 teaspoons cinnamon
¾ teaspoon ginger
½ teaspoon nutmeg
½ teaspoon cloves
2 tablespoons natural brown sugar
1 teaspoon almond extract
Method
1. Preheat oven to 180 degrees and then combine everything in a food processor and blitz until smooth (but still quite thick)
2. Add to the pie crust you made earlier, smoothing it out evenly.
3. Pop the pie in the oven for 40 – 45 minutes and serve with a little shaving of dark chocolate.