Most Sundays I try and make pancakes for Brunch, they are quick, easy and healthy too and we can cram in whatever fruit we have left in the fridge, usually banana for Martin and apple or pear for me. For me, pancakes are a wonderful weekend treat and I do confess I look forward to making them time and time again.
I've been using this pancake recipe pretty much the whole time we've been vegans and I just mix it up with different milks; almond, coconut, hazelnut, rice milk etc and vary the fillings. Some of you might like a sweeter pancake so should add a tablespoon of natural brown sugar to the batter (but I don't think it needs it) it's up to you.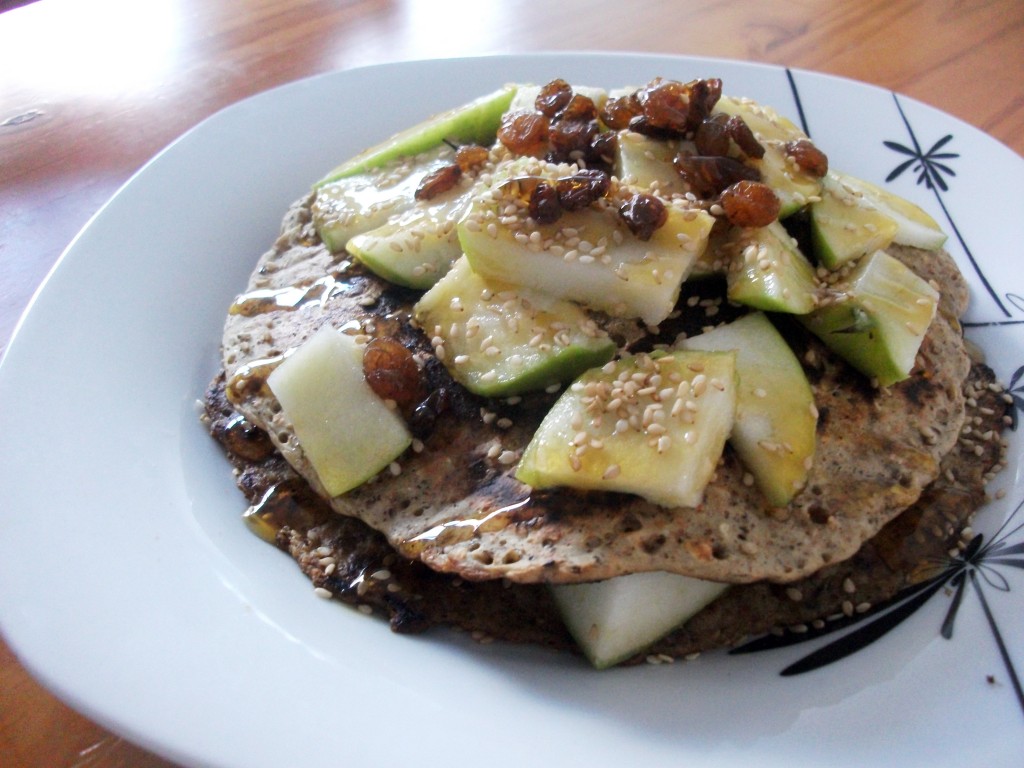 Vegan Oat Pancakes with Apple, Raisins & Sesame Seeds
MyInspiration Feel The Difference Range
(Makes 4 large pancakes)
1 cup Whole-wheat flour
½ cup rolled oats
½ tsp Baking Soda
2 tbsp ground Flax Seeds (mixed with 2 tbsp Almond (any non dairy milk)
1 cup of coconut milk (milk of choice)
1 cup of water
1 tsp vanilla
To Garnish
2 tbsp sultanas
1 Apple chopped
1-2 tsp sesame seeds
Maple Syrup to drizzle
Method
1. Make your flax "egg" first by mixing 2 tbs ground flax with the 2 tbsp almond milk and set aside.
2. In a large bowl combine the flour, baking soda & the oats, then add the rest of the coconut milk, water, flax mixture and vanilla and use a whisk to combine all together. Let the mixture stand for 3 – 4 minutes then whisk again adding more milk if needed.
3. Heat a non stick pan (I use vegan margarine to grease the pan the first time) and spoon a ladle full of mixture into the frying pan, it will fill out naturally into the correct pancake shape, cook for 2 minutes each side on a medium heat.
4. Fill with your favourite fillings, mine being apple, raisins, sesame seeds and sometimes a dash of cinnamon and a drizzle of maple syrup.