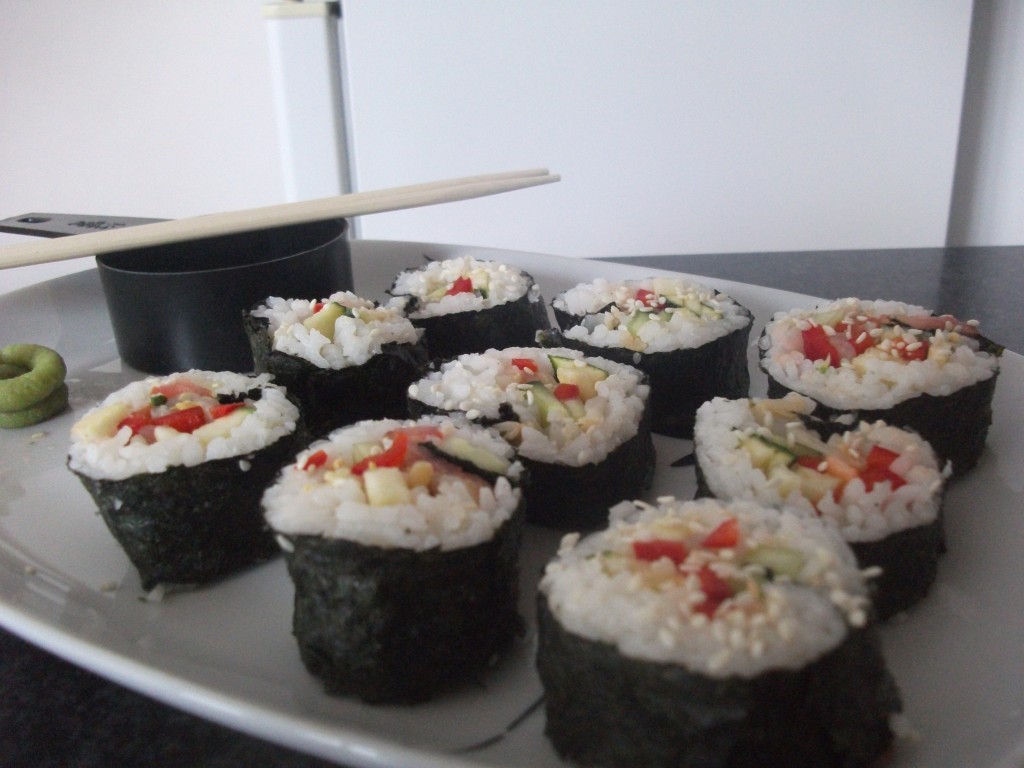 Today I thought I'd do something a bit special for lunch and as I used to be a big fan of sushi before I changed my diet, I thought I'd give the Nori rolls a go (no fish this time of course). I got all the kit, the rolling mat, chopsticks, sushi rice, wasabi, Nori sheets and soy sauce.
I have to say though, my nori were a little on the loose side, so I need more practice at actually rolling them a lot tighter so they don't fall apart, but I'm pleased with my first attempt.
So here's what I did:
Vegan Nori Rolls
1 cup of sushi rice
2 Nori (seaweed) sheets
1 red pepper sliced thinly
1/2 cucumber sliced into matchsticks
1/2 courgette sliced into matchsticks
1/4 cup of bean sprouts
1 tomato thinly sliced
To garnish I used sesame seeds and served with a bowl of light soy sauce and 1tsp of wasabi
I started by rinsing a cup of rice in cold water and then covering it with cold water for about 10 minutes, drained it, added it to a pan with a cup and a half of water, brought it to the boil and then turned the heat right down, covered and simmered for about 10 minutes, checking it doesn't stick to the bottom of the pan.  Let it cool while you are chopping up your veggies.
Put your nori sheet on your mat and cover 2/3 with the rice, place a line of your chopped veggies just off centre, sprinkle your sesame seeds and roll the using the mat, keeping everything tight and compacted (makes it easier to slice).
Take a very sharp knife and slice the nori sheet into 8, serve with the wasabi, soy and a pair of chopsticks.