I've had a pack of Arborio rice for a while now and thought it was time to make good use of it. I'm not usually a risotto fan, but this dish is so tasty and packed full of flavour (and is now on my recipe list for when the in-laws visit next). This recipe will serve 2 nicely as a main meal but if you're really hungry, add another 1/2 cup of rice and a few more mushrooms to flesh it out more.
I'm off now to have a go at a pumpkin pie (fingers crossed it all goes well) Happy Thanksgiving!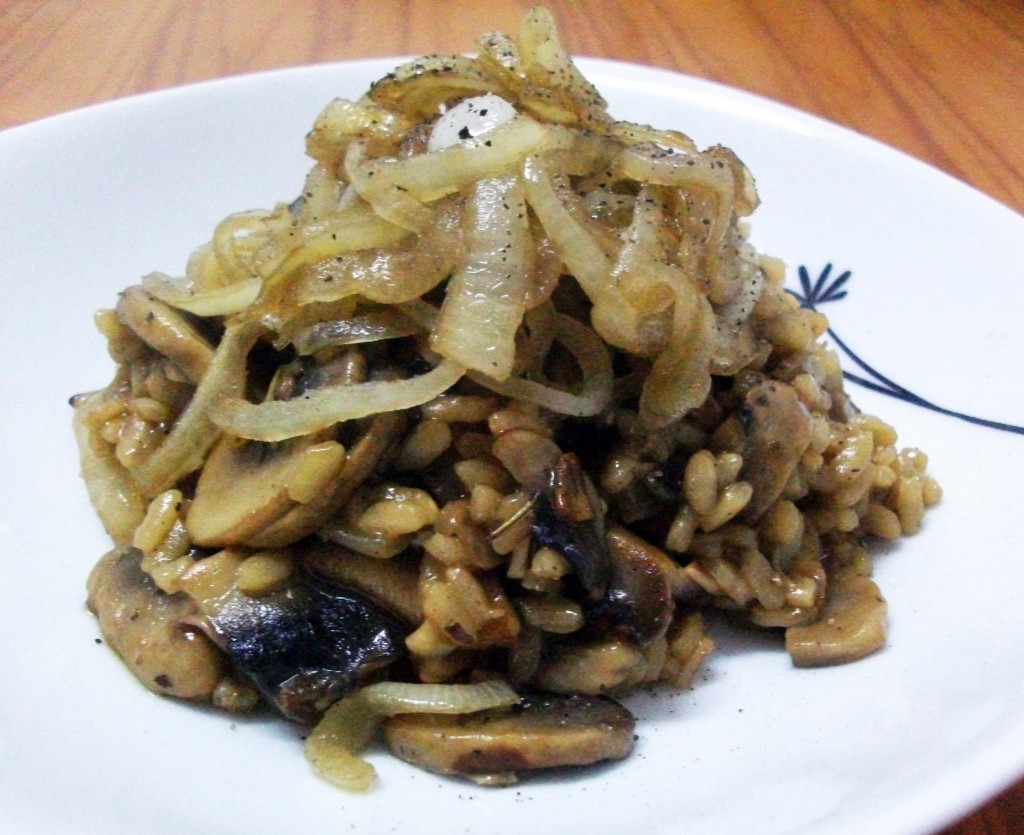 Vegan Mushroom Risotto topped with Caramelized Onions
Serves 2 as a light meal.
Ingredients
8 large button mushrooms, washed and thinly sliced
2 tablespoons olive oil
1 onion finely chopped
1 onion thinly sliced into C shapes
2 cloves garlic finely sliced
2 teaspoon dried rosemary
1 cup risotto rice (I used Arborio)
2 tablespoons balsamic vinegar
2.5 cups vegan stock
Black pepper to taste
1 tablespoon natural brown sugar
Method
Heat the oven to 180 degrees.
2. Heat the oil in a oven proof pot and add the diced onion and garlic (keeping aside the sliced onions for later) saute until soft, then add the sliced mushrooms, rosemary and a dash of black pepper and cook for another 7 minutes stirring occasionally.
3. Add the rice and stir to combine, then add in the stock and vinegar, bring the mixture to the boil and give it a good stir. Cover with a lid, remove from heat and pop in the oven for half an hour (stirring occasionally).
4. In the meantime, heat a frying pan, add a tablespoon of water, then add the sliced onions you've been keeping, sprinkle over the brown sugar and cook on a very low heat until the onions are nice and sticky and brown.
5. To serve, spoon the risotto into a bowl and add the caramelized onion on top and dust with a little black pepper.