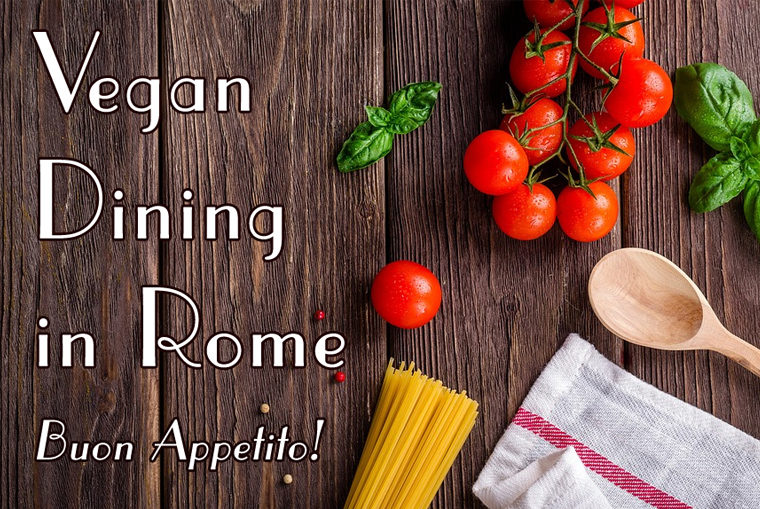 It seems like all of a sudden, Rome is a Mecca for vegans. Not only do the supermarkets carry some fantastic vegan friendly ranges, but restaurants are catching on too with vegan specific menus that have a great selection, not just a garden salad like some places we will not mention!
It doesn't seem that long ago, only 3 or 4 years really, that we were resigned to having slices of pizza pomodoro for dinner while we were in Rome. Now there is absolutely nothing wrong with that, the pizza is delicious, but after about 10 slices during a break away, you tend to crave a little variety. And, yes, I know I can get pasta in a restaurant, but I make a lot of pasta at home, so I'm not a big fan of paying for an arrabiata when I'm on my hols.
But oh how things have changed. Let me just list below some of my favourite eateries and places to grab some delicious vegan food:
Flower Burger on Via dei Gracchi
Universo Vegano on Piazza del Paradiso
Écru on Via Acciaioli,
Ops! On Via Bergamo
Grezzo on Via Urbana,
Buddy Roma on Corso Vittorio Emanuele II
So, beginning with Flower Burger, as that's the last place we actually had something to eat, this is Burger heaven, just thinking about what to write has me salivating. A fabulous selection of burgers, all vegan, with the best melting cheese I have tasted, and that includes Daiya. I very rarely eat processed foods, but every now and again I will indulge in places that serve vegan cheese and this place is amazing.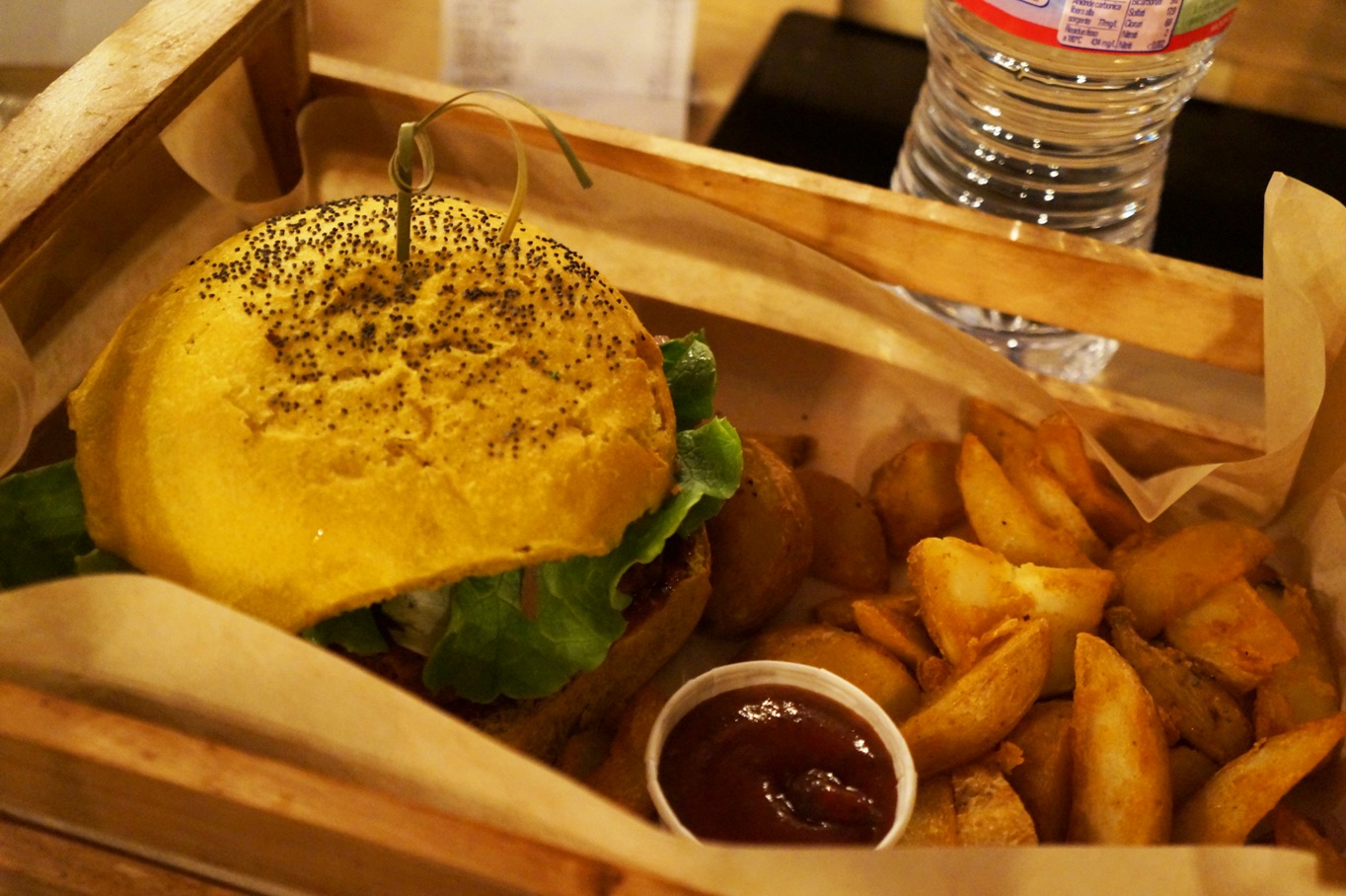 We had the good fortune of being there when the limited edition Cherry Bomb burger was on the menu, this is a tasty lentil burger, with tomato, green salad, sprouted beans, flower cheddar and salsa all served in a quirky pink bun. It's so good, I had it twice (not on the same day, I'm not crazy – although I'd totally do it!) We ordered our burgers with a side of spicy wedges and spicy sauce to dip! (Excuse my pics, I took them in very low light and didn't want to use the flash!)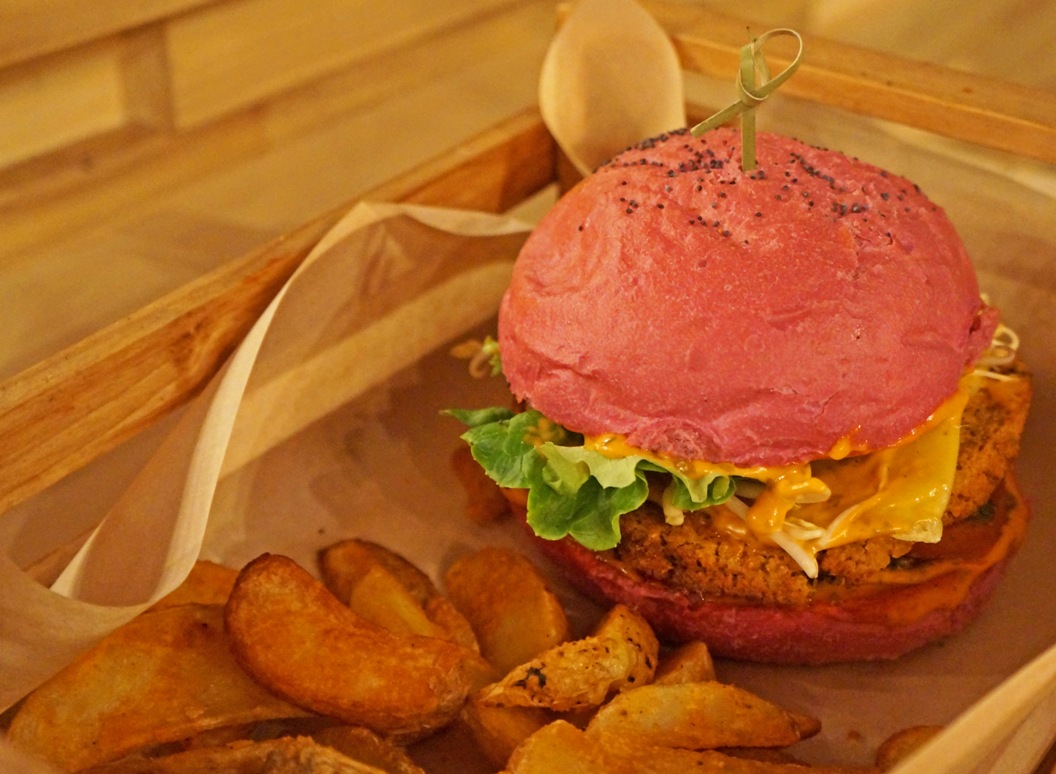 What I loved about this place was it's variety. I loved that the burgers were made from lentils or chickpeas, seitan or tofu. I tend to opt more for lentils and chickpeas, just my own preference really and it has been, in the past, difficult to find when dining out.
The staff there are very friendly and super helpful and there is 20% off on a Monday, which we took advantage of during our stay. There are a good number of seats to sit in and dine or you can takeaway.
This was in fact the first place we went to in Rome that was specifically for Vegans, I think we went back in 2014. It was a crazy novelty for us, as we hadn't really seen anything else quite like it. Looking at the whole menu that was completely vegan, not having to worry about getting the wrong thing or perhaps a misunderstanding at the counter and you walk out with a corned beef sandwich!
They have a great big menu packed with choices, from mushroom burgers, vegetable burgers, tofu burgers, vebabs, seitan tuna, salads, soups and desserts. They also have gluten free options. While we were there over Christmas a couple of years ago they did some fantastic chocolate chip Panettone which I absolutely loved!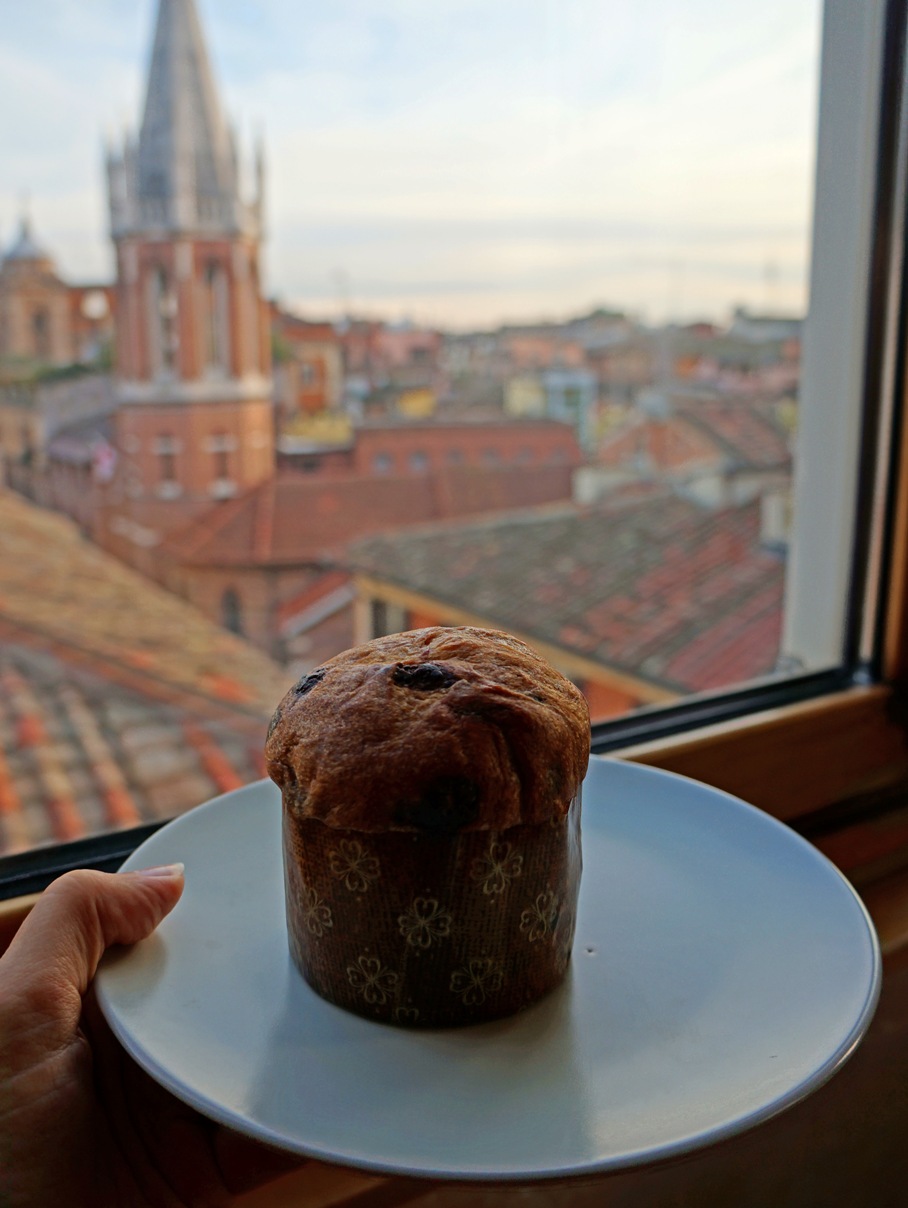 Again, the staff were absolutely lovely. Try to avoid peak times to visit, as the place gets very busy with students, there are very limited seats inside, so best be prepared to get your food to go! (photo was taken in our airbnb place not Universo Vegano)
Now, we happened upon this place almost by accident last year, I had seen a couple of photos on Instagram of the food and café itself and I thought it looked incredible. So we sought the place out and we were super hungry when we got there.
We ordered some fresh pressed juices and a couple of delicious sounding sandwiches and took a seat near the window. The space is beautifully decorated, very New York in style (well it was when we were there) there is an art gallery below the café and the art theme is continued throughout. Our sandwiches arrived, they were wonderfully presented and tasted fantastic, but they are small, very small. Just something to keep in mind.
Compared to other places we have eaten, they are slightly more on the expensive side, but hand on heart, it was worth it for the ambience and experience of these masterpiece dishes.
Now, if you like a buffet, you will love Ops! We went for my birthday last year and I deliberately didn't look into anything on social media as sometimes I just like to be surprised about what might be on the menu.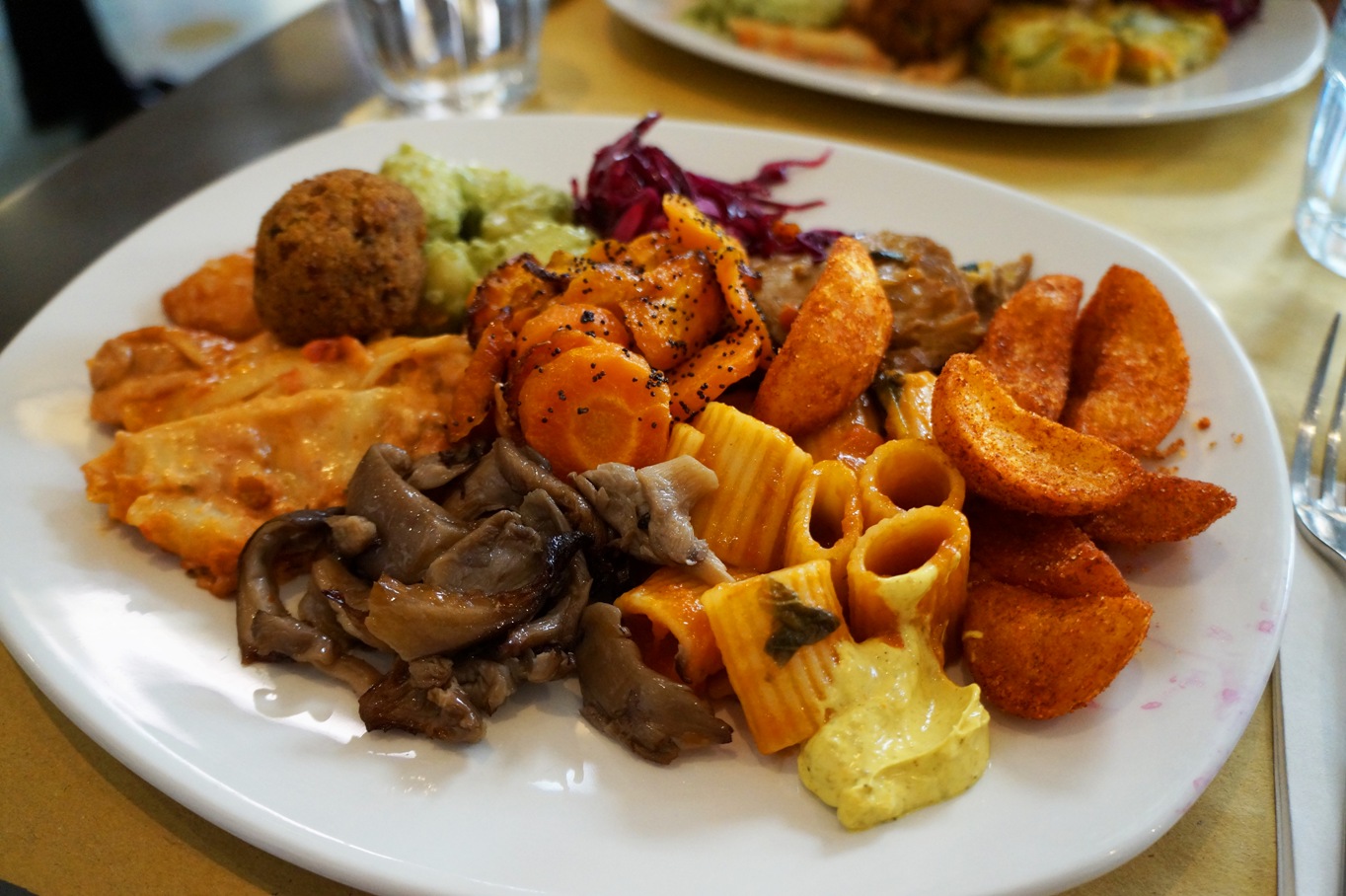 The restaurant is lovely, lots of seating and it was quite busy when we arrived for a late lunch around 2ish. You get your table sorted out then go grab a plate and go and fill your boots with the assorted dishes available, you pay by the weight of your plate, so have that in your head when you're thinking of adding big chunks of salad, yes, yes, rookie move on my part! It can get expensive, but it was my birthday so for a special occasion it's perfect.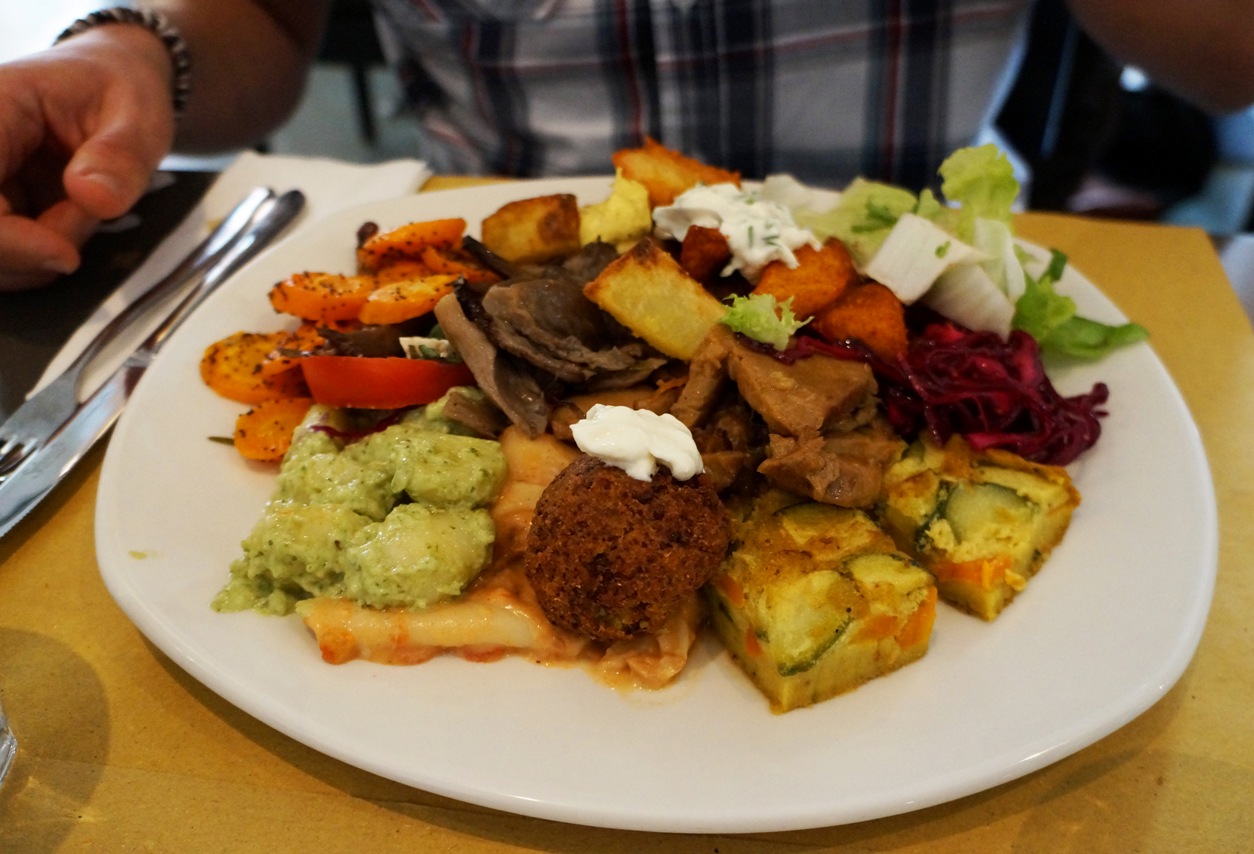 Everything is vegan so choose from lasagne, creamy pasta dishes, frittata, veggie sushi, falafel, beautifully marinated and cooked vegetable dishes, dips, a plethora of grain dishes, potato salad, soups and desserts. Get yourself onto trip advisor to see some photos of the fare on offer.
Ok, so it's not a restaurant or fast food place – this raw chocolate haven is a chocolate lovers dream come true. I try to make a trip to Grezzo everytime I'm in Rome. In summer it's for their magnificent icecream made with almond milk and in winter their divine hot chocolate which has to be tasted to be believed! They have stunningly delicious desserts including Tiramisu, fruit tarts, cheesecake, delicious little gateaus, brownies (I've tried them all and I still can't pick a favourite!)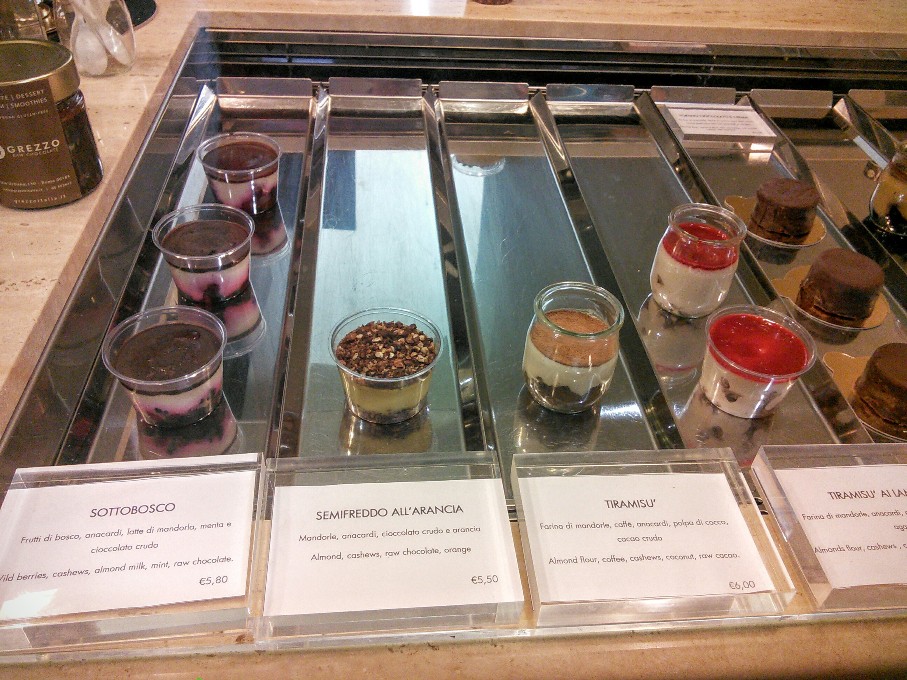 You could also just choose some delicious truffles and chocolates, your very own luxury pick and mix. We introduced family members to the joy of raw desserts and they absolutely loved it, they look and taste like decadent slices or bites of pure bliss! It's also perfect for those who are looking for Gluten Free goodies!
I have put Buddy Roma on the list, not because I've been, but because I want to go. I found this place on our walk back up to the train station in April this year just as we were leaving so didn't actually get the chance to dine here. But the place itself looks lovely and they have a specific vegan menu so this place is absolutely perfect if you are in mixed company and need something for everyone.
I've included the link to the menu itself where you can treat yourself to a 3 course meal all at what I think is quite reasonable prices, especially given the location, you're only a short walk away from Altare della Patria.
But as I mentioned before, you can always just wander into a pizzeria and grab slices of pizza without the cheese, they have quite a few to choose from including mushroom, courgette or peppers, then find a good gelateria and fill your boots with some sorbets, there are always a great selection of senza latte (without milk) options available.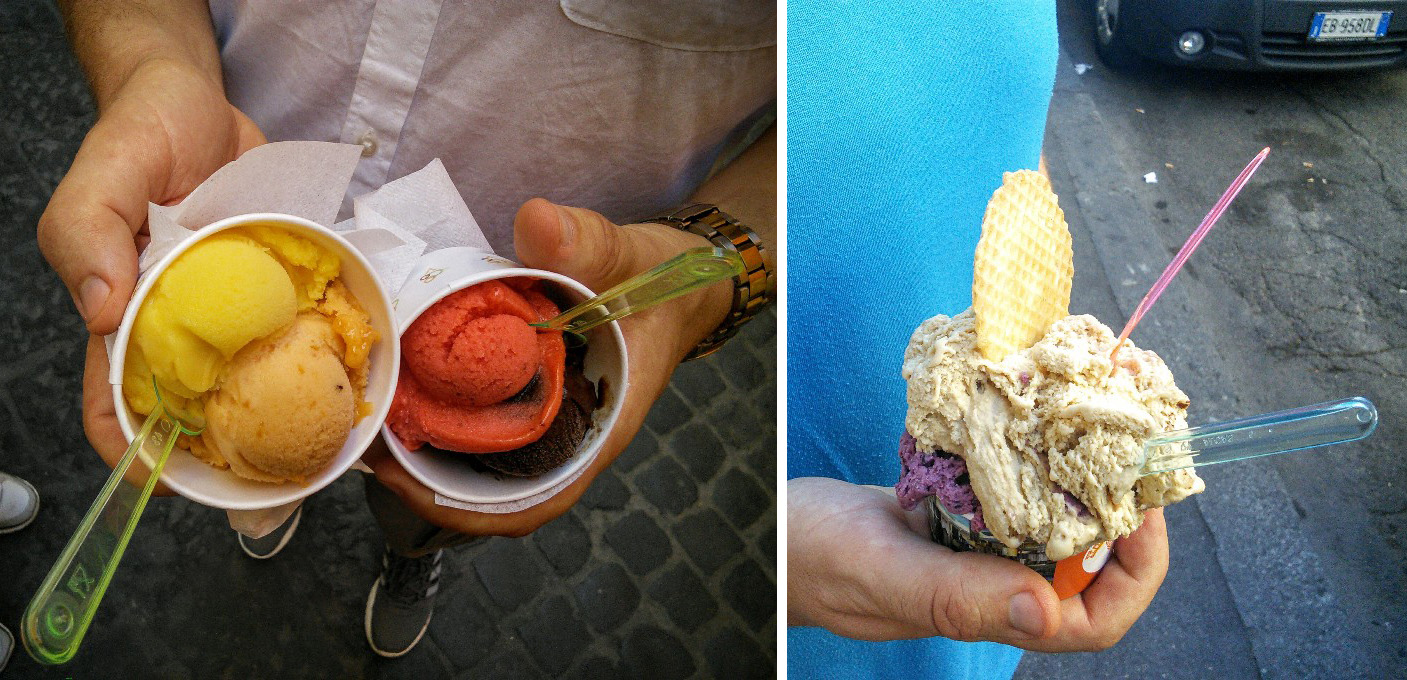 Buon appetito!
Ciao.