Returning to Edinburgh as a newbie Vegan, I was certain that I would be able to find a treasure trove of vegan delights when it came to nights out with friends. I had no idea the stress I caused my good friend Ros when I suggested we hit the town and grab a bite to eat, she'd spent hours trawling through the internet trying to find some suitable options, but Vegan fare isn't always easy to find on the internet.
What most people don't know, is that Vegans can find some great dishes from Indian, Chinese, Thai, Italian and Tapas, it's just a matter of choosing a restaurant you like yourself and then contacting them to ask which dishes are vegan or can be easily adapted to be vegan.
Ros opted for dinner at La Tasca Kitchen, which is on South Charlotte Street in Edinburgh, beautiful location and right on hand for the bars and clubs for after.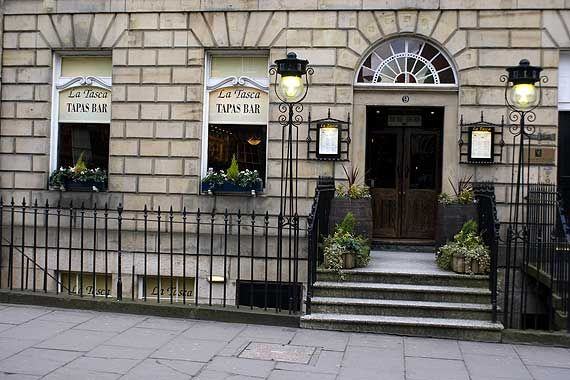 After the usual statements that we have been having from most of our friends and family, "I'll be eating meat", "I could never give up meat", "why are you doing this", "hope you're not trying to convert me"… we sat down to order and I was perusing the menu, there is quite a lot on it and a great vegetarian/vegan selection.
I was giddy as a school girl when the waiter came over to take our order and Ros dived in to ask what dishes I could have as I was a vegan… the waiter himself (along with his family) was also vegan and he went through the menu and recommend dishes for me.  He was an absolute star and it made my night having so many delicious dishes to choose from and I decided on: Patatas Bravas (no cheese), Superfood salad (OMG delicious –  Wheat, red quinoa and lentils, with avocado and rustica tomatoes, marinated in infused lemon oil.) and some chargrilled peppers. Followed by a scoop of Passion fruit and a scoop of lemon sorbet.
It was truly delightful and Ruben (our waiter for the evening) told me about his Spanish brother and family who are raw vegans. It was such a treat to meet other vegans (actually I think he may have been the first Vegan I have met) and we talked about cooking at home and also raw food baking.
Tapas was also a great choice as it meant that Ros could have whatever she wanted as well, and we shared the dessert.
So if in doubt when eating out with a mixed group, keep tapas in mind!