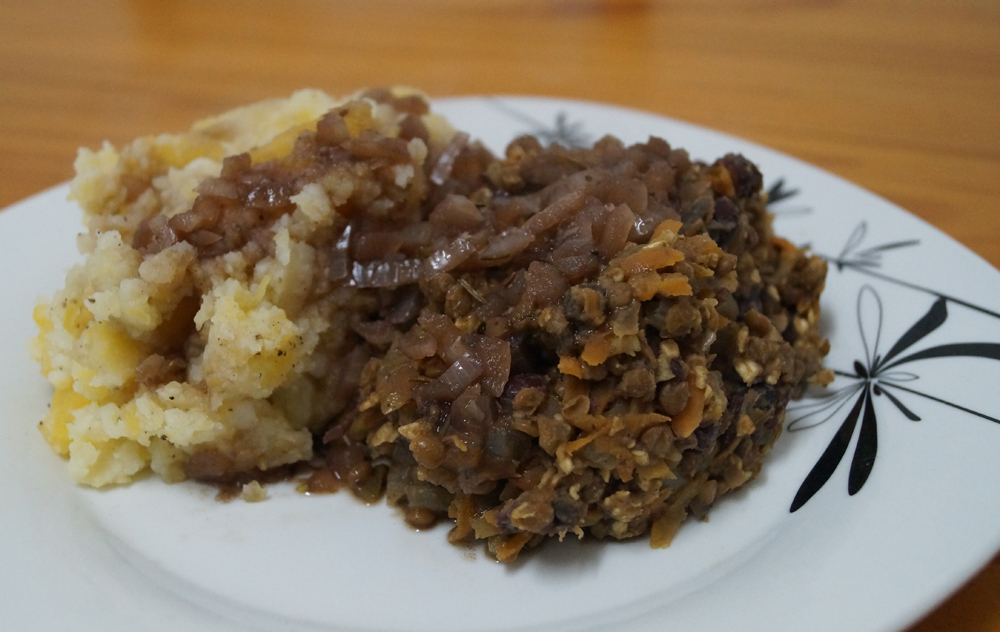 I know I'm quite a bit late for Burn's Supper but while we were in Edinburgh we stopped by this great little bistro that had the most delicious haggis lunch, so tasty in fact we went back a second time and had it again. It also inspired me to get cooking this Scottish dish and tinker with it slightly to make it a little more peppery.
I gave it some thought last night as to how to present the dish, but it's haggis and tatties, you just throw it on the plate and it's gone in a matter of minutes, well it is with me, husband thinks I inhale it!
One thing we used to eat, pre-vegan, was haggis nachos, so I might give that a go with the new vegged up haggis, I've got a big old jar of jalapenos just begging to be used… that might be next weekends dinner sorted.
Finally back to the gym after a lengthy 1 month off, started off with a great Fight Do class then went straight into the new body balance (yoga/pilates/tai chi), I was worried that I'd end up in a crumpled heap in the corner, weeping and asking for mercy as I felt a bit lazy, but thankfully I got through it, but no doubt will ache tomorrow!
Vegan Haggis served with Clapshot & Red Wine and Onion Gravy
MyInspiration Feel The Difference Range
Serves 2
The Haggis
1 cup chopped button Mushrooms
1 can brown lentils (or dry lentils soaked for 3 hours)
1.5 cups of canned Kidney beans chopped
¼ cup oats
¼ cup chopped hazelnuts
1 large carrot grated
1 clove garlic
1 onion finely chopped
1 tbsp soy sauce
1 tsp garam masala
½ tsp white pepper
Black pepper to season
Method
1. Add 2 tbsp water to a sauté pan and add the onion, mushrooms and garlic and cook for 3 minutes, then sprinkle over the garam masala, soy sauce, white pepper and a dash of black pepper. Take a stick blender and blitz this mixture to break it down slightly.
2. Add the lentils, chopped kidney beans and the carrot next and stir to combine and set on a medium heat and cook until the lentils have softened, keep stirring the mixture to avoid any stickage.
3. In a separate pan, lightly toast the oats before adding to the main mixture along with the hazelnuts, stir through and serve.
The Clapshot
2 large potatoes (peeled and chopped)
1.5 cups turnip (Peeled and chopped)
¼ tbsp dried chives
Black pepper
Method
1. Add the chopped potatoes and turnip to a pan of boiling water and cook until tender, remove from heat, add the black pepper (you can also add some vegan margarine or a little soy milk at this stage for a creamier consistency) and mash together but make sure it's still got a few chunks of veg.
Red Wine Gravy
½ onion finely chopped
1 garlic clove minced
Pinch of rosemary
1 tbsp balsamic vinegar
1/4 cup red wine
1 cup vegan stock
Pinch black pepper
Method
1. Saute onion and garlic, then add the rosemary and cook for 2 minutes
2. Add the vinegar and cook until the mixture goes sticky then add the wine and cook for 5 minutes before adding in the stock and allowing to cook for a further 8 minutes, then remove from heat and using a stick blender, give it a quick blitz to smooth it out.