There are times when you just want something seriously hearty for dinner, and yesterday was one of those days for me, so I went looking for a recipe that just screamed comfort food and I happened upon a fab website called gluten-free goddess and alas, I was hooked.
When it comes to cooking, I'm still learning about what flavours go together, what textures work, presentation etc.  I am now at a stage where I can confidently modify recipes to suit my own diet needs, so there might be recipes that didn't start out vegan or even vegetarian but I'm learning how to substitute things and make dishes work for us.
I can't remember the last time I had all this energy, I feel great.  Bearing in mind that I've only started following a Vegan Diet for about 6 weeks, the changes in my life have been immeasurable.
So, back to the task at hand and the recipe!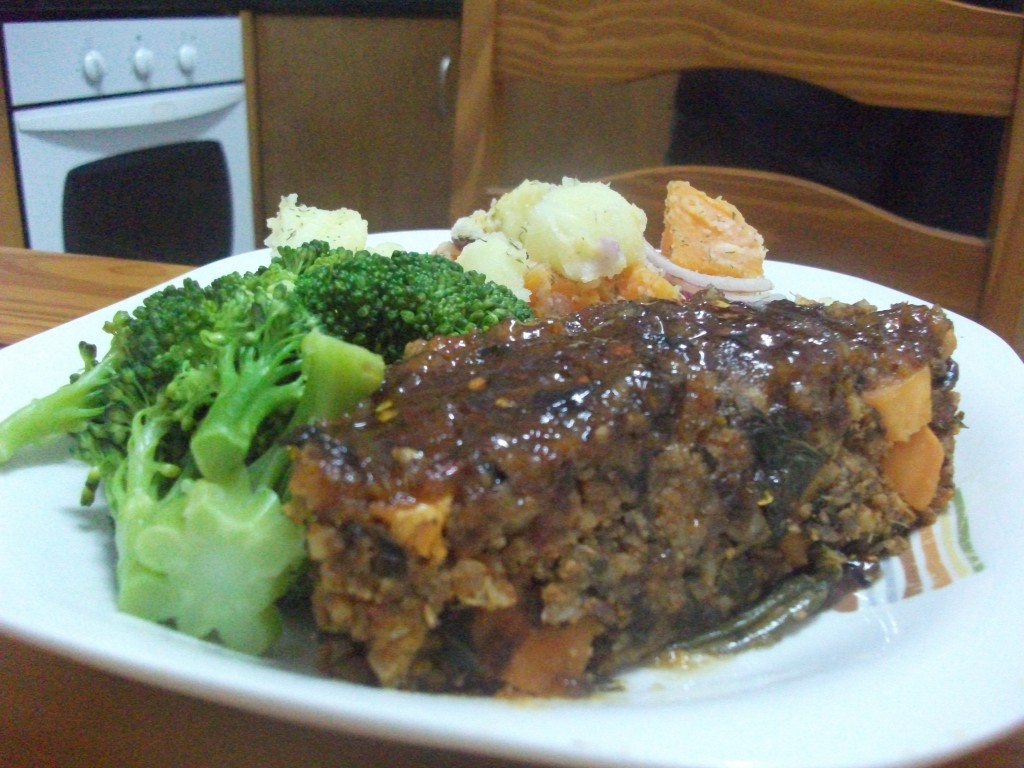 VEGAN GARDEN LOAF WITH MARMALADE GLAZE
Served with broccoli & a potato Salad (I have modified original recipe slightly)
Serves 4 (in our case 2 main meals and other half polished off the rest for lunch!)
Extra virgin olive oil
1 cup chopped red onion
2 heaped cups button mushrooms
2 cloves garlic, minced
1.5 tablespoon balsamic vinegar
5 cups loosely packed baby spinach leaves
Ground pepper
1 cup cooked bulgar wheat (use quinoa for GF)
1 cup toasted bread
2 tablespoons tomato puree
1 tablespoon good olive oil
1 tablespoon dried Italian Herb Mix- basil, thyme, oregano, parsley, marjoram
1 teaspoon fresh minced rosemary
1 baked sweet potato, peeled, diced (take it out before it's cooked too much, not too soft)
Preheat the oven to 350 degrees F. Lightly oil a glass bread loaf pan.
Heat the olive oil in a frying pan and cook the onion until it is translucent. Add the mushrooms and garlic; stir until softened. Add the balsamic vinegar and stir. Add the spinach. Season with ground pepper. Stir and cook down until the mixture is soft- about seven minutes or so.
Spoon the skillet vegetables into a food processor bowl and pulse to make a grainy mixture. Don't over-process it, you want some texture.
Dump the mixture into a large bowl. Add the cooked bulgar wheat, breadcrumbs, tomato puree and olive oil and stir to combine. Add in your dried herbs, rosemary and mix to distribute. You want a moist mixture that sticks together when you press it with a spoon. if you need more tomato puree to hold it together, add it now, maybe a tablespoon.
Last- add in the diced sweet potato and fold in gently.
Spoon the loaf mixture into the oiled loaf pan and shape it with moist fingers, pressing it tight into the pan. Smooth the top.
Marmalade glaze.
Combine:
1/4 cup orange marmalade
1 tablespoon balsamic vinegar
1 tablespoon maple syrup
A sprinkle of cinnamon and cumin
Hot red chili flakes, to taste
Pour the glaze all over the top of the loaf.
Tent loosely with a piece of foil. Bake in the center of a preheated oven until heated through and the edges of the glaze are bubbling- about 25 to 30 minutes.
Allow the loaf to set for ten minutes, tented with foil. This helps it to settle, and makes it easier to slice. Slice into portions and lift out with thin spatula. It should hold together.
For the potato salad
I took one large white potato and one large sweet potato, chopped them up and boiled them until just tender, drained, sprinkled some black pepper, splashed over 2 tbsp of Apple cider vinegar (you can add more or less depending on your own taste, but it is lush with the potatoes!) plus 1 tbsp of olive oil, top with 2 tsp of Dill, ½ a red onion sliced and  gave it a gentle stir to combine.
One word DELICIOUS – the woman is quite honestly a genius!
Serve with a nice big slice of garden loaf and some steamed broccoli.
Original Gluten Free Recipe Here