Martin has had an inkling for falafel for a while now, so I had a bit of time on my hands and thought I'd give it a go.  It was a great dish, quick and easy and leftovers for lunch the next day… perfect in my book!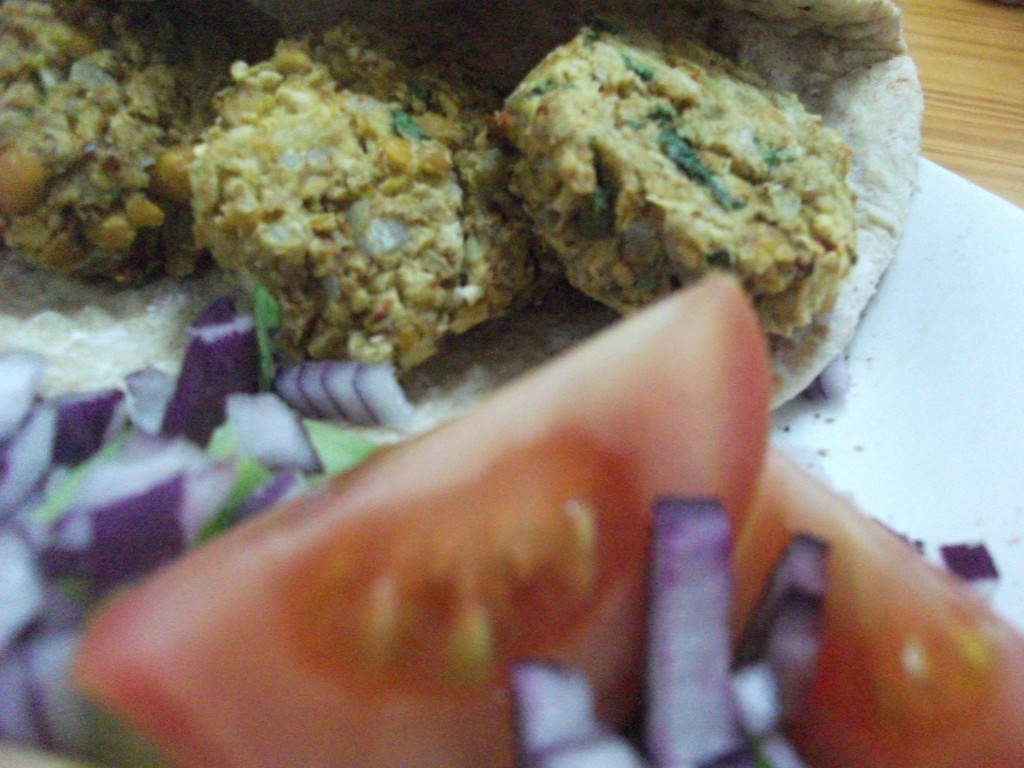 Baked Vegan Falafel with homemade wholewheat flatbreads
Makes about 12 balls
2 cans of chickpeas/garbanzo beans

1  onion, finely chopped

3 garlic cloves, finely chopped

3 tablespoon fresh coriander (cilantro), chopped

1 tbs lemon juice

1 tablespoon dried coriander

1 tablespoon cumin

1 tablespoon dried red pepper flakes

2 tablespoons flour

2 teaspoon baking powder

Salt and pepper to taste
 Method
Preheat oven to 375 degrees.

Drain and rinse the chickpeas/garbanzo beans and pop in a medium sized bowl and mash with a fork ofr a potato masher.

Add the rest of the ingredients and mix well.

Form into balls, just smaller than your palm and press well and flatten slightly.

Place on an oiled baking tray and bake for 15 minutes on both sides
Serve with tahini, tomatoes, cucumber and red onion.
Wholewheat Flatbread
Makes 2 flatbreads
¼ tsp baking powder

¼ cup + 1 tablespoon of warm water

Sprinkling of red pepper flakes

Pinch of black pepper
Method
Sift together the flour and baking powder, add the red pepper flakes and black pepper (you could also add some cumin or tumeric – it's up to you!) then add the warm water and mix together until a dough forms, turn out onto a floured surface and kneed for about 3 or 4 minutes. Place in an oiled bowl, cover and leave for about 20 minutes.
When you're ready, divined the dough into 2 balls and roll out to desired size, making sure it's a thin, no more than 3mm thick, heat your non stick pan until hot and then add the flat bread, watch for the air pockets forming and then flip it over and cook for a minute, one last flip for 30 seconds and you're done!