On Friday night we decided to opt for some home made fare instead of eating out and it was a toss up between a pizza or making use of all the buy one get one frees cans of chickpeas we bought during the week. Well, no contest, really, I love chickpeas, they go with pretty much anything, so I kept it simple and opted for a burger/patty style dinner option and my favourite paprika wedges.
Friday night in this house is movie night and we ended up watching Safety Not Guaranteed, which was a great film, entertaining, funny and heart felt too. It's got a few actors I haven't seen before like Aubrey Plaza (Parks & Recreation) & Mark Duplass, it also stars Jake Johnson (New Girl) who is great.
So if you're looking for something a bit different, give this film a whirl. The Big Beach films are a bit quirky and I like that, we've also watched My Idiot Brother (which was actually quite star studded – Paul Rudd, Zooey Deschanel, Elizabeth Banks, Rashida Jones, Steve Coogan & Emily Mortimer).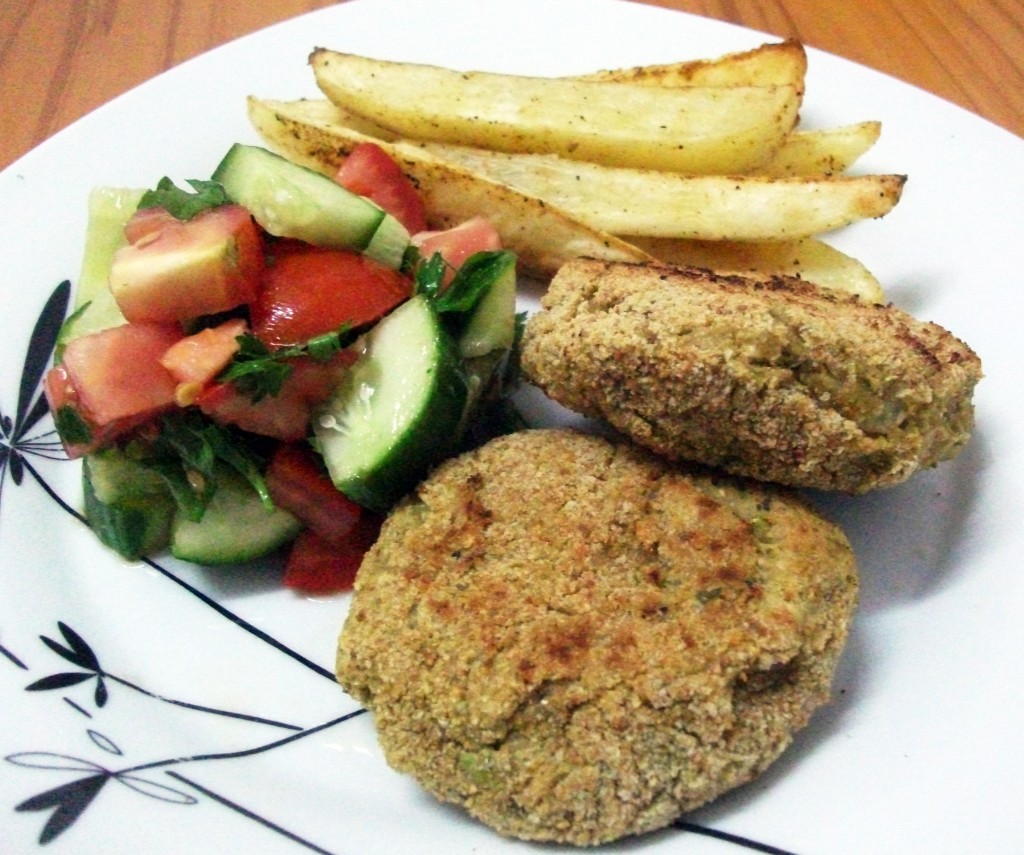 Spicy Chickpea Patties & Paprika Wedges
MyInspiration Feel The Difference Range
Makes 6 large patties
Ingredients for Patties
1 onion finely diced
1 green pepper chopped
2 cans of chickpeas drained and rinsed
½ tablespoon olive oil
1 tablespoon thyme
2 teaspoons Cayenne pepper
1 teaspoon Hot Chilli
1 teaspoon Tabasco Sauce
Half a cup whole wheat flour
1 tablespoon Corn Flour
3/4 cup breadcrumbs (split into ½ cup and ¼ cup)
Black pepper to season
Ingredients for Paprika Wedges
2 large potatoes peeled and sliced into wedges
1 teaspoon olive oil
2 teaspoons paprika
Black pepper to season
Method
1. Preheat oven to 180 degrees.
2. In a pan of boiling water add the chopped potatoes and cook for 5 minutes, then transfer to an oven tray drizzle with the oil, sprinkle over the paprika & black pepper and give it all a good shake to make sure everything is covered. Pop in the oven for half an hour, giving them a shake every now and again to ensure they cook evenly.
3. While the wedges are cooking, heat ½ tablespoon oil in a pan over a medium heat and cook the chopped onion & green pepper for 5 minutes and remove from heat.
4. Pop the chickpeas and onion/pepper mix into a food processor (or a tub and use a hand blender like me!) and blitz until almost smooth.
5. Add the remaining ingredients (Keep back the half cup of breadcrumbs in a bowl) and stir to combine, if the mixture is too wet, then add a little more whole wheat flour until the mixture is manageable.
6. Form the mixture into 6 large patties and flip them in the bowl of breadcrumbs until coated, then pop on a lined baking tray and bake in the oven for 20 minutes, turning half way through. Then remove from heat.
7. To finish off, heat a frying pan over a medium heat, add a tiny bit of oil just to coat the pan, then finish the patties off in the pan, 1 minute each side and serve with the wedges and salad (I went for tomato, cucumber and some chopped parsley.)