There's been a couple of times I've ran out of my home made biscuits and I've really wanted something lavish for dessert, so I was pottering about in the kitchen the other night and decided to experiment with a basic microwave chocolate cake recipe but jazz it up a bit with a sauce/topping to make it extra decadent!
I love the date sauce, it's warm, thick, creamy and oh so tasty, I could quite happily eat it on it's own right out the bowl (and have done….)
I'm going to be trying out some Thanksgiving meals tonight (pumpkin pie being one of them, just sent the hubby out to purchase the pumpkin), hopefully I'll have recipe and pics tomorrow.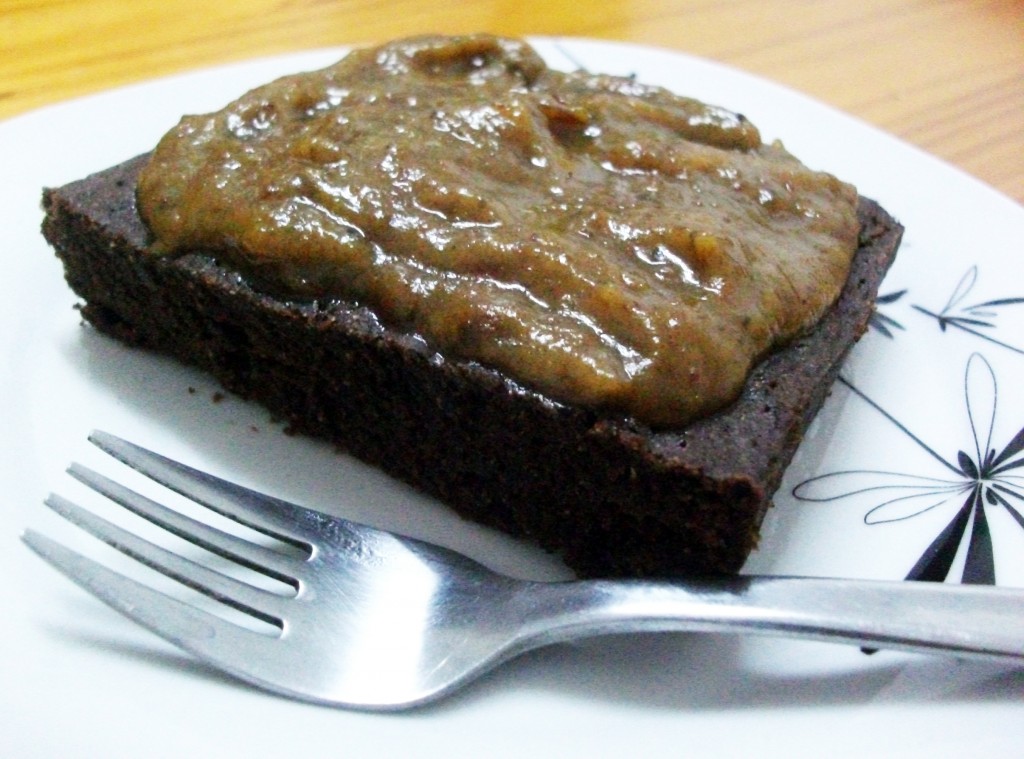 10 minute Vegan Chocolate Cake with a creamy date topping
Serves 2 as a dessert
Ingredients
6 tablespoons buckwheat flour or whole wheat flour
2 tablespoons natural brown sugar
3 tablespoons cocoa powder
¼ teaspoon baking soda
6 tablespoons almond milk (or any other non dairy milk)
2 tablespoons olive oil
1 teaspoon vanilla
Method
1. In a bowl combine all the ingredients together and mix vigorously together until everything is combined, make sure you give it a proper good stirring as some of the flour can hide at the bottom!
2. Pour this into a microwavable dish (I used a rectangular plastic take out tub we had in the cupboard) pop in the microwave for 1 minute on a medium setting, then crack it up to highest setting and microwave for another minute and a half.
3. Twist the sides of the tub slightly so that the cake comes away from the sides and then flip it onto a plate and slice in half.
For the Date topping
8 dates
3 tablespoons almond milk
½ teaspoon vanilla
In a microwavable bowl, add the dates and almond milk and put on high power for 30 seconds (until milk starts to bubble) add the vanilla and using a hand blender blitz the mixture until smooth and then drizzle over the chocolate cake. I like my sauce really thick, but if you want to thin it out a bit just add more almond milk until you get the consistency you want.