It's crazy how you become so used to eating spicy food, that when you are limited with your spice rack to accommodate others palettes, it's like you go mad for heat when you get the chance.
Since my in-laws have gone home I have flung in chilies, hot sauce, jalapenos etc to pretty much every main dish I can make, the hotter the better in this house!
Last night I made a Chana Masala (we love chickpeas!) and it was tasty and spicy and just delicious. I over catered as usual, so Martin had a huge plate full, no complaints from him! The chilies we got from the fruit & veg market may have looked pretty innocent, but they were hot, hot, hot and packed a heck of a punch!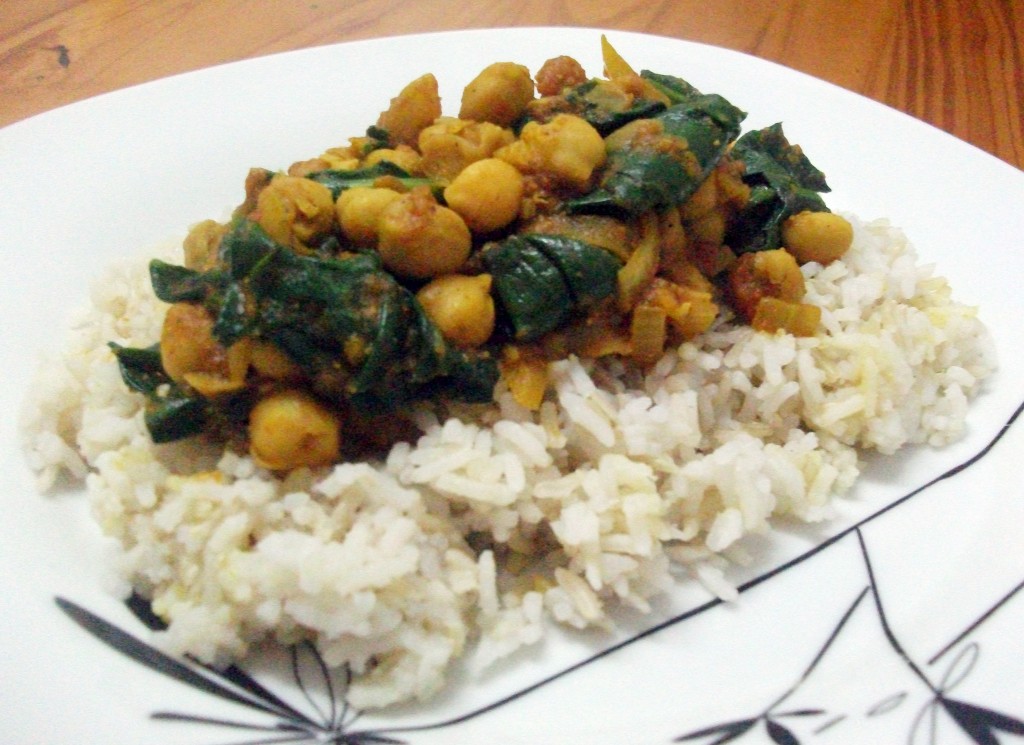 Chana Masala served with Fragrant Basmati Rice
Serves 4
2 cans chickpeas (garbanzo beans)
1/2 large onion, finely chopped
3 cloves garlic, finely chopped
Fresh ginger finely chopped about 1.5 tablespoons
2 fresh chillies chopped finely
1 tbsp olive oil
1tbsp lemon juice
1 tablespoon cumin
1 tablespoon garam masala
1 teaspoon tumeric
1 large bunch of spinach thoroughly rinsed
1 can tin tomatoes
1 cup of water
For the Rice
1.5 cups basmati rice (I used half white and half brown basmati)
1 cinnamon stick
Pinch of cloves
2 bay leaves
3 cups of water
Method
1. First prepare the rice. In a pan add 3 cups of hot water to the basmati and stir, then add the cinnamon stick, bay leaves and bring to the boil, then allow to simmer for 15-20 minutes – once it's almost ready, remove the cinnamon stick and bay leaves, then add the cloves and stir through.
2. While the rice is cooking, you can carry on with the chana masala. In a large pan, heat the olive oil over a medium heat, then add the onion, ginger, garlic and chillies and cook for 5 minutes until the onions start to soften.
3. Add all the spices to the onion mixture and stir to combine, allowing the spices to cook for a few minutes.
4. Add the tomatoes, chickpeas, lemon juice and water, stirring thoroughly and leave to cook (on a low heat) for 10 minutes, until the chickpeas have softened and are cooked through.
5. In the last few minutes, add the spinach and allow to wilt while you stir it through the mixture, then serve with the basmati rice.