Along with Fondant Fancies and Belgian Buns, my nan and grandad always had some Iced Bakewell tarts on their sweet tray when my sister and I were round for tea and if there is one thing I love, it's almond/marzipan, anything that tastes remotely marzipany is like catnip to me.
So this weekend I just took a little nostalgic notion to make a bakewell tart and see how I got on and I think I did pretty well (if I do say so myself) not only did I make a Tart, but I also made 4 mini Iced Bakewell tarts.
These Bakewell Tarts are scrumptious and will be a great addition to your afternoon tea or even as a dessert with a little vegan vanilla ice cream (I'll be making a vanilla ice cream next week to go with Christmas Pudding so will post the recipe then).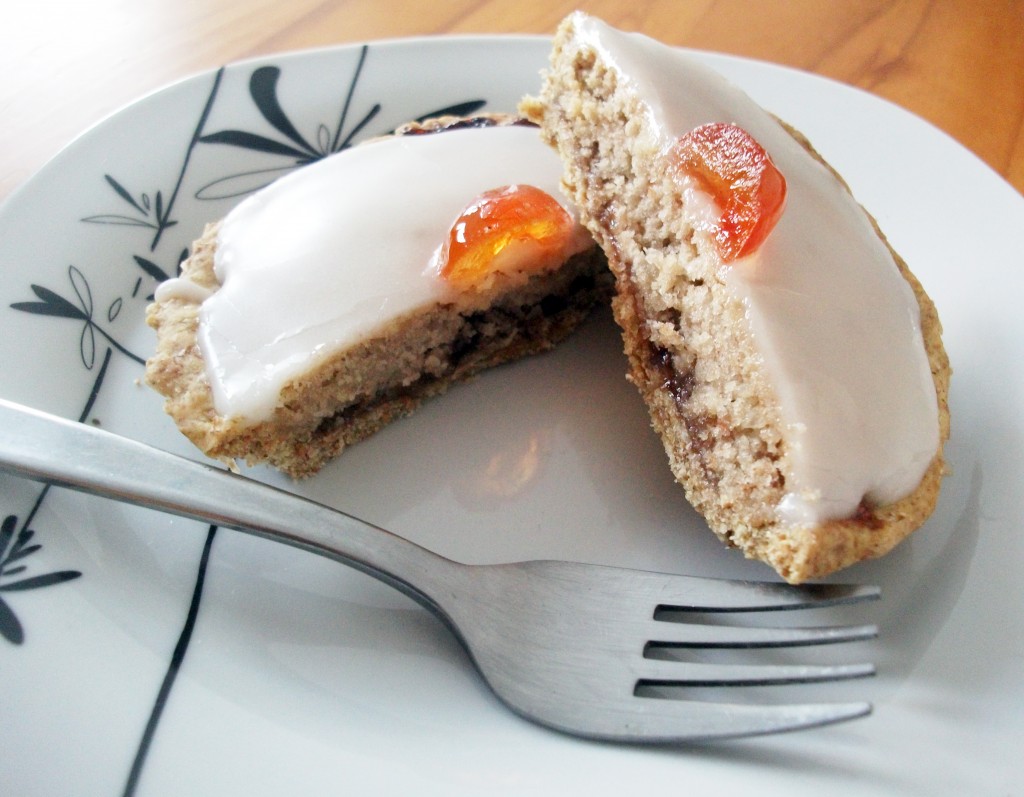 Vegan Bakewell Tart (vegan with gluten free option)
MyInspiration Feel The Difference Range
Makes 1 x 9" round tart & 4 small 2.5" tarts.
 Pastry
2 cups wholewheat flour (or use rice flour or favourite GF Brand)

1 tsp baking powder

½ cup vegan margarine
Sponge layer
2 cups buckwheat flour

1/3 cup natural brown sugar

1.5 tsp baking powder

½ cup ground almonds

1/3 cup olive oil

2 teaspoon almond essence

¾ cup water

½ cup almond milk
To garnish
Glace Cherries

Almonds

Icing Sugar
Method
Preheat oven to 180 degrees

Lightly oil a 9" round baking tray

M

ake your pastry – In a bowl combine the flour and baking powder, then rub in the margarine until the consistency is like fine bread crumbs, then add a little water to bring the mixture into a stiff dough. Turn out onto a floured surface, roll the pastry out and drape over the baking tin and using your fingers press it down so that it's well distributed. Pop in the oven to blind bake for approx 10 minutes. Remove from oven and allow to cool slightly.

In a separate bowl make the sponge layer by combining all the ingredients (except the cherry jam) folding it all together, try not to over mix it.

Now, spread a decent layer of your favourite jam over the pastry base, strawberry, raspberry or cherry would be best. Then add the sponge layer mixture on top and level it off with a spatula, this doesn't rise much so make sure to fill the pastry case to about ½ centimetre from the top, decorate the top of the sponge layer with 10 whole almonds, 9 around the edge of the tart and 1 in the centre, pop in the oven and bake for about 20 – 25 minutes. Remove from oven and allow to cool then dust with icing sugar and serve.
** As you can see from the first photo, I had additional pastry and mixture left over so made 4 x 2.5" tarts as well (exact same method as above). As a topping though I took 1 cup icing sugar, ½ tsp vanilla essence and 2 tsps water and mixed until I had a thick icing then I spooned approx 1 tablespoon of icing onto each small tart and carefully spread it evenly and topped with a cherry.
You can see from the 2nd photo what happens when you don't fully fill the pastry case with the sponge mixture, it kind of shrinks on itself, so make sure you put enough filling in to avoid this.