oooooh MUFFINS, I thankfully managed on my 2nd attempt to get these just right and they are really quite delicious, moist and fruity and incredibly moreish. I had toyed with the idea of adding a frosting, but when I tasted them I knew they had to be au natural and eaten in their "just baked" state. I couldn't wait for them to cool down completely to add frosting on top anyways!
Just back from my Spin class, my first in 9 weeks, I think I'm gonna hurt in the morning, although I'll need to grin and bear it as I'm going to try out the new crxworkx class tomorrow morning after Yoga, friend of mine mentioned today that it is great for your abs and she loved the class, so it's a good recommendation for me!
Did a big shop yesterday to stock up on all my flours, lentils and chickpeas, got a few new spices, but to my horror…… no one seems to have any buckwheat flour…. ANYWHERE!!!!!  It's my favourite flour to use for my baking, so I might just need to drive further afield and see if I can search some out! Wish me luck.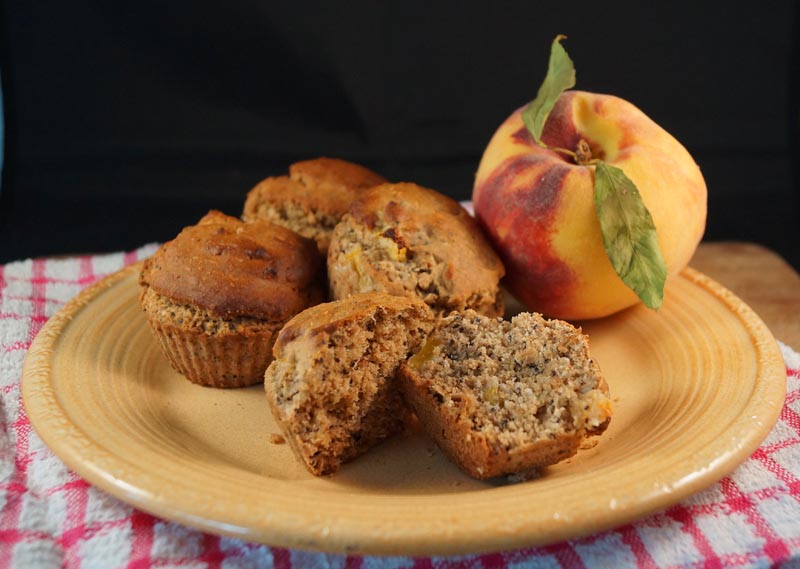 Vanilla Peach Poppy Seed Muffins (vegan & gluten free)
MyInspiration Feel The Difference Range
Makes 6 cupcakes ready in 30 minutes
1 cup Buckwheat Flour

1/2 tsp baking powder

1/2 tsp baking soda

1/2 tsp cinnamon

1 tbsp shredded coconut

1/2 cup non dairy milk (I used alpro almond milk)

1/2 tbsp apple cider vinegar

2 tbsp Maple Syrup

1 tsp vanilla extract

1 tbsp vegan margarine (pop in a microwaveable dish and blast for 10 seconds to melt it)

1/2 fresh peach, peeled and finely diced

1 tbsp poppy seeds
Method
Preheat oven to 180 degrees celcius (356 degrees fahrenheit) and line a muffin tray with 6 cases, I use silicon cases as they are much easier to get the cupcakes out of!)

In a large mixing bowl combine the flour, baking powder, baking soda, cinnamon, coconut and poppy seeds, in a separate bowl combine the dairy free milk and apple cider vinegar and stir together before adding in the maple syrup, melted margarine and vanilla extract. Then add the wet ingredients to the dry, throw in the chopped peach and fold the mixture together until well mixed.

Spoon heaped tbsp of the batter into the cases until almost full to the brim and bake for 18 – 20 minutes or until a knife comes out clean. (If there's one thing I noticed when I was travelling around, everyone's oven seems to be different, so check your muffins after 18 minutes and if they are still soft to the touch then leave them another 5 – 7 minutes). Let them cool…. I didn't and I go t a piping hot piece of peach fruit which burned my mouth… I'm such an eager beaver!
Approx. Nutrition per cupcake: Calories 120 – Carbs 20g – Fat 3g – Protein 1g