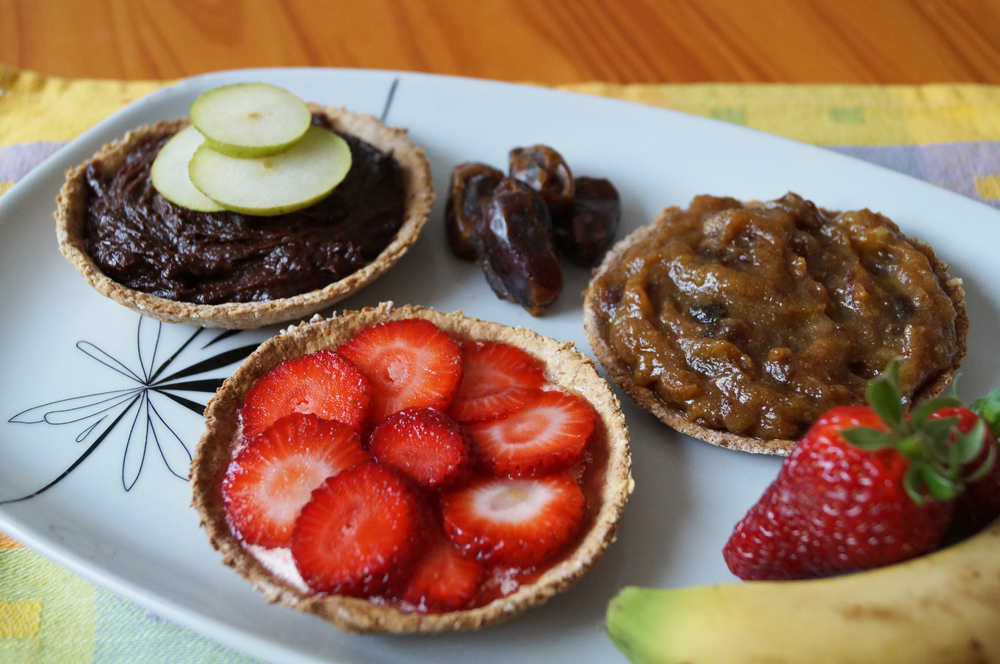 I was pottering around in the kitchen yesterday thinking of what to make and I'd had visions of making a strawberry tart (a big one) and a couple of mini raw tartlets, however I had a major kitchen disaster… I made the large strawberry tart but when I went to slice it, it was a complete mushy mess that pretty much fell apart, I think there was just too much juice coming from the strawberries (even though I had sieved most of the juices out) and it just collapsed the pie. But have no fear… I always make way too much pastry so I concocted a plan B to make a trio of tartlets with the pastry left over, so that is what I did and thankfully they turned out beautifully. So I'll need to remember to do my raw tartlets next time.
I watched the last Twilight film yesterday, it was fabulous and sad at the same time (no spoilers here!) the one thing I always love is the soundtrack, the song by Christina Perri A Thousand Years is just beautiful. So it's now on my mp3 along with most of the other tracks from the saga.
Having a "no cook" day today, Martin is on lunch duties and we're out tonight for food, but tomorrow I'm hoping to bake some Hot Cross Buns, this will be a test run for Easter coming up. I did make them last year, so need to revamp that recipe a bit I think.

Trio of Afternoon Tea Tarts (Vanilla & Strawberry, Pear Topped Banana Fudge, Toffee Pear) (vegan & gluten free option)
MyInspiration Feel The Difference Range
Makes 3 Mini Tarts
For the pastry
1/2 cup oats (blitzed with a stick blender to make into a flour)
1/2 cup wholewheat flour (for GF use Gluten free brand)
1/2 tbsp oil (olive or coconut)
2 tbsp water
2 tbsp non dairy milk (I used Rice Dream)
1 tbsp maple syrup
Method
Preheat oven to 180 degrees celcius and prepare a mini tart baking tray (mine has 4 mini tart spaces each approx 4.5″ across).
In a small bowl combine the milk, oil, water and maple syrup.
In a mixing bowl combine the flour and oats then add the wet ingredients to the dry and stir until a thick dough forms (you might need to add a splash more non dairy milk if it's too dry)
On a floured surface roll our the dough and cutout three 4.5″ circles (or however wide your mini tart moulds are) and pop them in the tray, pressing them firmly down, then prick with a fork all over and pop in the oven for 15 – 20 minutes until cooked, remove from oven and allow to cool completely.
Fill each tart base with the fillings below (each filling is for one 4.5″ tart).
Strawberry & Vanilla
4 large strawberries
1/2 tsp vanilla
1/4 tsp balsamic vinegar
4 tbsp vegan powdered sugar
Method
Using a stick blender quickly pulse 2 of the strawberries until smooth then add the balsamic and vanilla and stir through before adding the powdered sugar, stir until this thickens (you may need a little more icing sugar as you want a thick creamy consistency), spoon the mixture into the tart case, slice the other 2 strawberries and arrange on top of the tart.
Pear Topped Banana Fudge (my favourite)
2 tbsp smooth unsweetened peanut butter
2 tbsp cocoa powder
1 small ripe banana
1 tsp vanilla
3 slices of fresh pear
Method
Combine everything but the sliced pear in a container and using a stick/hand blender pulse until the mixture turns into a lovely thick creamy consistency then spoon in to the tart case and top with a few slices of pear.
Toffee Pear
6 dates
1 tbsp non dairy milk (I used Rice Dream again)
1 small Pear, chopped
1/2 tbsp Maple syrup
Method
Combine the dates and milk in a small container and pop in the microwave on a medium power for 30 seconds
Add the chopped pear and maple syrup to a small sauce pan over a medium heat and allow to cook for 7 minutes until the pear starts to caramelize and soften, remove from the heat and add to the date mixture and using a stick/hand blender, pulse until the mixture is smooth, then spoon into the tart case.