I'm getting so used to seeing the spaghetti in my pasta photos that I thought I would mix it up a bit with some cheeky tricolor spiral pasta. It made a nice change and held the pesto nicely too in the little ridges to capture that great flavour. You could use whatever pasta you have in, spaghetti, tagliatelle, penne etc.
Now you might be thinking that pesto is usually made with fresh basil, this I know, but I can't get my hands on fresh basil here so thought I would try it with coriander and it did turn out really well. I might see if I can make a batch of it and see how long it might keep for in an air tight jar.
I think I'm going to bake a cake this afternoon, I've got half a can of coconut milk left that I'd like to use up, I've also got a pack of dried pineapple chunks too, so I see the makings of a lush cake coming along!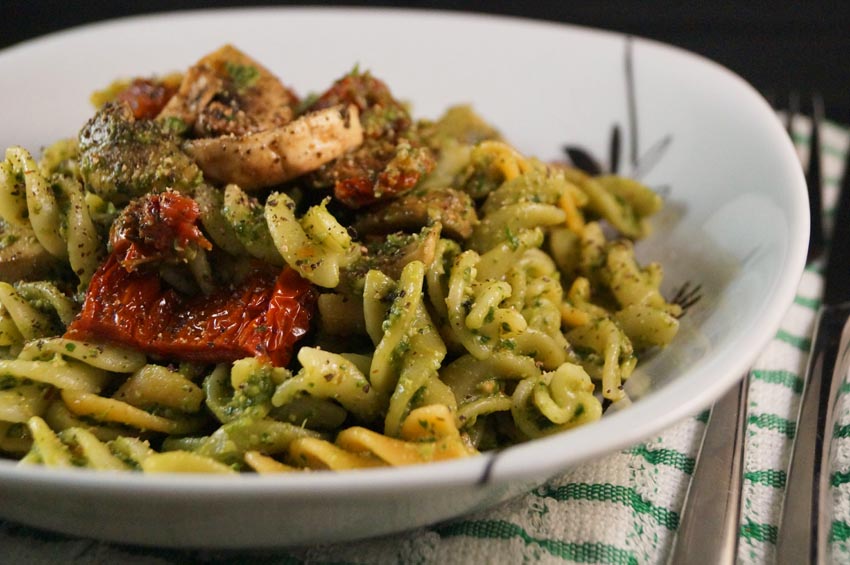 Tricolor Pasta with Fresh Coriander Pesto, Sun Dried Tomatoes & Basil Sauteed Mushrooms (vegan with gluten free option)
MyInspiration Feel The Difference Range
Serves 2 – Ready in 30 minutes
170g Spiral Tricolor Pasta

5 Medium sized Button Mushrooms, chopped

6 Sun Dried Tomatoes roughly chopped

½ tbsp Dried Basil
For the Pesto
2 cloves Garlic finely chopped

¼ cup almonds

1.5 cups Fresh coriander

3 cherry tomatoes, halved

1 tsp Lemon Juice

Pinch of Black pepper

Method
Prepare the pasta – I added my spirals to a pan of boiling water and cooked for 12 – 15 minutes. Drain and set aside.

In a large sauté pan add 2 tbsp water over a medium/high heat and add the chopped mushrooms, sun dried tomatoes and basil and cook for 7 minutes until the mushrooms are lovely and soft.

For the pesto – add all the ingredients to a food processor (or use a hand blender like me) and pulse until smooth, taste it to make sure it suits your palette, I added a little more lemon juice and some black pepper. Stir the pesto through your drained pasta and add the sautéed mushrooms, mix it all together and serve in a bowl with a nice slice of garlic bread.