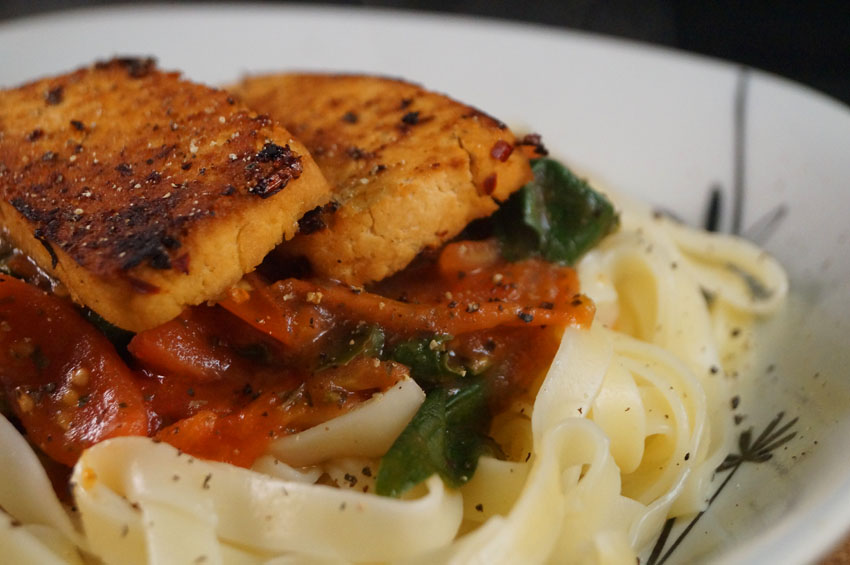 I'll admit it, when we first started on our plant based diet I really wasn't keen on eating Tofu, especially not as a main meal. I think that was probably due to the fact that all we could buy here was the silken tofu and trying to use it as a robust part of a entree is not ideal. Of course when I realised that silken tofu was outrageously fabulous in dessert making, well, a whole new world opened up to me, including my favourite cheesecakes, fruit tofu yoghurts and not forgetting those cheeky chocolate mousses!
So, we've recently found a supermarket that sells the firm tofu and I had to give it a go, the pack had 2 blocks in it and I used one block to try out a recipe I saw online for a pot pie and the other I used tonight in my pasta dish. I will hold my hands up now and say I was wrong, Tofu, when cooked well is really pretty tasty and the texture of it really worked with my tagliatelle dish this evening. So I am super pleased and will be buying more packs to have in and start experimenting more with other dishes. I love the sound of the tofu ricotta and already have a few ideas what I could do with it.
Another food eye opener for me is popped quinoa. I saw a bar of chocolate on pinterest that had quinoa in it and after further investigation I saw that it was popped. So, you guessed it, I got right in that kitchen, pulled out the bag quinoa and whacked it in the pan, heated it up and waited for the snap crackle and pop and hey presto you can add that into loads of things! I've already made a batch of energy bars (they're in the freezer right now and I'll photograph and put the recipe up tomorrow) and I made some chocolate, goji quinoa treats (very similar to rice crispy cakes). I've got no idea what I'm going to put it in next but it's lush and if you haven't tried it then DO!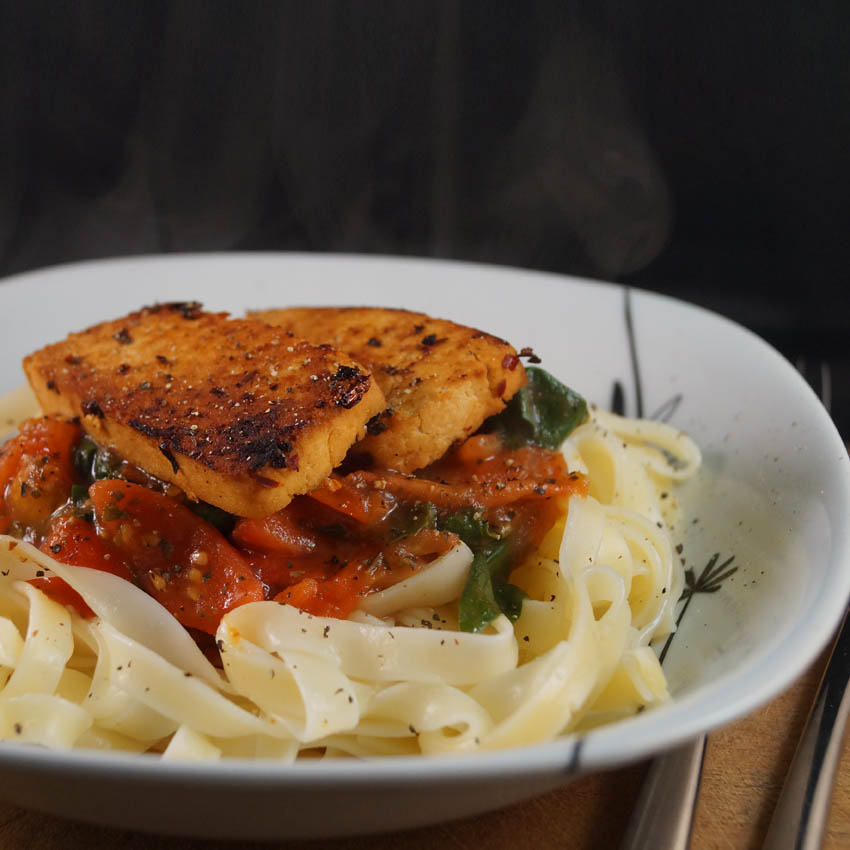 Tagliatelle with Balsamic & Chili Marinated Tofu Pan Seared and served with a Roasted Cherry Tomato & Spinach Sauce. (Vegan with Gluten Free Option)
MyInspiration Feel The Difference Range
Serves 2 – Ready in 35 minutes
For the Tofu
200g Firm Tofu cut into 1cm thick strips

3 tbsp Balsamic Vinegar

2 cloves garlic finely chopped

1 tbsp Red Chili Flakes
For the sauce
12 large cherry tomatoes quartered

2 cups packed fresh spinach

1 tbsp dried basil

1 tbsp balsamic vinegar
200g tagliatelle (for Gluten free, use GF brand of pasta)

Black Pepper to Seaon
Method
In a large bowl mix together the balsamic, garlic and chili flakes and then dredge the tofu slices through the mixture and just leave in the bowl for 10 minutes. Add 1 tbsp water to a medium sauté pan over a medium/high heat and lay the slices of tofu on the pan, pour over any remaining marinade and cook for 6 – 7 minutes, add a little extra splash of balsamic to keep it moist, Then turn them over and cook on the other side for 6 – 7 minutes until they start to brown up.

While the tofu is cooking you can prepare the tagliatelle, just add the pasta to a pan of boiling water and cook for 12 minutes, drain and set aside.

Pop all the cherry tomatoes and the balsamic in a medium sauce pan over a medium heat and cook for 15 minutes until they start to break down and become mushy, throw in the dried basil and the spinach (the spinach will wilt in the sauce) cook for another 5 minutes and it's done.

I quickly popped my pan of tofu over a high heat for 2 minutes to warm through again before serving.
To serve, spoon the tagliatelle into a nice big bowl, spoon over half the tomato and spinach mixture and top with the slices of tofu, finish it off with a little black pepper and you are good to go!