This recipe was from last week and I just didn't get the time to post it up, so here it is! Better late than never! The butternut squash just looked fabulous so I just had to have it! The garlic and onion spinach was another after thought for me as I want to keep my dishes nice and colourful and I thought this would go lovely with the dish (it does by the way).
I had my first taste of Spirulina today, we bought some from Holland and Barretts while we were shopping yesterday and I know it's packed with great stuff but my goodness it tastes yucky, it doesn't taste nice at all, we mixed it with some cranberry juice and had it as a shot, it's the only way! I'll need to do some research to see how people use it in their cooking and see if I can incorporate it that way. We also tried some vegan cheese and some vegan pepperoni slices, they are not for me I'm afraid. I just felt I should try them so that I could offer an opinion if anyone asked. I won't be buying them again, I don't miss cheese or any meats so to buy substitutes seems a little pointless for me, I think it's different if you've always loved cheese and are looking for an alternative, then yes, it's a good choice.
We were at our youngest nieces school sports day today, my how that brings back horrible memories, I was SHOCKING at sports when I was that age, falling over, all arms and legs really, not a good time! Then add the pressure of people watching you and well, I was a mess! But little Ella was fantastic, her group won pretty much every race in her class and she kept her focus by ignoring all us oldies on the side lines which I thought was an excellent tactic! Go Ella!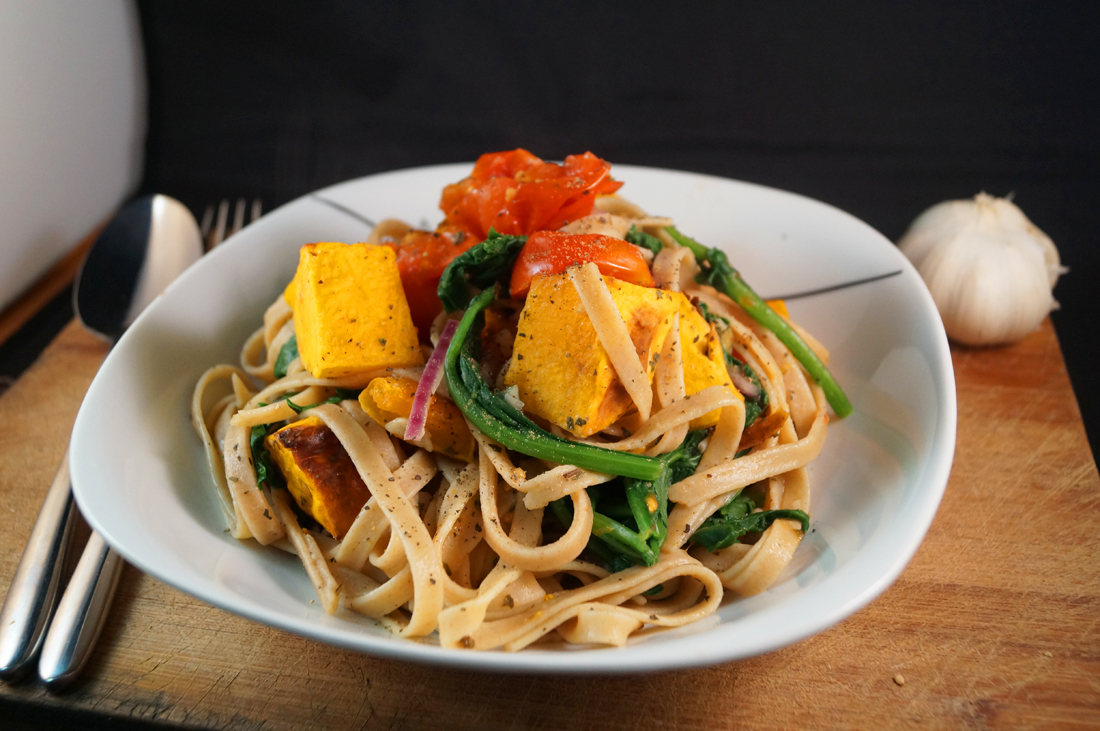 Tagliatelle tossed with Roasted Butternut Squash, Cherry Tomato and sautéed garlic & onion spinach (vegan with gluten free option)
MyInspiration Feel The Difference Range
Serves 2 – Ready in 40 minutes
170g whole wheat tagliatelle (for Gluten free, use your favourite GF pasta)
1 small butternut squash, peeled and chopped
1 onion finely sliced
2 cloves garlic finely sliced
2 cups (packed) spinach
12 cherry tomatoes halved
1 tbsp dried basil
1 tsp dried oregano
Black pepper to season
Method
1. Preheat oven to 180 degrees celcius (356 degrees fahrenheit) and prepare 2 baking trays
2. Add the chopped butternut squash to one of the baking dishes, season with black pepper and pop in the oven to roast for 25 minutes, giving it a shake every 5 minutes (I then popped it under the grill for a few minutes to crisp it up a little, but you don't have to if you don't want to.
3. In the second baking tray add the chopped cherry tomatoes, sprinkle over some black pepper and roast them in the oven for 15 minutes.
4. Now cook the pasta – add the tagliatelle to a pan of boiling water and cook for 12 – 15 minutes (according to packet instructions) drain and set aside
5. For the sauteed spinach – Add 2 tbsp water to a large, deep saute pan over a medium heat and add the onion and garlic and cook for 3 minutes before adding in the basil, oregano and spinach (I added half a cup of the boiling pasta water to the saute pan here to help wilt the spinach) mix together and cook for 3 minutes.
6. Now add the roasted butternut squash and the roasted cherry tomatoes to the saute pan, stir altogether and then pour in your tagliatelle and toss everything together. Serve in a nice big bowl and finish off with a sprinkling of black pepper and a drizzle of balsamic vinegar if you want to.