The next few days is all about quick and easy dinners, as I am out and about most nights this week, so really need dishes that I can whip up in about half an hour, this Szechuan dish is ideal for a quick delicious meal, it's packed with flavour, you can be versatile with your choice of veggies and if you want to swap rice for noodles, then you go for it!
This was a spicy dish, so if you want to make it a little less hot, hot, hot, then leave out the fresh red chillis and maybe just put a quarter teaspoon of chilli powder in. I like a nice kick to mine so I went all in with the fresh chillis, though I'm glad I refrained from adding some dried red chilli flakes as a garnish, think that might have been a step too far. Another thing I thought of after I'd finished was maybe adding a few chunks of pineapple in there, it would work well, something to keep in mind!
I'm off out tonight to the gym for the new release of Body Balance, should be a good class as there are quite a few of us going, it's such a relaxing class, but you get a fab workout from it and it really stretches you. I just need to be careful that I don't fall asleep during the last 5 minutes meditation stage!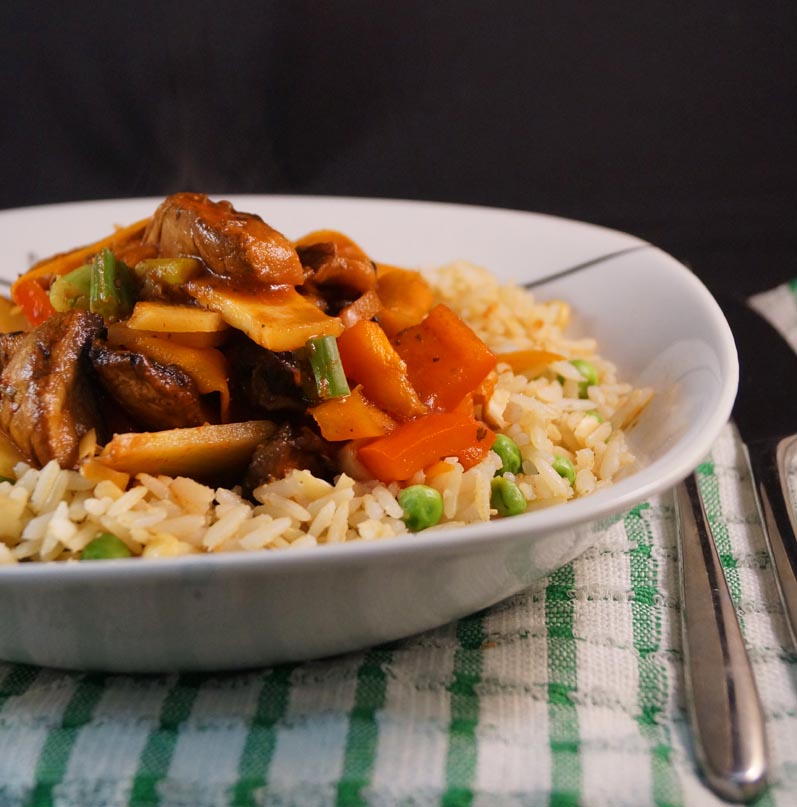 Szechuan Vegetable Curry with Special Brown Rice (vegan & gluten free)
MyInspiration Feel The Difference Range
Serves 2 – ready in 30 minutes
For the Szechuan
2 cloves garlic finely chopped

1" cube Ginger finely chopped

2 Red chillis finely chopped

½ tsp Dried coriander

1 tsp Basil

½ tsp Chili powder

½ tsp Paprika

2 cups passatta (pureed tomatoes)

1 tbsp Rice Vinegar

1.5 tbsp Soy sauce

1 large carrot, shredded

2 Red peppers (capsicum) cubed

2 Portobello Mushrooms, de-stalked, gills scraped out and chopped

½ cup chopped Bamboo Shoots

2 Spring onion (scallions) chopped
Special rice
1 cup Brown rice

1/4 cup frozen Peas (thawed)

1 tbsp mirin

Cashew nuts finely chopped
Method
Start with the rice – Add the rice to a sauce pan and add 2 cups of boiling water, cover and let this cook on a medium/low heat for 15 minutes. After 15 minutes, add in the peas, cashew nuts and mirin, stir and cook for another few minutes and it's ready.

While the rice is cooking, make the curry – Add 1 tbsp water to a large, deep sauté pan and add the garlic, ginger and red chillis and cook for 2 minutes before adding in the coriander, basil, chili powder and paprika and cook for another 2 minutes.

Now add in the Mushrooms, Passatta, rice vinegar, soy, carrots, red peppers and mix this all together, turn the heat to low and cook for 10 minutes before adding in the bamboo shoots and spring onions and letting it heat through for another 4 minutes and it's done. Serve with your rice or noodles.