I don't know what it is but I always seem to over cater when I make falafel, there's only 2 of us and I end up making enough to feed 4 or 5 people! Oh well, never mind, it tastes just as good the next day for lunch!
You can go with white potatoes for your chips or you can mix it up and use sweet potato, the choice is yours, which ever you prefer really.
I'm in a quandary at the moment, I was chatting to one of the ladies from the gym and she mentioned she'd started running again (road running) I started treadmill running last year but with us travelling a bit I kind of lost my momentum and never got back into it. So I'm torn here, I think I might tentatively start back up again, maybe a couple of times a week, I was doing quite well last year and managed to get my time for a 5k down to 30 minutes, so I have something to work towards. The idea of road running though still terrifies me, I'm truly quite clumsy and I have images of my slipping on some pebbles and falling in the line of oncoming traffic or the other way and fall down a ravine… I'm such a drama queen!
Ok, that's it, I've decided, I'll start up again (she says full of confidence!)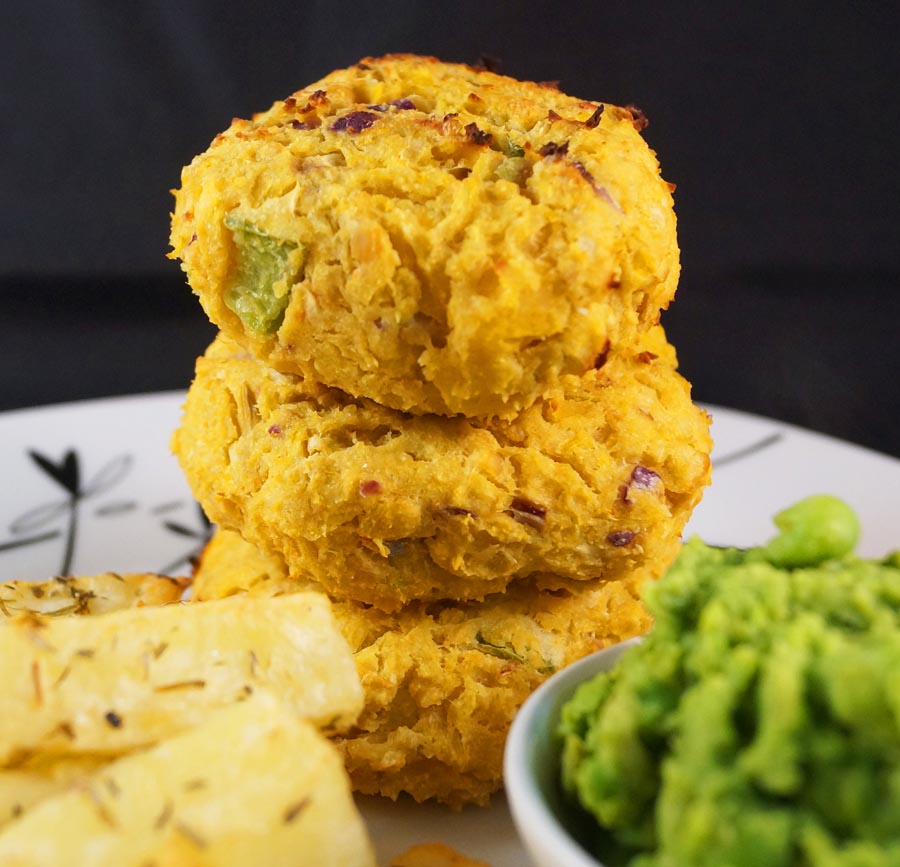 Sweet Potato Falafel with Oven Baked Chunky Thyme Chips & Balsamic Mushy Peas (Vegan & Gluten Free)
MyInspiration Feel The Difference Range
Makes 10 – 12 Falafel
For the Falafel
2 cans chickpeas (garbanzo) about 4 cups worth, drained and rinsed

1 large sweet potato, peeled, chopped boiled in hot water for 12 minutes and mashed

1 red onion finely chopped

2 cloves garlic finely chopped

1 green pepper (capsicum) diced

1 tsp whole grain mustard

1/2 tbsp cumin

1 tbsp chili flakes

Black pepper to season

1/2 cup Gram Flour (chickpea flour)
For the Chunky Chips
2 white potatoes, peeled and chopped into chunky chips

1 tbsp olive oil (this is the only time I ever use any oil)

1/2 tbsp dried thyme
For the Mushy Peas
1.5 cups frozen peas

1/2 tbsp balsamic vinegar
Method
Preheat oven to 180 degrees celcius and line 2 baking trays with parchment paper

First of all sort out the chunky chips, add the chopped potatoes to a pan of boiling water and cook for 5 minutes, drain in a colander, drizzle over the olive oil (get's rid of any excess oil) sprinkle over the thyme and transfer to a large baking tray and pop in the oven for 30 – 35 minutes, turning every 10 minutes.

To prepare the falafal, pop the garlic, 1 can of chickpeas,

 half of the chopped green peppers, half of the chopped red onion, mustard, cumin, chili flakes and black pepper 

into a food processor and pulse until it's all blended together, then transfer to a large mixing bowl and add in the remaining red onion, green pepper, sweet potato mash, the other can of chickpeas (please mash these chickpeas in a bowl before adding) then add the gram flour and stir everything together, if the mixture is too wet to handle, then add a little more gram flour until you are happy with the consistency, then using your hands, form the mixture into 10 – 12 patties and place on the parchment paper and pop in the oven (shelf above the chunky chips) and bake for 20 – 25 minutes, turning (carefully) half way through.

For the mushy peas – add the peas to a pan of boiling water and cook for 6 – 7 minutes, then blitz in a food processor (or use a stick blender), pour in the vinegar and stir through.

 
*** Martin bought a bottle of Encona Smooth Papaya Hot Pepper Sauce which was delicious and went great with the falafel.